NYC pit bull terrier gets a home fit for a queen
Bertha, a senior pit bull with hypothyroidism, got to be queen for a day at a fancy pet hotel and then she scored her perfect new home
By Tara McKenney
People tend to fall in love with Bertha on the spot. After the sweet pit bull terrier lost her home and ended up at a shelter run by Animal Care Centers of NYC (ACC), a Best Friends staff person noticed her there while picking up dogs to bring back to Best Friends. It took just that one look for her to say, "We'll take her." Bertha was a senior with some medical issues, but she deserved a new home, so that was that.
Once Bertha arrived at the Best Friends Lifesaving Center in New York, she made friends with so many new people and seemed pleased to meet anyone who crossed her path, especially children. "Bertha was genuinely such a friendly, easy gal," said Brittany Wood, adoption specialist. "She would give sweet, stinky kisses to anyone who let her. Despite her older age and her weight, she loved playing endless games of fetch. She has these lovely little freckles across her nose that just killed me."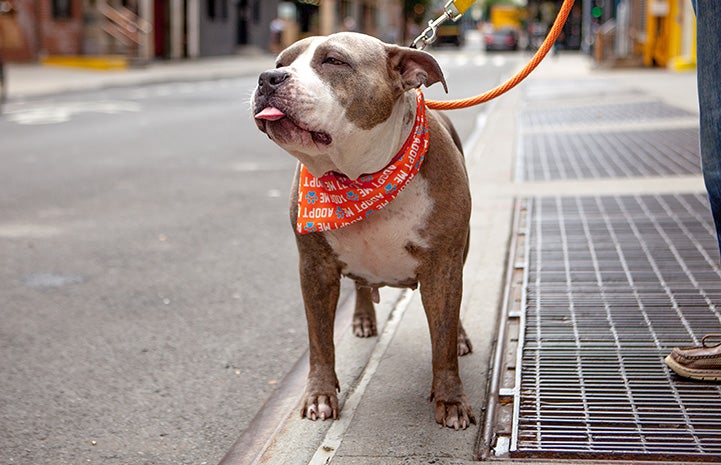 A case of canine hypothyroidism
Though Bertha was adopted during her stay with Best Friends, she was returned just five days later by a family unprepared to care for her medical issues. Bertha has hypothyroidism, a common hormonal imbalance in dogs. As in humans, hypothyroidism can cause low energy, weight gain and skin irritation. It is easily treated with thyroid medications to even out the imbalance, but the bloodwork and thyroid testing required to treat the condition throughout a pet's life can be a deterrent for potential adopters.
Despite the challenge, the Best Friends adoption team believed it could find Bertha a permanent home. Staff members brought her to every off-site Best Friends adoption event, but adopters always chose younger and smaller pets.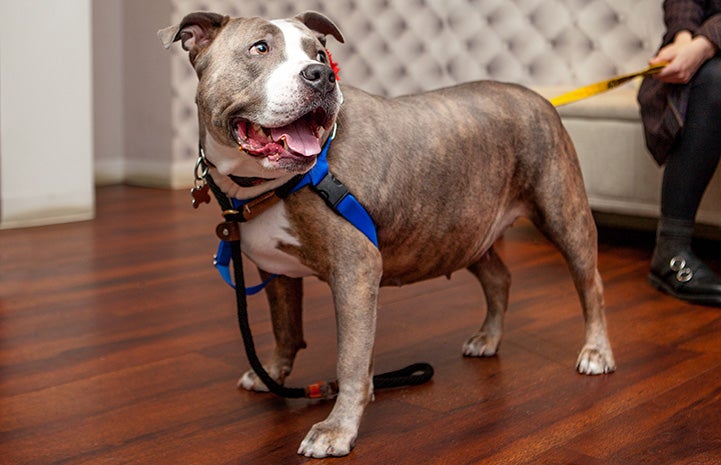 Living the glamorous life
Bertha's stay of several months with Best Friends made her the center's longest-term resident at the time. That's when the adoption team decided she needed a day of pampering at the D Pet Hotel in Chelsea, a luxury pet hotel that welcomed her as a VIP guest at no charge.
On her special day, Bertha arrived in a chauffeured SUV. Staff gave her a "pawdicure" and massage, read her a bedtime story in her own bed and then topped it all off with perching in a pink throne. "We loved getting to pamper Bertha for a day," says Kerry Brown of D Pet Hotel. "She is such a lovebug. She soaked up all the attention. We know any family will be lucky to have her."
While everyone treated Bertha like the queen she deserved to be, her new glow seemed to give her the long-desired effect of being able to show the world her best self and attract a prospective adopter.
A queen's new court
Jamil Reeves and his wife had been searching for a new dog to join their family for some time when they came across a picture of Bertha on the Best Friends website. It was Bertha's eyes that immediately attracted Jamil and it didn't take him long to go meet her in person. "You could just see how sweet she was by the way she looked at you," he says. "When they brought her out to meet me, I fell in love with her instantly."
While Bertha's medical needs deterred others, the Reeves family was willing to take on the necessary commitment and expense and felt it would be worth every penny. They were dedicated to providing Bertha with the same high-quality care they would any family member.
"Her thyroid condition didn't put any doubt in my mind about the adoption," Jamil says. "Brittany gave us many options and ideas on how to cut down any cost for Bertha's medical treatment, while ensuring she still received the best care possible."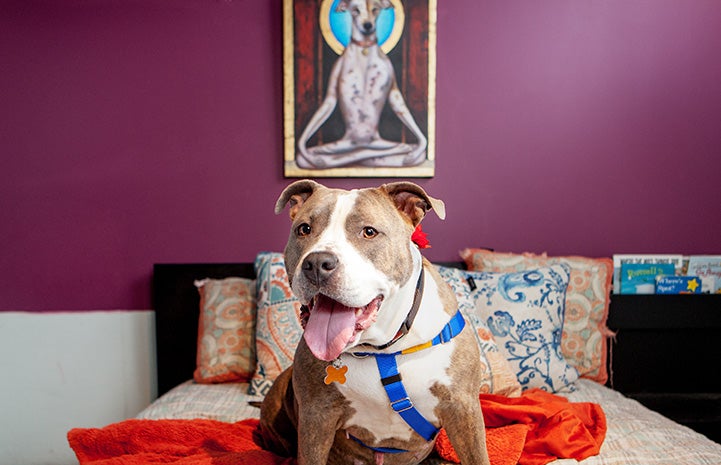 A fairytale ending
The Reeves family includes three young children who delight Bertha and have helped her make an easy transition into her new home. Each morning, Bertha accompanies Jamil as he walks the children to school. Then comes breakfast with the youngest child (still at home), followed by nap time.
In the afternoons, Bertha enjoys another walk and long fetch sessions. "She loves to play fetch, give kisses and get belly rubs from the family," Jamil says. "It's like she was already a part of our family. She is so laid-back and loving."
Bertha often has a captive audience in the young Reeves girls, who shower her with attention and love, and can be found tucking her in with her favorite blanket when she's sleeping.
Jamil's best advice for anyone considering adopting: "Never let age or medical conditions stop you from adopting an animal from a shelter, because you'll still find a forever friend like we did with Bertie.
Photos by Robert Stoetzel and courtesy of Best Friends staff