One call helps a three-legged dog find a home
Image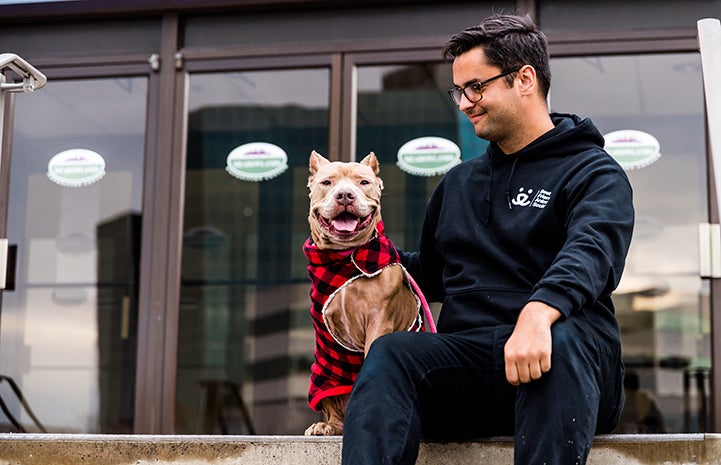 Man living in Los Angeles who had lost his leg to cancer as a child pays adoption fee for three-legged dog in New York who has since been adopted.
By Nicole Hamilton
Best Friends in New York works collaboratively with city shelters, local animal welfare organizations and individuals to save the lives of pets in shelters in New York City and the surrounding tri-state area. As part of this work, Best Friends has a national lifesaving concept space and pet adoption center in SoHo, hosts adoption and fundraising events, and runs a foster program in partnership with Animal Care Centers of New York City. Together, we will Save Them All.
Dan Richter was checking out the Instagram page of The Dogist, when he came across a photo of a three-legged dog named Blue. The dog had been surrendered to Animal Care Centers of NYC, before being brought to the Best Friends Pet Adoption Center in New York City, where he was waiting for a home.
A television writer for an award-winning show and former competitive disabled skier, Dan lost his leg to cancer when he was eight years old. But that only made him more resolved to let nothing stop him from living a great and happy life.
When Dan looked at Blue, he saw the same resilient fighting spirit. And although he lives thousands of miles away in Los Angeles, he decided to help Blue find the home he deserved.
"I know what it's like to feel different and I didn't want him to be sad," says Dan. Plus, Blue is an older dog, and since Dan knew seniors sometimes have a harder time getting adopted, he called and arranged to pay Blue's adoption fees.
That day turned out to be a very special one for Blue. Just hours after Dan's call, a young woman named Gina, who also had seen Blue on The Dogist Instagram page, came into the center to offer help.
Learn more about Best Friends' life-saving initiatives
A priceless photo
"Blue is happiest when he's got five people petting him," says Suzanne Remito, an adoption specialist at the center. "He's a big cuddle bug."
Although Blue's jovial disposition was present from the moment he walked into the center, it would've been perfectly understandable if he had been in a bad mood. Back then, he was dealing with a skin condition, painfully cropped ears, and ribs that were visible through his skin. Though it was obvious he didn't feel well, that didn't stop him from wagging his tail at anyone looking in his direction.
After a series of medicated baths for his skin condition, treatment for his ears and some good meals, Blue was in top shape. He loved taking walks around SoHo, where he helped his walkers get their daily exercise by sprinting down the sidewalk, flashing a doggie smile at anyone he passed.
Help save lives in your community
Positive life change
Gina had been looking for a dog companion to live with her, and when she saw Blue's photo, she had a good feeling he was the one. When she arrived at the center and sat on the floor to get to know him better, Blue climbed into her lap and relaxed. It was clear he had no plans of leaving anytime soon. "They told me that's basically what he does all day," says Gina. "He loves to cuddle."
Gina didn't mind that Blue needed routine medicated baths, and once she spent a little time with him, she barely noticed that he walked on three legs. She made up her mind quickly to adopt him, and when she found out Blue's adoption fee had been waived, it was confirmation that adopting him was the right decision
"I knew then that this was going to be a very positive life change," says Gina. "And it not only made me feel instantly connected with Blue, but also with a person I'd never met."
Everyone Blue meets is a friend
These days, Blue lives a life that would make Dan very proud. Every person and dog Blue meets becomes a new friend, and he's known in Gina's building for the smile that never disappears.
One of Blue's favorite things to do is walk to the American Museum of Natural History, where he sometimes gets asked to pose with new friends for photos. He loves greeting Gina's friends at the door with kisses and meets new dogs at the dog park with mile-a-minute tail wags. Even bath time is a good time for Blue.
"He doesn't let anything stop him. He's always happy," says Gina. "He can do almost anything a dog with four legs can do. It's really inspiring to see."
It's easy to help save lives
When Dan learned Blue was happy in his new home, he was elated. "It's easier than people think to help save an animal's life," he says. "If you can't adopt, foster or you don't have time to volunteer, you can sponsor an adoption or make a small donation."
It only took a few minutes for Dan to reach out and help a dog on the other side of the country. But for Blue, it was the beginning of a very happy life.
Join Best Friends and help dogs like Blue
Photos by Stacey Axelrod and courtesy of Dan Richter