Pet sale ordinances in L.A., Oceanside, Long Beach and Garden Grove
Retail pet sale bans in L.A., Oceanside, Long Beach and Garden Grove make it Illegal for pet stores to sell dogs, cats or rabbits from puppy mills.
By Denise LeBeau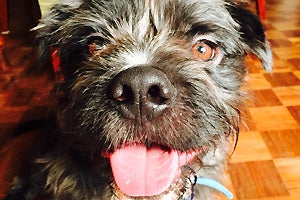 Benny, an adorable scruffy terrier mix, was surrendered to the East Valley Shelter, one of six municipal shelters in Los Angeles. His fate could have been dire, were it not for legislation sweeping the state in recent years that gave Benny a second chance. Instead of facing the risk of dying at the shelter, Benny went to Lucky Puppy Rescue & Retail, a pet store in Los Angeles that offers dogs rescued from shelters instead of selling dogs from puppy mills.
Illegal for pet stores in L.A. to sell dogs, cats or rabbits from puppy mills
In Los Angeles, dogs for sale in pet stores used to come almost exclusively from puppy mills, large commercial breeding operations where inhumane conditions for the animals are the norm. New legislation enacted in 2012 changed all that by making it illegal for stores in Los Angeles to sell dogs, cats or rabbits from mills. Today, pet stores in L.A. and many other cities around the country have become the good guys — no longer selling mill dogs and, instead, finding new homes for pets from shelters.
Oceanside, Long Beach and Garden Grove enact pet sale ordinances
Recently three more California communities enacted pet sale ordinances. Oceanside, Long Beach and Garden Grove businesses that offer pets will be exclusively featuring rescued pets in their shops. Best Friends has been a leading advocate for cities across the country to enact ordinances that ban the retail sale of pets, and the three newest cities join 76 other communities with such ordinances already in place.
Elizabeth Oreck, national manager of Best Friends' puppy mill initiatives, says, "Since California is one of the top three states for puppy mill–supplied pet stores, pet sale bans are important. We always emphasize, however, that the intent of these ordinances is not to put pet stores out of business, but to show them that they can adopt a more humane business model — one that gives shelter dogs a second chance."
In Oceanside, Long Beach and Garden Grove, Best Friends staff met with city officials, testified at hearings and submitted materials that helped lawmakers with their decisions. Several Best Friends legislative alerts were sent to Best Friends members in those cities, urging them to encourage legislators to pass the ordinances. "Our Long Beach supporters sent more than 1,200 emails to the council members," says Elizabeth. "It shows the power that residents have to create positive change in their own communities."
Lucky Puppy Rescue & Retail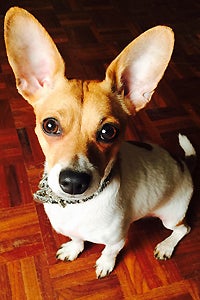 When Adam Berry and Santosh Kaur Khalsa were looking for a pet, they went to Lucky Puppy Rescue & Retail. That's where they adopted their current dog, Poppy, and because they love her so much, they headed back to the store in search of another pup.
Santosh remembers meeting Poppy for the first time. She was wagging her tail and then looked Santosh right in the eyes. The couple wanted to have that special connection with their next dog, and they did. "The moment I saw Benny, I loved him," says Santosh.
It's a match made in heaven. "Benny and Poppy both love to play ball, and they love to wrestle, but in their calmer moments they're both so snuggly it's ridiculous," says Santosh. Benny is happiest when he's getting belly rubs, and he's not shy about asking for them. The two rescued pups love to curl up next to Santosh and Adam while they're watching television. Santosh says, "First thing Poppy does in the morning is give Benny kisses. It's the cutest thing you've ever seen."
Giving a happily-ever-after to homeless pets like Poppy and Benny is the motivation behind all the strategy meetings, legislative alerts and votes to pass ordinances. The bottom line, Elizabeth says, is that "these ordinances help get animals out of shelters and into homes."
Get involved to help animals
Keep the successes coming by giving to help the animals.
Learn more about Best Friends' puppy mill initiatives.
Photos by Santosh Kaur Khalsa