Play groups for dogs pave the way to adoptions
Image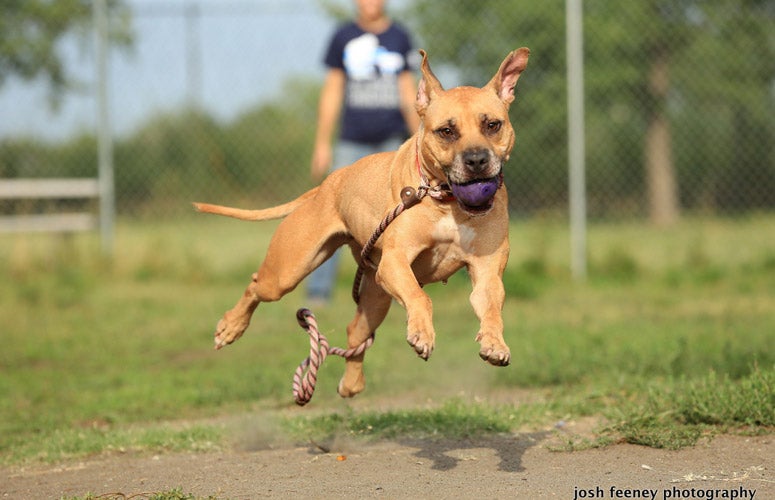 Best Friends awards grant to Safe Humane Chicago to help Court Case Dogs become more adoptable via play group socialization.
By Denise LeBeau
When Wiggles, a squat, muscular dog with a pretty tan coat and adorable wrinkles on her head, ended up at Chicago Animal Care and Control (ACC), she wasn't very social. Instead of greeting other dogs nicely, she growled at them. But luckily for Wiggles, there's a play group program that's not only fun, but helps dogs like her find homes. And thanks to a grant from Best Friends, more dogs at Chicago's largest city shelter get to join, which ultimately helps get more of them out of the shelter faster—and alive.
Safe Humane Chicago's Court Case Dog program rescues and re-homes canine victims of neglect or abuse who are housed at Chicago ACC. "The Court Case Dogs have 'done the time but not the crime,'" says Cynthia Bathurst, executive director of Safe Humane Chicago. The organization readies Court Case Dogs for adoption with a lot of hands-on work. Volunteers provide treats, toys, socialization, manners training, and recently, play groups.
Serious fun in dog play groups
Since they started play groups, Court Case Dogs are now getting assessed more thoroughly, socialized more efficiently, and are showing better in their kennels to potential rescue groups as well as adopters. In 2013, Best Friends gave the Court Case Dogs program a grant to help them expand the number of play groups to four each week. The best news is, the funds aren't only helping the Court Case Dogs; the extra resources mean other dogs at Chicago ACC can join the play groups. That's how Wiggles got in on the fun.
When she was introduced into the play groups, Wiggles found some male canine playmates who were tolerant of her bossy behavior. Thanks to the socialization provided by the play groups, Wiggles was transferred to a rescue group and adopted in December.
"The more funds we have, the more play groups we can provide that help dogs like Wiggles. I would like to see play groups available every single day," says Cynthia.
Dogs go home faster with more play time
Laura Handzel, Best Friends legislative lawyer and programming and policy analyst, facilitated the grant to Safe Humane because she sees the Court Case Dogs program as an important step toward a more humane way to handle these animals who are often forgotten. "What's happening in Chicago presents a wonderful model," says Laura. "We want to make sure these companion animals are not re-victimized, and instead are going into loving homes. There's so much value in the play groups. We're thrilled that they are able to extend the sessions to non-Court Case Dogs too."
The funding has helped produce amazing results. Dogs in the play groups find homes an average of 20 days faster than dogs not in the groups, freeing up space and resources to help even more dogs.
Cynthia sees the grant as helping Safe Humane Chicago come full circle. "When we first started the Court Case Dogs program, about two percent of the population was getting out of the shelter alive. Now it's at 60 percent, and with the support of groups like Best Friends, we're going to keep seeing that number increase."
Get involved to help pit bull dogs
Get more information on how you can help pit bull terriers.
Photos by Josh Feeney