Puppy mill bans passed in Nevada, Florida and Arizona
Las Vegas, Nevada; Sarasota County, Florida; and Tempe, Arizona, pass ordinances banning the retail sale of dogs and cats from puppy mills.
By Christina Green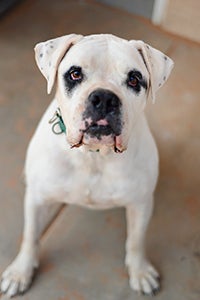 The collective voice of the people recently managed to drown out lobbying for an industry that benefits from puppy mills. As a result, elected leaders in Las Vegas, Nevada; Sarasota County, Florida; and Tempe, Arizona, all passed ordinances banning the retail sale of dogs and cats unless they come from rescue groups or animal shelters.
At a time when politics make it seem like Americans are more fractured and combative than ever, getting people on the same page seems like a magic trick. But it's not. It's a matter of informing people on the issues and providing a platform for them to be heard. And that's exactly the role of the Best Friends legislative action center, a clearinghouse for legislative updates related to animal issues across the nation.
And it has a huge impact that leads to lasting change to help animals.
No more puppy mill pets for sale in Tempe, Arizona
In February, residents of Tempe, Arizona, fought back against puppy mills by using Best Friends legislative alerts to voice their support for a ban on retail sales of dogs and cats in their communities — unless those animals come from rescue groups or shelters. When they asked lawmakers to change this for the better, the local retail pet store tried to silence them.
In fact, one pet store owner even brought in a contract veterinarian to speak about the health and well-being of dogs and cats sold in pet stores. They attempted to convince the city council that pets from mills don't have health issues. And, given vets' reputations as medical experts, it might have been hard for residents to argue convincingly — though many did.
But Best Friends was prepared to assist Tempe residents in challenging that idea. Dr. Frank McMillan, director of well-being studies at Best Friends, presented a study that clearly shows life in a mill is not kind or healthy for pets. These results are based on research he conducted along with researchers from the University of Pennsylvania School of Veterinary Medicine.
"These studies aren't emotional and they aren't economic," says Elizabeth Oreck, national manager of Best Friends' puppy mill initiatives. "They're just science and it's hard to argue with that." Taking into account the public's urging, along with evidence shared by Best Friends, the city council voted to enact the changes. The city effectively said "no" to pet mills and "yes" to adopting shelter pets.
Las Vegas win against pet stores selling pets from puppy mills
It was a bit of a long shot to pass an ordinance in Las Vegas banning the retail sale of dogs and cats from mills. The mayor wasn't in favor of it, and retail pet industry giant Petland came in to argue against it, too. But when 5,600 emails arrive on the subject — well, legislators had to listen.
Best Friends actually has a long history of working on puppy mill issues in Vegas, a history that translates into lots of supporters. Many of the residents there were already aware that puppy and kitten mills profit from pet stores selling their animals; however, not everyone knew the issue was being debated in their city council.
Plenty of them found out after an email went out to residents on Best Friends' email list. From there, people were encouraged to contact their elected representatives and ask them to support the proposed ban.
"We provide most of the email language for people so that it can be really clear where the sender stands on the issue and why," says Elizabeth. "The sender can customize part of it or not, but either way, we want to make it as easy as possible for people to participate."
And participate they did. It's pretty hard for politicians to ignore the wishes of thousands of constituents, even if a very persuasive retailer sat on the other side of the issue. And like Tempe, the council voted in favor of keeping milled pets out of the city's retail stores.
A landmark win against pet stores that sell dogs    
Imagine sitting through nearly 12 hours of hearings in which Petland brings in a whole entourage of Midwestern puppy millers. That was the scene in Sarasota County, Florida. Thankfully, it was all worth it.
"The Sarasota County win is very important because while we've had tremendous momentum at the town and city level, this represents the first county ordinance in Florida," says Elizabeth. "Florida's one of the top three states in terms of number of pet stores, so it's a huge market for puppy mills."
No wonder Petland pulled out all the stops. But once again, the county residents carried the day. An onslaught of emails from locals who used the Best Friends legislative action center couldn't be ignored by legislators. They also voted in favor of the ordinance to stop milled pets from being sold in retail stores. It was a big win in the fight against puppy mills.
"I think this shows that Petland, one of the biggest pet retail stores nationwide, has been caught off guard because they never thought we could successfully target a community in which they had a presence," says Elizabeth. "But we are and we're being successful because this is the will of the people."
Get involved to help animals
Form emails from constituents may not sound like powerful tools to create change, and it might not seem like Best Friends can fight on its own.
But as Elizabeth says: "We're all in this together. Every person has the power and influence to make positive change for animals in their own community. It's simply a matter of speaking up and making your voice heard."
What you can do:
Photos by Best Friends staff