Raise your glass: Rescued cat scores a sweet job in a Salt Lake City distillery
Cat adopted from Best Friends is now working at Beehive Distilling in Salt Lake City, Utah, as a "working cat" to deter rodents.
By Nicole Hamilton
Recently, Beehive Distilling in Salt Lake City had a job opening. But they weren't looking for a bartender, brewer or taste tester. (We hear those positions fill quickly.) No, what the distillery needed was someone with a unique set of skills.   
Sure, candidates would need to be good with people, but they would also have to be totally down with working 24/7 (with zero vacation days and no salary). They'd have to be able to deter rodents and be willing to sleep in a wooden barrel. And preference would be given to applicants who like to chase things like tiny remote cars.   
It was such a unique position that Chris Barlow, the distillery's owner, didn't even post the job online. That's because the best employees for this role don't read (although they're very good at lying on stacks of paper).  
What Chris was looking for was a distillery cat. And no, this wasn't something he dreamed up late one night after a couple of gin and tonics. Cats have been working in distilleries all over the world for more than a century, from bourbon distilleries in Kentucky to whiskey distilleries in Ireland. And now, you can find a little cat named Gimlet working hard (and hardly working) at Beehive Distilling in Salt Lake City — ever since Chris adopted her from Best Friends.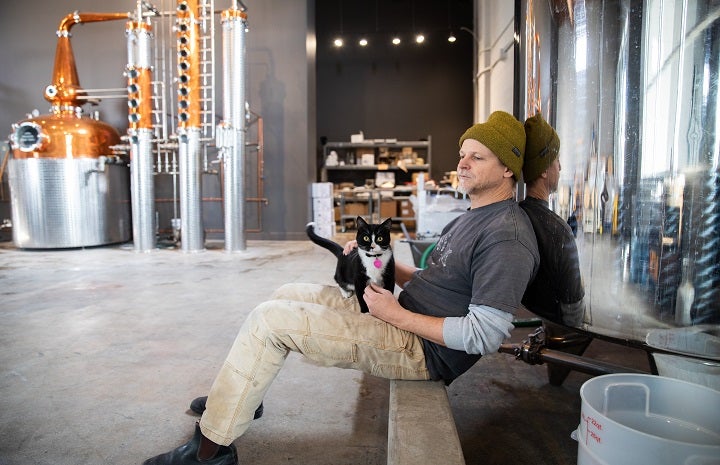 Adopting a distillery cat  
After generously hosting a benefit for Best Friends, Chris knew exactly where he wanted to go to adopt a mascot kitty for the distillery. So, he and his daughter went to the Best Friends Lifesaving Center in Salt Lake City to conduct interviews.  
They got to know a lot of great feline candidates that day, including many who would have done a fine job at the distillery. But there was one cat they really connected with, and she even came dressed for success in her black-and-white tuxedo coat. "She was outgoing and playful," says Chris. "And she loved sitting on our laps."  
Before coming to Best Friends, the black-and-white cat had lost her home and ended up at a tiny rural shelter in central Utah. On a regular basis, Best Friends brings all the adoptable pets from the shelter to either the lifesaving center in Salt Lake City or the Sanctuary in southern Utah. It's part of our mission to help make Utah a no-kill state.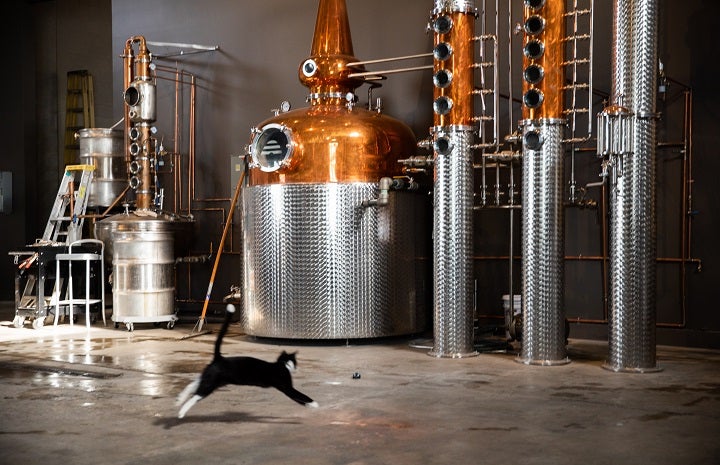 Because of that partnership, the sweet kitty now has an exciting future to look forward to. Chris adopted her, and in honor of her new role as a distillery cat, named her after a classic cocktail that's simple and sweet: the gimlet.  
About Best Friends' no-kill initiatives
Not a creature was stirring, especially not mice  
Gimlet took on her new role like a natural. On most days, she keeps a close eye on the team making gin and organic vodka, although truth be told, she often falls asleep on the job.   
Chris says one of Gimlet's favorite things to do is climb the stacked barrels all the way up to the very top. Gimlet doesn't qualify for worker's compensation, but not to worry. She can jump up on the barrels like nobody's business. She also loves to chase laser lights and a toy remote car that Chris bought her.  
All that climbing and chasing is hard work, so at night after the distillery closes, Gimlet likes to curl up in a barrel that Chris made into her own little hideaway. Not a creature is stirring at that hour — and certainly not any mice.  
There wasn't a rodent problem at the distillery before Gimlet arrived, and since news travels fast in the rodent world, there surely won't be one now.   
The tiny toast of the distillery  
Usually Gimlet is out and about in the distillery and guests can watch her (and all her silly antics) through a glass wall that separates her home in the distillery from the bar. She's already become quite popular. There are no TVs in the bar, but Gimlet provides plenty of live entertainment for customers. In fact, you could say she's become the toast of the distillery.  
Adopt a cat (along with all their silly antics) near you
Best Friends in Utah works collaboratively with animal rescue groups, city shelters and passionate individuals, all dedicated to the mission of making Utah a no-kill state. As part of this mission, Best Friends hosts adoption and fundraising events, runs the Best Friends Lifesaving Center in Salt Lake City, operates a spay/neuter clinic and leads the No-Kill Utah (NKUT) initiative. Together, we will Save Them All.
​Photos by Sarah Ause Kichase