A record-breaking weekend for Los Angeles pets
Rescue dogs and cats for adoption were available at the NKLA Super Adoption June 4-5, 2016. Over 500 pets were adopted into forever homes.
By Kelli Harmon
We had big hopes for Los Angeles pets over the weekend, as we invited more than 50 area shelters and rescue groups to the spring NKLA Super Adoption, hosted by Best Friends and presented by BOBS from Skechers. As we're nearing the No-Kill Los Angeles initiative (NKLA) goal to get the city's shelters to no-kill by 2017, we hoped this would be the biggest super adoption yet for Los Angeles. And guess what? It was.
The event, held June 4-5 at the Autry in Los Angeles, brought together Best Friends and 52 rescue groups and shelters (including L.A. city and county shelters), dedicated sponsors and supporters, hundreds of volunteers and nearly 8,000 attendees. All for the sole purpose of matching up shelter pets with great new homes. Each dog and cat who went home got a Welcome to the Family kit from Petco Foundation to help them settle into their new homes. And by the end of the two-day event, more than 500 dogs and cats (and even a few bunnies) had been adopted.
See how we're working to make L.A. a no-kill city
Animal shelters get a boost
NKLA Coalition partner Angel City Pit Bulls arrived at the event with 16 dogs ready for homes. By the end of the first day, all but two of their dogs had been adopted. And since everyone's goal is to save as many pets in shelters as possible, and they now had free space, representatives from the group headed straight over to the shelter the following day to look for more dogs in need to bring into their program.
And that's the whole point, explains Marc Peralta, executive director of Best Friends–L.A. He says, "More animals enter our city shelters over the summer, so this is the pinnacle time for us to save those lives." Every adoption at the NKLA Super Adoption created an open spot for another homeless shelter pet in need.
BOBS from Skechers gifts
Over at the Best Friends area, many people were rooting for Towie, a sweet dog who'd been waiting for his home for some time. In fact, when presenting sponsor BOBS from Skechers staff wanted to grant two pets with special gifts once they got adopted, Towie was everyone's top pick.
Like all pets taken in by Best Friends–L.A., Towie came from Los Angeles Animal Services, the city shelter. Caregivers at Best Friends worked with Towie over time and described him as "a super-smart, sweet and friendly guy who seemed to consistently get overlooked by potential adopters." But not last weekend.
Before the event, Towie had gotten some extra love from NKLA Coalition partner K9 Connections, where dogs are paired with high school kids, so both the kids and the dogs can learn new skills. It was at their booth that a man came by looking for a dog who would get along well with his two kids. Soon, Towie was on his way home with his new best friends. And the family got a surprise along with their new dog when they (and Towie) got a pile of gifts from BOBS from Skechers to send them off.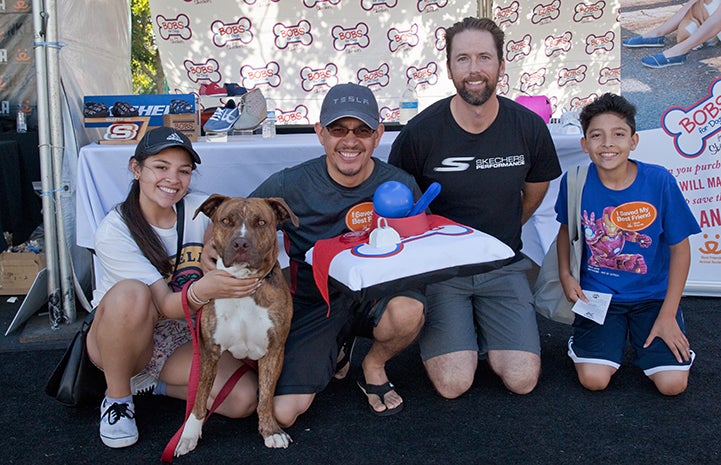 Cat on a leash finds his perfect home
While the weekend might have ultimately gone to the dogs, more than 150 cats went home as well, which is great cause for celebration. The lucky kitties included Hank, who was by all accounts extra special. That's why he was chosen as the second pet to get a bevy of goodies from BOBS from Skechers — if he got adopted.
Before being taken in by Best Friends–L.A., the poor guy had ended up at L.A. Animal Services, and he was quite a mess. He'd clearly spent quite a bit of time on the streets, and his skin was infected with scabies. But once he got to Best Friends and received the treatment he needed, he was all spiffed up and ready to find a home at the NKLA Super Adoption weekend.
Volunteers had the dapper gray kitty out on a harness and leash in a cat-safe area, to help him meet as many people as possible, and soon a cat-loving couple noticed Hank. Their cat was a bit lonely after his best buddy passed away, so they were looking for another big boy cat who they thought would get along with him. The way Hank took all the excitement in stride, soaking up the attention and loving everyone who wanted to pick him up and hold him, ultimately led the couple to choose him. His adoption sent up a cheer from everyone who knew him, and Hank was soon on his way home, with his BOBS from Skechers–supplied goodies as well.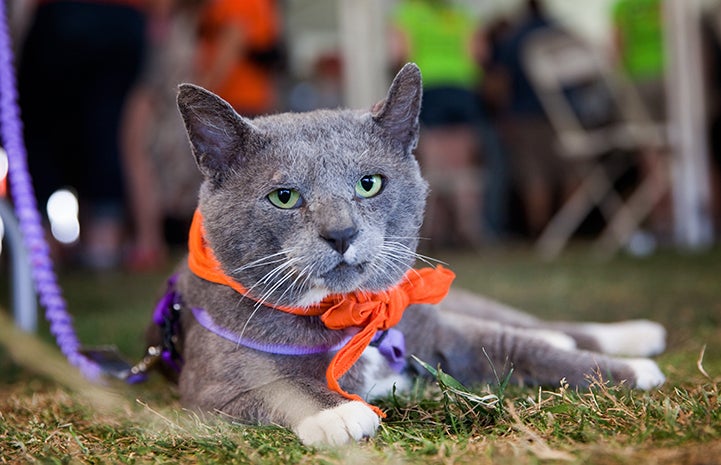 500 adoptions and counting
Near the end of the second day, as pets continued to go home, the big moment finally arrived: the 500 th adoption. Each adoption is marked by a bell ringing, and since this was a big milestone — the first time the event reached 500 adoptions in its many-year history — the honor of ringing the bell went to Mira Sorvino. Mira was one of many celebrities who stopped by the event sporting NKLA gear and encouraging people to adopt a pet.
Once the event wrapped up, the hundreds of pets who had found homes not only had their dreams come true, but now there were hundreds of available spaces for additional pets to get their ticket out of the shelter. Marc says, "This is exactly how L.A. wanted to kick off a summer of saving lives as we march toward NKLA, by showing how, together, we can Save Them All."
Special thanks to our presenting sponsor, BOBS from Skechers, and our national sponsor Petco Foundation for their sponsorship, and to every single volunteer and NKLA Coalition partner who came together to help hundreds of pets go home.
Photos by Lori Fusaro