Reiki for animals
Volunteer uses Reiki, a special spiritual healing and stress-reduction technique to help pets at Best Friends Animal Sanctuary.
By Jennifer Hayes
Imagine having a one-on-one conversation with someone in a crowded room, and your words were so enthralling that, by the end of your talk, everyone turned to listen. The animal version of that scenario occurred recently for Shawn Claybaugh while volunteering at Best Friends. When he "talks" to the animals, they listen.
Shawn works for Paul Mitchell Advanced Education, and for the sixth year in a row the company brought a group of 40 student volunteers to Best Friends Animal Sanctuary, where they put their special skills to use hosting a "haircut-a-thon" for Best Friends employees that raised funds for the animals. The event raised nearly $1,000, plus John Paul Pet donated an astounding $12,259 worth of product. However, the real reason for their visit was the animals, so they helped with multiple projects, including mucking stables, walking cats and even the never-ending task of shoveling sand.
Shawn spent time at Val's Puppy Care Center, helping to clean, feed and socialize the pups. But this year, he was able to use his skills in another way — Reiki.
Reducing stress and promoting healing with animal Reiki
Reiki is a technique that utilizes hand positions to spiritually guide "life force energy" to reduce stress and promote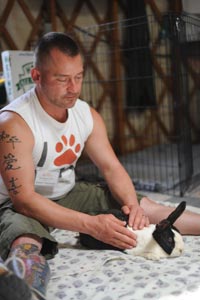 healing for both people and animals. Shawn's offer to practice Reiki on some of the Sanctuary animals was embraced by caregivers and he ended up working with approximately 15 animals. However, one experience stood out above the rest.
Bunny House caregiver Mary Duignan thought Shawn could help Booda, a rabbit whose buddy bunny had recently passed away. Understandably in mourning, he had retreated to the security of a box. Shawn began doing Reiki in Booda's pen to draw the rabbit out.
"As I slowly pulled my hands back, I got tears in my eyes," recalls Shawn. "It was that impactful for me when I saw what was going on. (Booda) started sniffing and licking my hands. That in itself was a spiritual experience for me."
Then Booda began hopping around and eating. The transformation was incredible; however, Shawn's Reiki skills extended beyond the pen. At the exact moment Booda emerged from his box, Mary watched as all the room's rabbits (except two) also ventured out from their cozy boxes.
Volunteers become teachers
Through his Sanctuary experience, Shawn has learned that volunteering at Best Friends isn't just limited to cleaning, walking and socializing. The animals can benefit from everyone's unique personal skills, whatever they are. The Paul Mitchell School volunteers have also learned that their work on behalf of animals doesn't end once they leave the Sanctuary. Shawn said the volunteers return home and share what they've learned. In essence, they themselves become teachers.
"These volunteers go home and share their stories with friends, family, neighbors and acquaintances, so even more people are made aware of Best Friends and its programs," says Shawn. "I feel that it's this type of education and awareness that helps to contribute toward the communal effort to Save Them All and I know that one day, together, we will!"
Learn more about volunteering at Best Friends.
Photos by Molly Wald