Sad dog smiles as adventure buddy
When Tess and Jakob Johnson met Scout, she was shy and shut down, but they could tell right away that she was the dog they had been looking for.
By Sarah Thornton
Tess and Jakob Johnson say that when they met Scout, she was shy and nervous, with a certain sadness about her. She'd been at Best Friends Animal Sanctuary for a little over a week, after spending time in an overcrowded shelter, and hadn't quite opened up yet. But they could tell that beneath that uncertainty was the dog they had been looking for.
These days, with her perky ears and bright eyes, mouth open in a happy pant, there's no question that Scout is enjoying everything life has to offer. From small joys to adventures in the great outdoors, she is taking full advantage of her second chance. And if she had a tail, she'd likely be wagging it.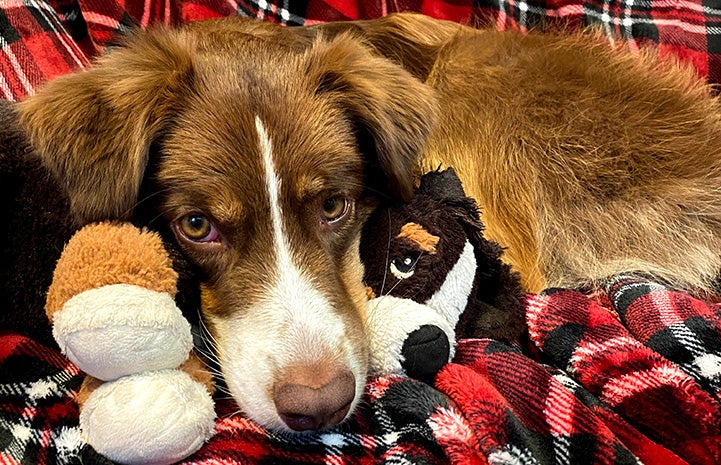 Fetching happiness
Between work and school, with plenty of backpacking on the side, things are busy in the Johnson household. Tess and Jakob had been searching for a while for a dog who could fit in with their lifestyle — a happy adventuring buddy, as Tess describes it. They checked local shelters and kept an eye on the Best Friends website, waiting for just the right dog to show up. And then they saw Scout.
[Long search leads to puppy love at first sight]
The timing was right: Because of the pandemic, Tess and Jakob were staying home a lot, and it was the perfect chance to help a new addition to the family get acclimated. A phone call later, and they were on their way to see Scout.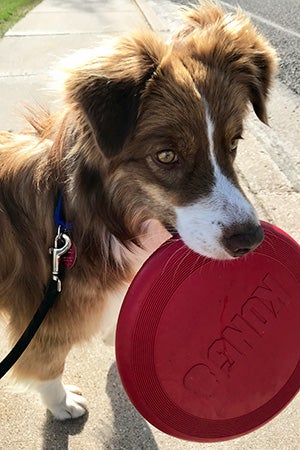 "I have pictures of the first day that we met her," Tess says, "and her eyes look so sad, and she was a little scared. But she was just so sweet with us. We fell in love with her."
She says Scout settled into her new home easily, but what really brought the sparkle back to her eyes and put a spring in her step was playing fetch. Lots and lots of it. "She didn't know how to sit," says Tess, "but she knew how to play fetch."
Chasing after a ball, a Frisbee or any other toy, Scout grew happier and happier with each throw. In no time at all, the scared, sad look disappeared entirely. She started following Tess and Jakob from room to room and cuddling with them in bed on sleepy mornings.
[Ten things you can do to show your pets you love them]
As she relaxed, her goofy side came out in full force. Tess says Scout likes to join in when it's shower time, sticking her head in and licking the inside of the shower curtain, inevitably soaking her entire head.
"She gets upset if we close the door," Tess explains, "and when we come out, she's like, 'Excuse me, you didn't let me in there.' And recently we discovered she really likes empty soda bottles. She was going crazy with one last night. She can't really bite it so she would just pounce on it and chase it. It was really cute."
It's not just life at home that Scout took to so quickly. When it's time to head out and hit the hills, Scout is proving that she's just what Tess and Jakob were looking for — the perfect adventure buddy.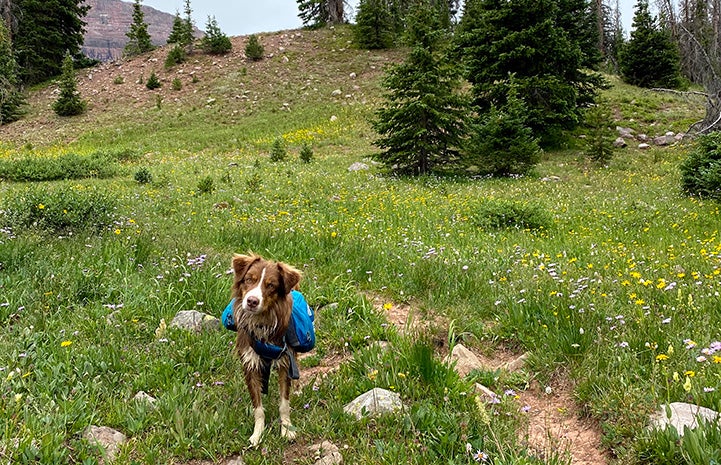 Enjoying the great outdoors
Because Scout has lots of energy, hiking is the perfect activity for her. She can sniff along the trail, run around and roll in the grass, and enjoy plenty of quality time with her family. She even has her own backpack, which she carries with great pride. And she's become such an accomplished adventurer that Tess and Jakob set up an Instagram account to document her many expeditions.
"Our favorite trip was backpacking in the Unitas," Tess says, and there are pictures to prove it — shots of Scout and her best dog friend, Charlie (Tess' cousin's dog), frolicking in the flowers, splashing through the water and cuddling up with their family, towering rocky bluffs in the background.
Charlie features in many of Scout's adventures and pictures on Instagram, and she's made lots of other canine friends on her adventures. Tess says Scout is especially skilled at getting dogs to play who might not normally be interested. She's gentle and persistent, and it seems to be working out for her.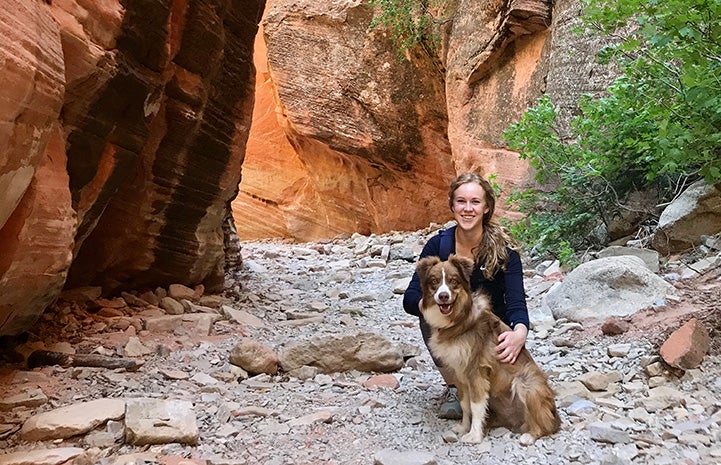 [Dog named Bear is just right for his new home]
Scout's interest in making friends isn't limited to the kind with paws, either. True to her herding roots, cows and sheep are always sure to catch her attention when they pass by on car rides. And getting to meet some of them? Best. Day. Ever.
"We were at my family's property and the cows have free range," Tess recalls, "so she ran after the cows for a minute and then we called her, and she came straight back."
There might even be more herding experiences for Scout in the future. Tess muses, "We have a friend who has a sheep farm so maybe we'll see what happens." Of course, if Scout does get to meet some sheep, they'll make sure it's safe and fun for everyone involved.
In Scout's new life, the fun really never ends. Whether it's a simple soda bottle, an energetic game of fetch or a new place to camp, she meets everything with the same enthusiasm and joy. Tess and Jakob went looking for a happy adventure buddy, and they found her. She just needed a little cheering up.
"She's the perfect little dog for us," Tess confirms. "A little quirky, and super fun. We love her."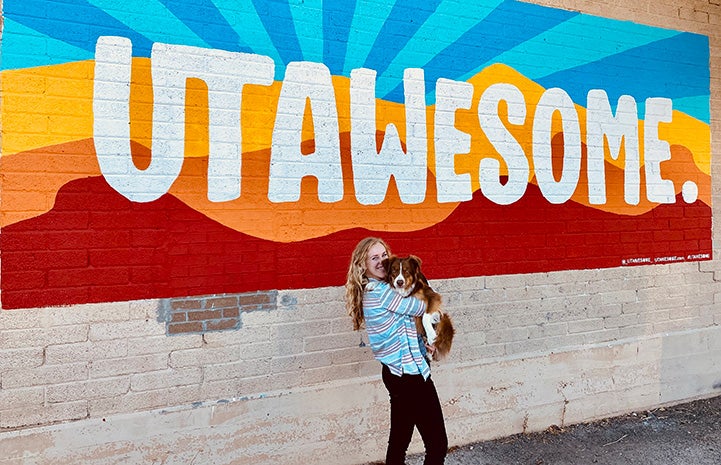 Find your perfect pal
Whether you're looking for an adventure buddy or a couch potato, there's a homeless pet who's sure to fit right into your life.
Read more:
Puppy inspires adopter to leave city life behind
Dog goes from angry and alone to canine soul mate, thanks to squeeze cheese
Dog adoption in the time of the coronavirus
Photos courtesy of Tess Johnson