Safe haven for special-needs pigs
Image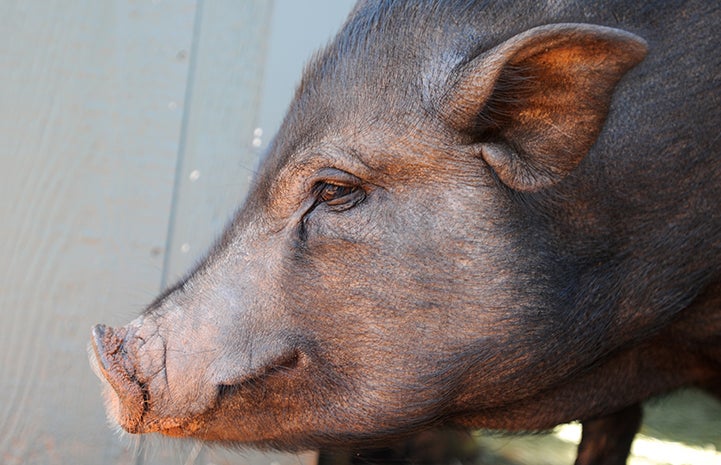 Pig with deformed legs is adopted by woman who has a special-needs piggy rescue and is looking into getting her new charge a pig cart / wheelchair.
By David Dickson
Not many pigs can develop a whopping 70-pound tumor and live to tell about it. No, that's not what happened to the pig in this story, but the folks who adopted her have helped another pig through just such an ordeal. That's the sort of home Scooter has found. Lucky for her!
Sanctuary for special-needs pigs
For years, Cindy Holloway of Lebec, California, has offered a safe haven for special-needs pigs. Here's a small sample of the animals she cares for: One of them is blind, one had open-heart surgery, another has three legs, and another has broken hind legs. And the pig with the 70-pound tumor? He lived another six years after Cindy rescued him and had the tumor removed. How's that for a happy ending!
Pig with deformed legs
Scooter, who has deformed legs, earned her name because she scoot-scoot-scooted her way through life. When Cindy found her on the Best Friends Animal Society website, she was reminded of a two-year-old pig she had lost earlier. It was all downhill from there. Or should we say uphill? Things are definitely looking up for this pig. Scooter loves to play on the grass at her new home, gets to meet other interesting pigs ("What's your story, handsome?"), and has a wonderful new family to boot.
Pig cart / wheelchair
What could be better? Well, here's one more tidbit. Cindy has already been in touch with a cart manufacturer, who think they can build a cart to help Scooter move around more easily. Uh, oh. Anybody know the speed limit for a pig sporting a cherry red hot rod? Vrooooom!
Adopt a pig from Best Friends Animal Sanctuary.
Photo by Best Friends staff