Scottish terrier rescued from Virginia puppy mill
Image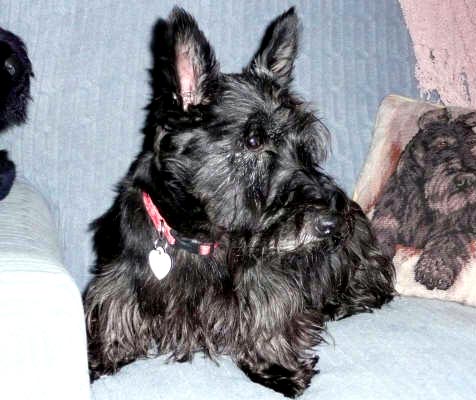 Read the touching story of one Scottish terrier who has a neurological disorder called ataxia who was rescued from a Virginia puppy mill.
By Sandy Miller
Willa the dog got a rough start in this world. The little Scottish terrier spent the first six years of her life confined to a small cage, churning out litter after litter of puppies so her breeder owner could sell them for profit. She never knew the kindness of human touch, what it was like to go for a walk on a sunny day, to play with a ball.
That is, until she came to Best Friends.
Scottish terrier from puppy mill featured on National Geographic's "DogTown"
Willa, who is one of the dogs featured on last Friday's episode of the National Geographic Channel's series "DogTown," is just one of many dogs Best Friends Animal Society has helped rescue from puppy mills.
Puppy mills are commercial breeding facilities that produce mostly purebred puppies in large numbers. Dogs are housed in crowded, filthy conditions without adequate food, water or exercise. They have little human contact and usually do not receive any veterinary care. When they can no longer have puppies, they're abandoned, dumped at a shelter or killed. Their puppies are sold mostly to brokers who market them to pet stores, or to the public via the Internet, newspaper ads or auctions.
It's estimated that there are between 4,000 and 5,000 puppy mills in the U.S., some with more than 1,000 breeding dogs. The majority of these factory farms are concentrated in Pennsylvania and the Midwest – Missouri, Arkansas, Iowa, Kansas, Nebraska and Oklahoma.
Best Friends helping dogs from puppy mills
Best Friends has stepped in to help rescue dogs from puppy mills in California, Virginia, Nebraska, and most recently, West Virginia, bringing the most physically and emotionally challenged dogs back to the sanctuary for medical treatment, socialization and rehabilitation to give them a better chance of finding loving, forever families.
Special care and training for Scottish terrier
Willa was one of 179 dogs that Best Friends rescued last fall from a puppy mill in Virginia. Willa came back to Best Friends, where she got some one-on-one attention from Best Friends dog care manager Michelle Besmehn, who fostered Willa in her home.
Michelle's treatment plan for Willa was simple. "I really just exposed Willa to a lot of new things and people," Michelle says. "She came to work with me sometimes and I had people over to my house. She learned how to use the dog door very quickly. Loud noises bothered her sometimes, but I just didn't make a big deal about it."
With Michelle's special care, Willa learned how to, well, just enjoy being a dog. And last February, Willa found a wonderful forever home with Mary Ann Meyer and her son, Jeff Huntington, in Salem, Oregon.
"She is doing beautifully," says Mary Ann, who has adopted many rescued Scotties over the years. "I can't tell you how sweet she is."
Shutting down commercial dog-breeding facilities for good
Best Friends continues to be at the forefront in the fight to shut down puppy mills for good. Some examples: Best Friends helped some grassroots rescue groups travel to Missouri, where they rescued dogs from an auction. Best Friends is partnering with Last Chance for Animals on the Puppy-Store-Free LA campaign to end the sale, breeding and importation of puppy mill dogs in the greater Los Angeles area.
In a groundbreaking study, Best Friends' own Dr. Frank McMillan is studying the emotional health of rescued puppy mill dogs throughout their lifetimes. And Best Friends is one of the sponsors of the upcoming Fifth Annual Puppy Mill Awareness Day, to be held September 20 in Lancaster County, Pennsylvania.
Black Scottie adopted into a forever home
Meanwhile out in Salem, Oregon, the little black Scottie with the sprinkles of gray in her hair has continued to blossom. Mary Ann says Willa loves wrestling with 10-month-old Jake, another one of her rescued Scotties, and lounging on the porch swing. In the evenings, Willa curls up next to Jeff and watches TV.
"All she wants to do is give you a kiss and lie down beside you," Mary Ann says.
Willa still has some special needs. She suffers from ataxia, a neurological disorder that causes her to wobble just a little when she walks. Many mill dogs suffer from physical ailments because of the inbreeding, unhealthy conditions and lack of veterinary care endemic to puppy mills.
Mary Ann says people who have the time and love to give should consider adopting a rescued puppy mill dog because they give so much back.
"It takes some patience and a little time," Mary Ann says. "They're so grateful to have been rescued and to be away from the horrible life they had."
Find out more about puppy mills and what you can do to help put them out of business.
Photos by Molly Wald