Senior cat comforts adopter during cancer treatment
A quirky senior cat named Brigadier is just what the doctor ordered for an adopter who was diagnosed with cancer shortly after bringing him home.
By Peggy Race
Emily Vogel was on a ski lift somewhere in the mountains near Salt Lake City when she did a video chat with the Best Friends in Utah team about a 13-year-old cat named Brigadier, who she fell in love with on the Best Friends website.
"I was drifting through gorgeous summer mountain scenery and was far and away more captivated by my meeting with a cat," she says of Brigadier, who spent the whole video chat begging head rubs off his foster mom and chewing on his catnip banana.
It was on that ski lift ― long before her feet were back on the ground ― that Emily decided to adopt Brigadier. And while she had a good feeling that the quirky senior would add plenty of color to her life, she couldn't have known that he'd be a constant source of comfort after she was diagnosed with cancer.
Senior kitty loves people
Brigadier has also seen his fair share of adversity. He lived in a home that had far too many pets, which led to overcrowded conditions. When he ended up in a Utah shelter, he was toothless from lack of dental care and had a head tilt caused by a prior ear infection. He was also tested positive for the feline immunodeficiency virus (FIV).
Considering Brigadier's past, you'd think he'd be fearful of the human touch. Instead, after he was brought to Best Friends, he easily transitioned to life in his foster home with Emily Sahsah.
"Brigadier is a sweet and funny old man," says Emily, an adoption specialist at Best Friends in Utah. "He loves to follow his human friends around the house and even runs at full speed to keep up with or catch up to them. He has the best personality."
[Cat with Manx syndrome give the best hugs, gets a home]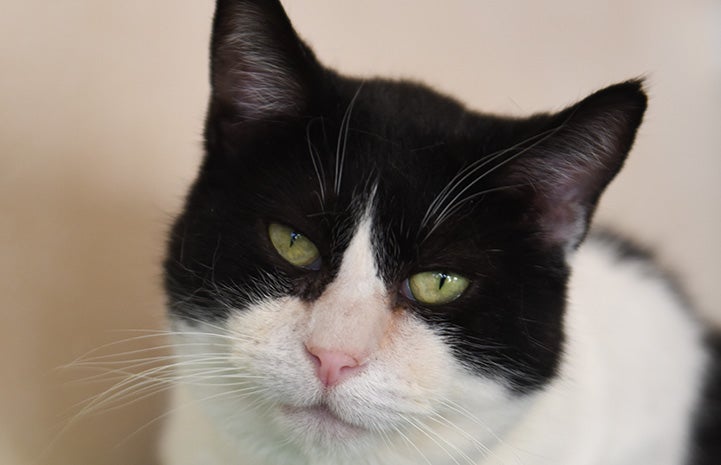 Cat comfort after a scary diagnosis
It may have been Brigadier's toothless smile and endearing head tilt that won over Emily on the slopes that day, but it's his penchant for snuggling that she especially adores. And those snuggles came in handy when, soon after adopting him, she was diagnosed with cancer.
Emily says it helped to have a sweet, furry friend around who held no qualms about her diagnosis. "I can't say enough positive things about having Brigadier during treatment," she says. "I spent a lot of time in bed weak, tired and not thinking very clearly, but he took the whole situation as an opportunity for extra cuddles. It was incredibly comforting to have him there."
It also helped that Brigadier needed medication while Emily was undergoing treatment because it gave her a chance to focus on someone other than herself. "Turns out, love is stubborn and sometimes built on shared, twice-daily misery," she says.
[Wee kitten helps Scottish adopter adjust to life in the Lone Star State]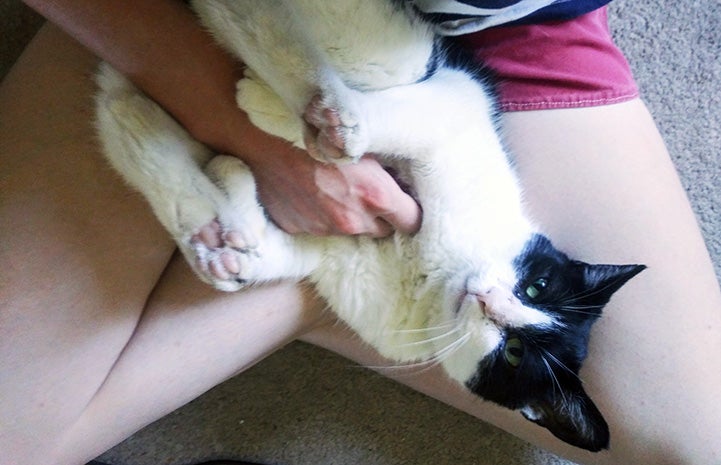 Daily dose of quirkiness
Every pet has unique characteristics and Brigadier is no different. Although some might believe that a senior cat would enjoy the convenience of drinking from a water bowl, Brigadier prefers cool, fresh water straight from the faucet. When his thirst mechanism kicks in, his powerful hind legs propel him onto the kitchen or bathroom counter, where a consistent rallying cry continues until Emily turns on the spigot.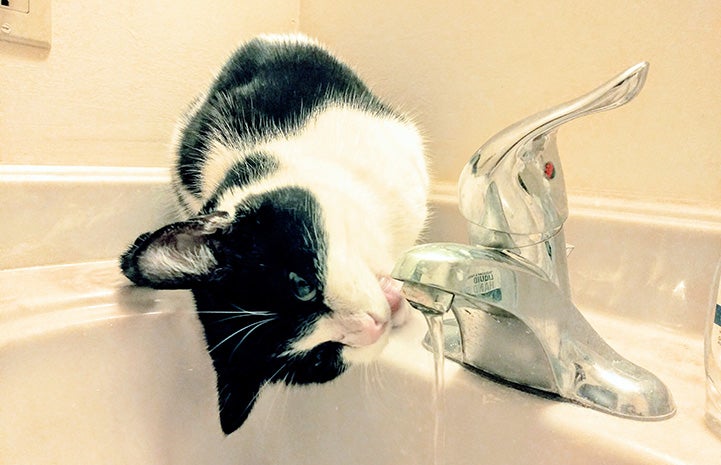 Emily says she's lost many snacks to Brigadier, who sometimes flops down on her food in pursuit of attention. But his quirky behaviors aren't just the icing on his charming personality. They also provided Emily with a good chuckle during a time in her life when she needed a reason to smile. A quirky kitty, it turns out, was just what the doctor ordered.
"He's my buddy. I'm his person," says Emily. "We take care of each other. Life is better for having him in it."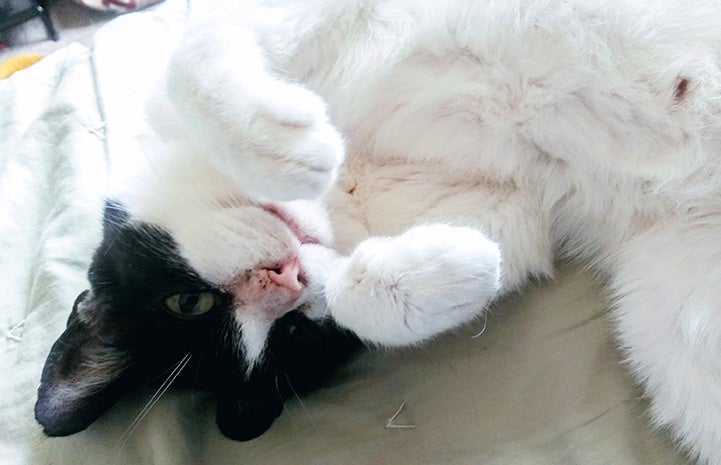 Feline love is good medicine
Looking for a daily dose of laughter and love? You can find it at your local shelter. Adopting a cat isn't just good for them. It's good for you, too.
Read more
Kitten with lymphoma lives life to the fullest
Pilot becomes cat rescuer and TNR advocate
Photos courtesy of Emily Vogel and by Molly Wald