Senior dog coasts into his golden years with a smile
Jack needed major surgery and a soft place to land, and that's exactly what he got in Northwest Arkansas.
By Lindsay Hutton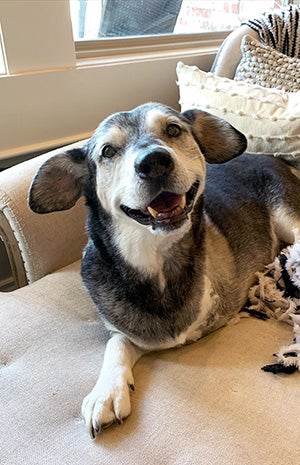 At 11 years young and after recovering from a surgery to remove one of his front legs, Jack is walking up stairs and going for dips in the lake on warm afternoons. He's cuddling with his dog buddies in the sun. He's lounging on a pillowy soft bed or posing for photos in the backyard with his family. And he's smiling like a dog who has all the time and care in the world ― which he does, thanks to quick thinking and medical support just when he needed it most.
Jack needed a new home, but equally as urgent was a large tumor on one of his front legs. The sweet senior dog went to Holly Brookhauser's house in northwest Arkansas, where he found a soft landing with her small rescue group, Paws of Oz.
Support for pets in Northwest Arkansas
Holly wanted to give Jack the best chance of enjoying his golden years, if that was even possible given his medical situation. She contacted Best Friends in Northwest Arkansas and the team arranged a vet visit to assess Jack's leg and consider his options.
As it turned out, the mass on Jack's leg was so big that the vet didn't think it had much room to grow. The diagnosis left Holly with an agonizing choice of putting Jack through a surgery to amputate his leg or be forced to euthanize him if or when the tumor opened. There was also the cost. Orthopedic surgery is expensive.
With support from Best Friends in Northwest Arkansas that included covering the cost of surgery, Holly made the decision to see Jack through it.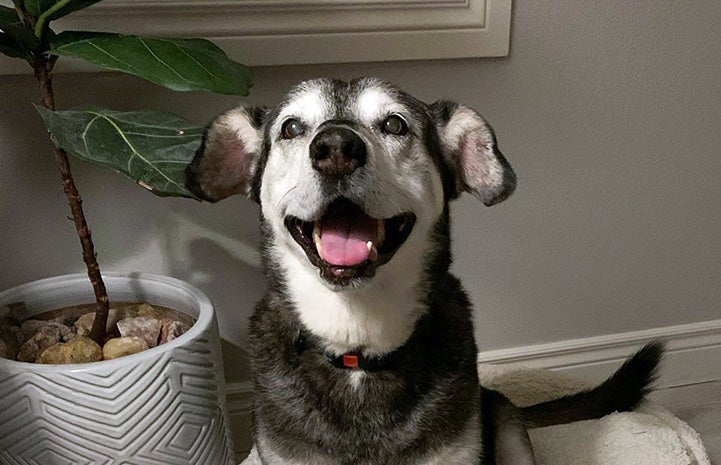 Surgery for a senior dog
The night before Jack's surgery, Holly sat up in bed, heavy with worry. She looked down at Jack, whose bed was right next to hers. He calmly gazed back. She didn't know what to make of it. Did he know what was going to happen to him tomorrow? Anxious thoughts raced through her mind.
Jack continued to look at her, clearly happy and at peace. Moved, Holly took his picture. "He just crushes my heart because he's just so sweet," she says. "And he was being so sweet in that moment and talking to me (like he was) telling me it was going to be OK."
Jack was OK, and even though it a major surgery for a senior dog his size, he came out of it with a smile on his frosty face.
Watching Jack go from taking some first tentative post-surgery steps to hopping happily down to the lakeshore for a swim, Holly is certain she made the right decision. "He's just this calm, cool dog," she says. "You want to make everything perfect and right for him, because for all that he's been through, he's loving and resilient."
Give senior pets the golden years they deserve
Make a difference in the life of a senior pets near you by stepping up to foster. Help make pets' golden years some of the best years of their lives.
Read more
6 random acts of kindness toward animals
Pets and people in Arkansas get support outside of the shelter
Photos courtesy of Holly Brookhauser