Senior dog gets a little help from friends and finds a home
Two volunteers help a senior dog overcome challenges and find her own home with a family that can't imagine life without her.
By Tara McKenney
Some pets capture the hearts of everyone they meet on their journey. Boxy Brown is one of them. Three years ago, the senior dog and social butterfly found her way to Best Friends in Los Angeles from a Los Angeles city shelter.
Staff members and volunteers were charmed by her boundless energy, displayed as a burst of zoomies at the end of her leash, and her affectionate, playful nature. In fact, she was so patient and gentle that the team chose her as a model to help teach new volunteers how to put on a harness.
Gina Burrows, who worked with Boxy Brown, says the dog liked staff to tuck her into her kennel at night and that she would also happily snuggle with people under big blankets when they needed a hug. But Boxy also had some obstacles to overcome before she would be able to show her best self to potential adopters.
Her love of people doesn't translate to other dogs, cats or any other animals, period. She needs to be the only pet in the home. Add in a few other challenges, such as being a senior, having a tendency to guard her toys and trying to overcome a skin condition, and Boxy Brown faced even more obstacles on the road home.
[Foster family takes a chance on a dog in need]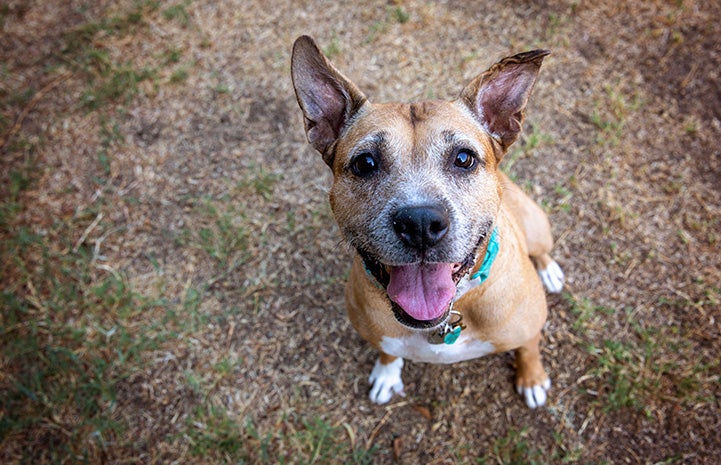 Dog gets a little help from her friends
Sometimes things just don't work out, and through no fault of her own Boxy Brown was adopted and returned twice. "The longer she was in the shelter environment," says Gina, "the more she struggled (with) jumping and barking at prospective adopters, which made them even less likely to take a chance on her."
That's when two generous volunteers stepped up. One sponsored her full adoption fee and the other provided both special food to address her skin condition and professional behavioral training to help her transition to adoption.
While waiting for the right fit, staff and volunteers continued to work with her. The Best Friends public relations team even secured her a spot on local television where she shined in her debut. But it eventually would take developments around the COVID-19 pandemic for just the right adoptive family to see how much Boxy Brown had to offer.
[Senior dog finds a home for her "100th" birthday]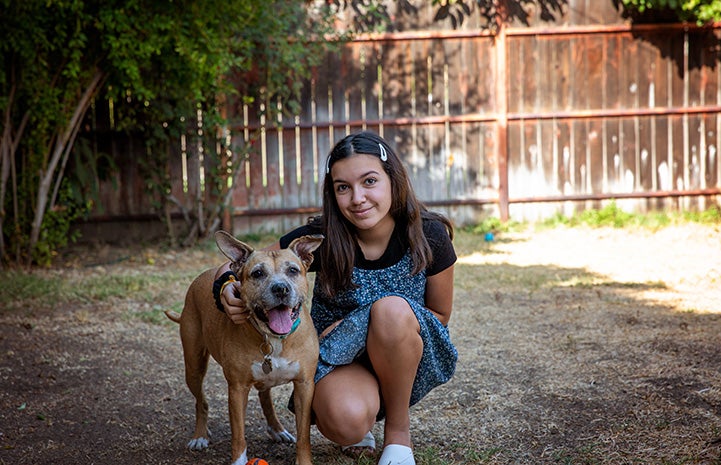 The best Mother's Day present ever
When Erfan Marks and her family learned they'd be home a lot because of the pandemic, they decided the time was right to adopt a dog. Though they'd never shared their home with a dog before, they're dog lovers who often volunteer to dog sit for friends. And they knew older dogs are often overlooked at shelters, so they chose to focus their search on a senior.
Erfan's 13-year-old daughter spotted Boxy Brown on the Best Friends website and the family fell in love with her profile picture and video. But what really attracted them to Boxy was her sweet face and her story.
Boxy's foster home hosted a Zoom meet-and-greet, and the Marks family decided she would be the perfect Mother's Day present to them all. "Once we learned she had a sponsored trainer, we were all in," Erfan said. "We knew we would get the proper training we needed to help her overcome the challenges she had faced."
Good news travels fast and the staff and volunteers were soon celebrating the team effort that resulted in Boxy's adoption. But would this time be the last?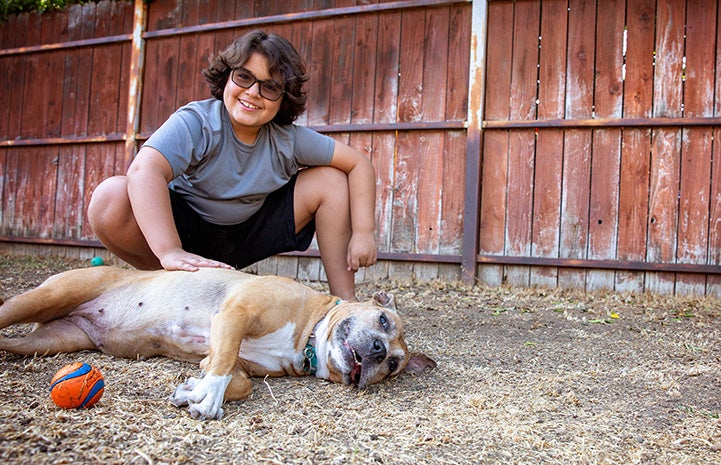 Boxy Brown birthday bash
A bit of hesitation is common among dogs adjusting to new homes, but beyond that typical behavior, Boxy Brown was comfortable with her family right away. A key to her success was the donated training.
Boxy has also established a bit of a routine that includes waking up the family for the first walk of the day, joining Erfan on the yoga mat and remaining close to her mom while she works at her desk. She also looks forward to playing fetch with her favorite rubber ball, lying in the sun and going for car rides.
Since Boxy Brown became the center of attention in the household and poses for countless pictures, it only made sense to set up her very own Instagram page. In one photo, Erfan wears a "Dog Mom" T-shirt with the caption: "Never knew how much I would love being a dog mom until Boxy came into our lives." Erfan gushes over the family's newest member, who's thriving in her forever home. "We find her to be so, so special."
She's so special, in fact, that her devoted mom threw Boxy a 10th birthday party on Zoom, which was attended by friends, family and Best Friends volunteers (who remain her staunchest supporters). "She sat in front of the computer while we sang her happy birthday and fed her a piece of her cake that I had made in the shape of a dog bone," says Erfan.
Boxy Brown had other ideas and everyone laughed when she took the cake to her crate to celebrate on her own. The family was moved to see so many people come together to support her success. Says Erfan, "It made our hearts so happy and full to see people show up to celebrate her."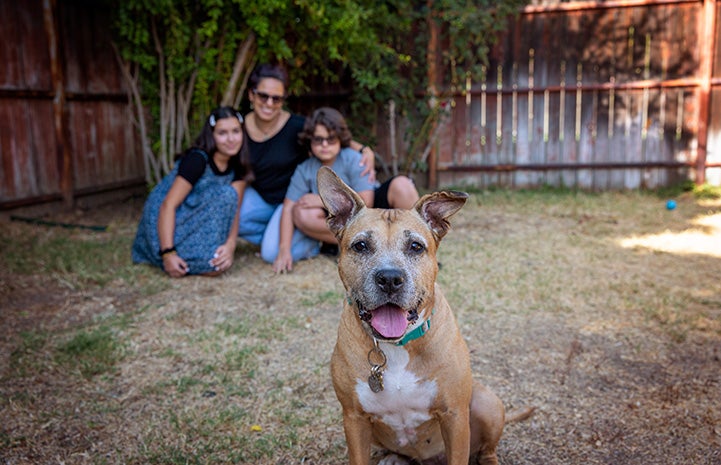 Thinking about adopting a senior pup?
Give a senior pet the best gift of all this holiday season ― a home.
Read more
Senior cat's meme helps find him a home
Prison program betters the lives of dogs, inmates and veterans with PTSD
At 13 years young, senior pittie finds the perfect person
Photos by Lori Fusaro