Senior dog slims down, finds bliss in her golden years
Sheena may be 11, but this pit bull terrier mix is just getting her second wind and feeling better than she has in a long time.
By Sarah Thornton
When Sheena lost her home and came to Best Friends, we knew she'd need a little extra help before she would be ready for adoption. A senior dog with allergies who is prone to infections and can't walk very far without assistance, she wasn't in the best shape. She also prefers to be the only dog in the house, and since most people who love animals already have a pet or want that option, it's difficult for solo dogs to find homes.
This 11-year-old's fur would surely be turning gray — if it hadn't already happened. Sheena is starting to feel better than she has in a long time. It has taken lots of care and a bit of ingenuity to get her there, but she has shed a whopping 30 pounds and it's all worth it to see her toothy, doggy smile.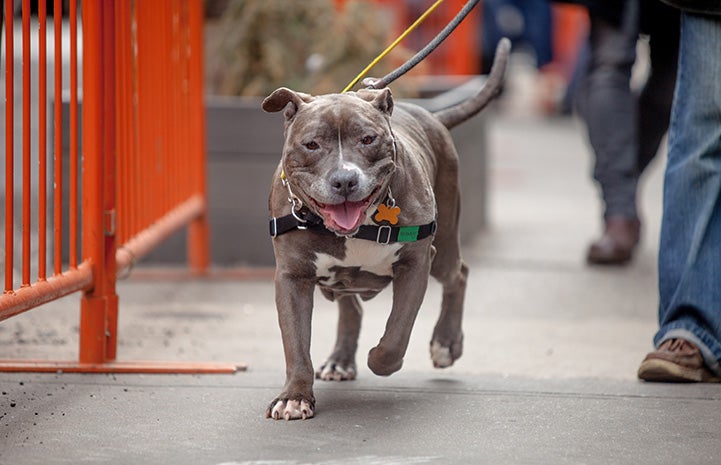 Road to recovery — from the city to the desert
Sheena's road to recovery started with Best Friends in New York, and when we first met her, she was overweight, her fur was sparse and she couldn't walk more than three blocks before stopping and refusing to move. But plenty of special care and attention helped get her back in shape.
Sheena had regular physical therapy that included balancing and stretching her legs. She received laser therapy with a deep-penetrating cold laser to reduce inflammation and relieve pain. And she spent a lot of time doggy-paddling around in the pool to build up muscle in her back legs in a way that didn't put pressure on her joints.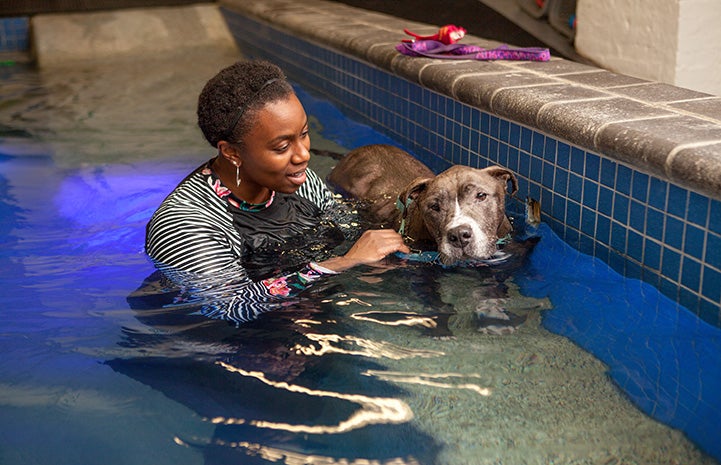 [Adopted dog's health problems no match for his family's love]
No matter what sort of therapy was on the schedule, sweet Sheena just enjoyed the attention; however, she still couldn't walk very far. So, she they got her a wagon and she loved it. A relaxing return ride after a strenuous trek down three whole city blocks: Who wouldn't enjoy that?
When she was transferred to Best Friends Animal Sanctuary in Kanab, her city wagon wouldn't cut it on the winding canyon trails, but she still needed a ride to get around. So, the staff upgraded her to a more rugged buggy that could handle the sand and stone. Still, that return trip made Sheena's short walk a two-person job.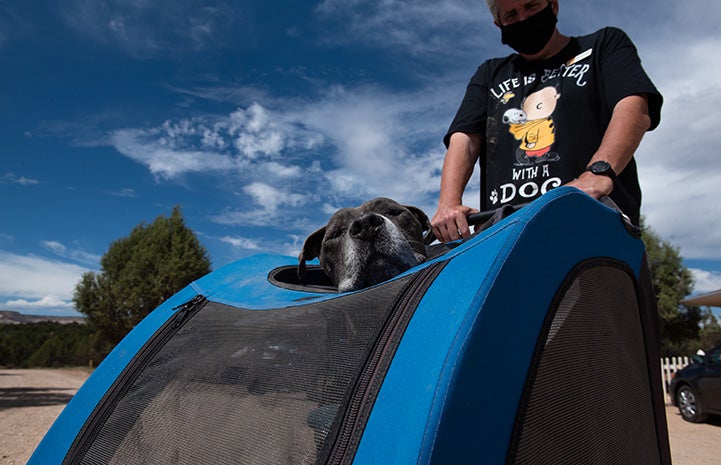 "It would take one person to push the buggy and the other to walk her," says Julia Henderson, one of Sheena's caregivers. "And then both had to pick her up and put her in the buggy and bring her home." Jacquie Bushway Speer, another caregiver says, "She thought that was the coolest thing. She trained us well."
[Dog paralyzed by valley fever gets back on her feet.]
As Sheena's therapy continued and she started losing weight and building more muscle, the buggy became less of a necessity and more of a joyride. Now she can go on a walk without it, although a standby golf cart is only a radio call away if she really needs a ride back. Recently, she's even been spotted running slowly along the fence playing with a neighbor's dog.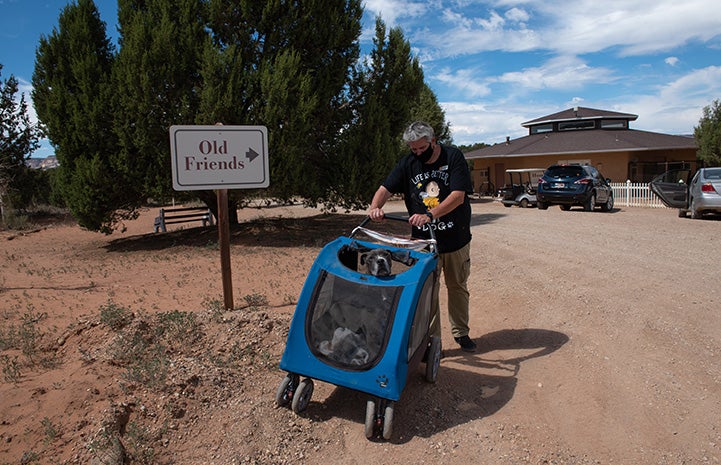 Feeling good in her golden years
These days, Sheena is looking good and feeling good. She's on a special diet, which has brought her down from 90 pounds to a healthy, comfortable 60. Her fur has completely grown back, and she gets regular baths to keep her coat in tip-top shape. Her caregivers even diligently clean between her toes to keep her feet healthy.
Sheena loves all the pampering. She enjoys being scrubbed and she even holds still for her eye medicine. The only thing she's not a huge fan of is having her ears cleaned. But she'll tolerate it in return for treats and being told she's the best dog ever.
At the Sanctuary, Sheena has discovered riding in golf carts and cars — her favorite luxury. Julie says when they take her on potty walks, she walks to the car, stops at the door and looks up at it. And then, if she isn't let into that car, she goes to the next one. And if that isn't the right car, she tries to pull her caregiver toward the building where hydrotherapy happens.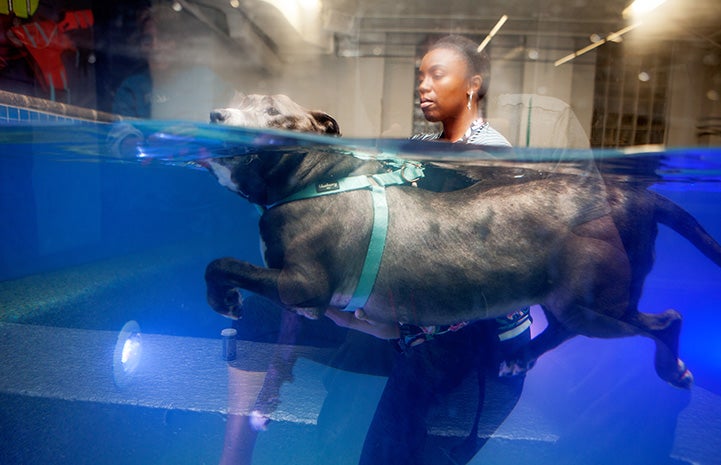 [Why the car is a shy dog's best friend]
"She's a kick in the pants," Jacquie says with a laugh. "She's got a little more of a step to her now, and she really wants to get going. She's feeling really good."
When Sheena isn't trying to puppy-dog-eye her way into a car ride, she's stretched out in the sun, soaking up the warmth, relaxing and enjoying the quiet life. Sheena is content — waiting for her next car ride, next hydrotherapy appointment or the next new person to meet and cover in warm doggy kisses.
Next on her wish list is a home of her own where she can spend the rest of her golden years in bliss.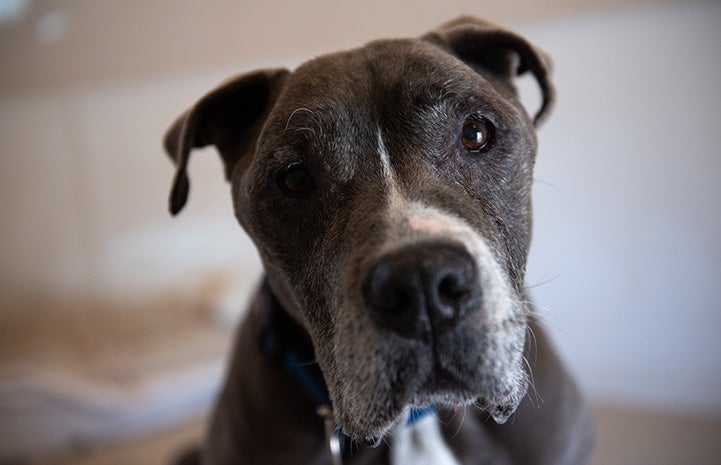 Help more dogs on the road to recovery
In a given year, hundreds of dogs call Best Friends their home-between-homes. You can help them.
Read more:
Sweet, nap-loving senior pit bull enjoys the good life, thanks to the incredible people who worked so hard to save him.
Woman follows her heart (and a rescued dog) to her dream job.
Dog goes from diamond in the rough to lighting up an adopter's life.
Photos by Robert Stoetzel and Molly Wald