Sensitive dog is scared in a shelter, thrives in a foster home
Image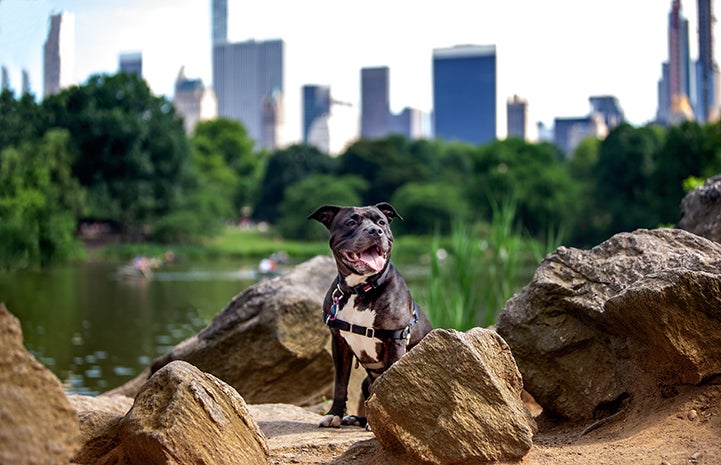 Sensitive dog struggled with being in an animal shelter, but once she was moved to a foster home, she began to thrive and was soon adopted.
By Nicole Hamilton
The Best Friends Pet Adoption Center in New York City is an uplifting place, especially when you consider that it provides second chances for dogs to be adopted from Animal Care Centers of NYC (ACC). But some dogs — no matter what — just don't feel comfortable in a shelter environment, and Queen Lillian was one of them.
No matter how hard center staffers and volunteers tried to make her feel at ease in her kennel, Queen Lillian just couldn't relax long enough to show potential adopters the same fun-loving side she showed on her daily walks.
As time passed for Queen Lillian, she remained at the center while dogs arriving after her were adopted. So the staff at Best Friends began to look for a foster home for Queen Lillian — somewhere she could relax.
Turns out that this was just what the queen needed. With a combination of a dedicated foster and countless walks in Central Park, she didn't just feel better. She flourished.
Thriving in her foster home as queen of the couch
"The shelter environment was very stressful for Queen Lillian," says Kristan McCormick, the center's lifesaving support services lead. "She was selective toward people — especially men. But all that disappeared when she went to her foster home."

During her time at the center she'd lived up to her title and earned the staff's love and admiration, thanks to the spirited personality she showed once she learned to trust people.
Alex Dalavagas was a little nervous about fostering Queen Lillian. "She had a fan club," says Alex. "I didn't want to mess it up." But everyone had full confidence in Alex, who has fostered some of the center's most behaviorally-challenged dogs — all of them now living in forever homes.
With cautious optimism, Alex took Queen Lillian home with her and it didn't take long to see why everyone at the center smiled whenever they said the dog's name. Queen Lillian was a different dog — when she had more space, a couch to crash on, and (preferably) someone to curl up with.
About our goal to make the country no-kill by 2025
Dog walks in Central Park to the rescue
Helping Queen Lillian, however, wasn't as easy as giving her a comfy couch. She still had to overcome some challenges — specifically her tendency to get overly excited when she saw other dogs on walks, which caused her to pull hard on the leash and put Alex's shoulders to the test. And then there was the issue with strangers. At the center, Queen Lillian would often bristle around new people, and that would need to change if she were to find a home.
In order to teach Queen Lillian new skills, Alex put the park across the street to good use. Central Park, which each year attracts more than 36 million visitors, was the perfect place for Queen Lillian to practice meeting all sorts of new friends and gain confidence in the world around her.
Letting a dog be herself
Alex's approach was simple. "I let her just relax. It was all about her," she says. "I focused on making her comfortable."
What Alex found was that Queen Lillian, who she called Lilli (a name that stuck), preferred things to be quiet — something that's hard to come by in a shelter environment. "At first, all Lilli wanted to do was curl up beside me," says Alex. "She loved the calm."
But Queen Lillian is also a girl who likes to have fun — and lots of it. She'll hop into the shower (when you're in it), loves getting sudsy in the tub and prefers sleeping on the couch with her back paw resting on someone's face.
That's the Queen Lillian that Alex and the team at Best Friends wanted the world to see. She just needed practice to feel OK around people she didn't know. Long walks in Central Park seemed to do the trick.
"You've got to stay calm when you're surrounded by so many people and dogs," says Alex. "Sometimes we'd find a bench and just sit there. Eventually she started to pick up normal dog behavior and it became pretty clear that she just wanted to love everyone."
An instant Instagram connection
As Queen Lillian was learning new skills in Central Park, Mia Lee was checking out photos shared by Alex on Instagram, and as she followed Queen Lillian's transformation on social media, she grew more confident that she could give Queen Lillian a great home.
Mia eventually let the adoption center staff know she was interested in adopting Queen Lillian, and since Alex was going out of town, the timing seemed perfect. She'd bring Queen Lillian back to the center for Mia, with the hope that when she returned home to New York City, Queen Lillian would be finally home, too.
Queen Lillian's crowning achievement: a family of her own
Everything went beautifully. Queen Lillian was her new, happy self — even back at the adoption center. And Mia fell in love and adopted her.
Today, Queen Lillian still wears the big grin Alex got to know so well. "She can be really goofy," says Mia. "Overall, she's a really sweet dog. I can see why everyone loves her."
Of course, Mia is well aware that Queen Lillian still has some learning to do, and when the dog is uncomfortable around people, she is compassionate. "Lilli has been through a lot. I can tell she still has issues," she says. "But then, we all have issues."
Now Queen Lillian and Mia divide their time between homes in New York City and Massachusetts, where Queen Lillian has lots of room to run and play. But no matter which home she's in, she always has the room to be herself.
As for Alex, she misses Queen Lillian, although updates from Mia help. Walks in Central Park aren't the same without Queen Lillian tugging at her shoulder, but whenever Alex sees a dog happily strolling with a family, she knows Lilli is out there with Mia, happy to finally be home.
Save a life. Donate to Best Friends.
Photos by Robert Stoetzel and Sarah Ause Kichas