A service project with animals
Image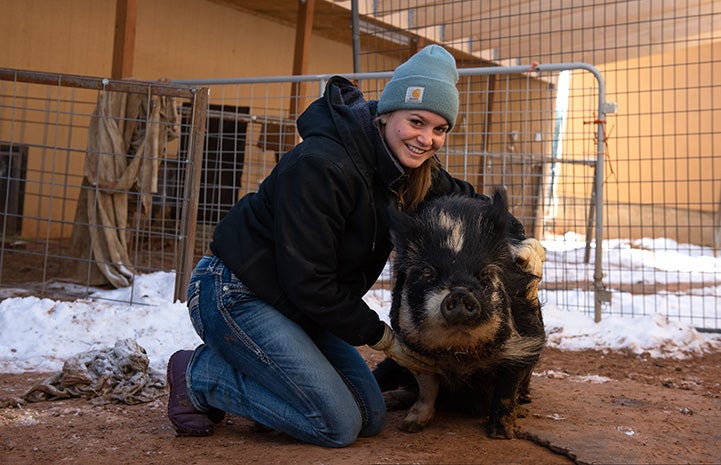 High school student completes service project volunteering with horses, pigs, goats and dogs at Best Friends Animal Sanctuary.
By Christelle L. Del Prete
Abby Leuchten is grateful that her adventurous family led her to a place she loves. Six years ago, she and her family traveled from their home in Boulder, Colorado, to southern Utah for a camping trip, and while there they took a tour of Best Friends Animal Sanctuary. Abby was still in elementary school then, but the young animal lover was spellbound and vowed to one day return to the Sanctuary.
This year, Abby got her chance. Her high school assigns seniors a two-week service project that gives them the opportunity to give back to their community before going off to college. When they are coming up with service project ideas, students are challenged to find a personally meaningful project. Abby knew instantly that she wanted to come to Best Friends to volunteer. She hadn't been back to southern Utah since that childhood trip, but a few years later, the family adopted a dog from the Sanctuary. Abby couldn't wait to see the Sanctuary again and to experience it in a whole new way.
Volunteer at Best Friends Animal Sanctuary
Volunteer work with horses, pigs, goats and dogs
For two weeks, Abby stayed in one of the Sanctuary cabins and volunteered in Dogtown, Marshall's Piggy Paradise and Horse Haven. She mucked horse pastures and the goat barn, helped with feeding goats and horses, brushed horses, worked with shy dogs and walked pigs. "I already knew and loved horses and dogs, but I wasn't sure about the pigs until I worked with them," she says.
After falling in love with the Sanctuary's potbellied pigs, Abby arranged to spend more of her time volunteering in Marshall's Piggy Paradise. Since it was still winter during her visit, she helped the pigs stay warm by putting extra hay in their houses. At one point, she took three pigs for a walk and rewarded them with treats when they stayed by her side. "I had no idea you could walk pigs," Abby says. The fact that some pigs will roll onto their sides for belly rubs was a wonderful surprise, too.
The goats running around the goat barn on a beautiful day also delighted her, and Abby especially enjoyed working with a dog named McDreamy. "He was so shy," she says, "but he warmed up by the end of our time together."
Horse volunteer opportunities may help future career
During her two weeks at the Sanctuary, Abby completed her service project and made many new animal friends. Her equine volunteer work has given her some helpful background for the equine science program she'll be starting next fall at Colorado State University. "I may choose to do pre-vet or equine nutrition, but the university has a wide range of things I can choose from. My experience at the Sanctuary has been so much fun, and I'm so happy I chose Best Friends. If I have the chance to volunteer while in college, I'll be back again."
Join Best Friends and help Save Them All
Photos by Molly Wald