Shelter from the storm: How a community came together to save a dog from a Texas deep freeze
Pancho was found huddled, cold and scared during a historic Texas winter storm, but through community-focused sheltering he found a wonderful new home.
By Nicole Hamilton
When Kerry McKeel logged onto to Facebook on Valentine's Day and read that her neighbor had spotted a lost dog huddled in a nearby yard, she knew she'd have to act fast to save his life. Texas was in the middle of a historic deep freeze and with temperatures still plummeting and snow on the way, the sooner he found shelter, the better.
Kerry immediately offered to take in the dog, but there was one important thing to consider: In light of the record-breaking winter storm, Houston shelters had paused intake while waiting out the weather. Kerry couldn't take the dog (who she named Pancho) to the shelter even if she wanted to.
Some might see this as an obstacle, but not Kerry, a Best Friends employee working in Texas. To her, it was a golden opportunity. With the shelter closed, she could foster Pancho and, with the help of Best Friends in Houston, practice community-focused sheltering, a model that gives the public the opportunity to participate more in the lifesaving process.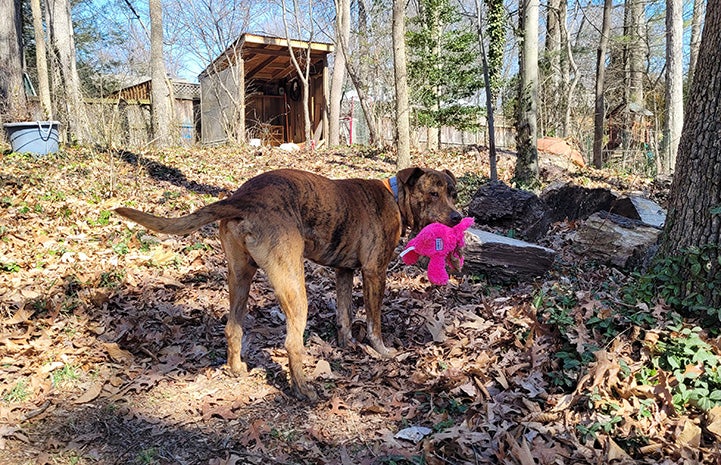 Animal shelters and people working together
After Kerry made sure Pancho was warm and fed, she began the search for his family. Since he wasn't microchipped and didn't have a collar with identification, she knew finding the family would be tough. But she wasn't going to leave any stone unturned.
First, she sent details and photos of Pancho to the shelter, in case anyone contacted them looking for a dog matching his description. Then, she put up fliers and took to social media, hoping someone would see her posts and respond with information about Pancho's family.
As the days went by and Pancho settled in at Casa McKeel, Kerry started to see glimpses of his personality. While he may have hit a low point when he curled up in a stranger's yard with nowhere to go during a storm, Pancho leans toward happy, even when things get tough.
Unfortunately, the search for the sweet dog's family came up empty. When it became clear that no one was looking for him, Kerry turned her attention to finding him a new home. By then, the shelters had reopened, but she knew he'd fare better by skipping the shelter altogether. Not only would keeping Pancho out of the shelter open up more kennel space for another dog in need, but it could help him find a home faster.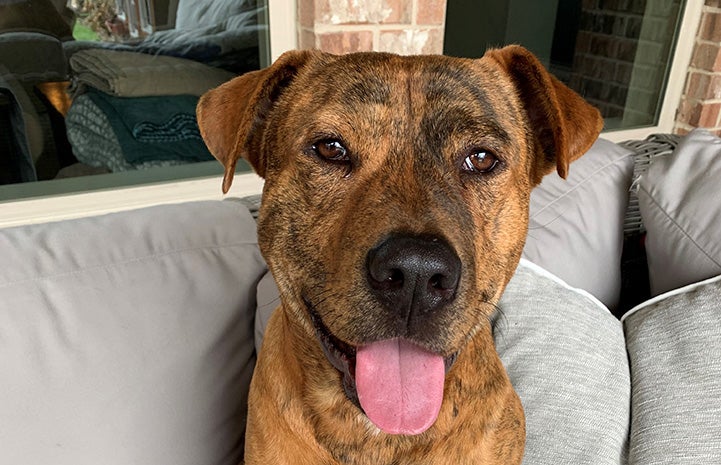 "Our shelters in Houston are full of wonderful dogs over 40 pounds who look a lot like Pancho," says Kerry. "Not only can it be challenging for adopters to distinguish their unique personalities, but sometimes dogs aren't able to let their true personalities shine at shelters. So consequently they get overlooked."
By fostering Pancho, Kerry was able to get to know his personality in a home environment and learn about the charming attributes that made it easier for her to be his advocate and connect him with potential adopters.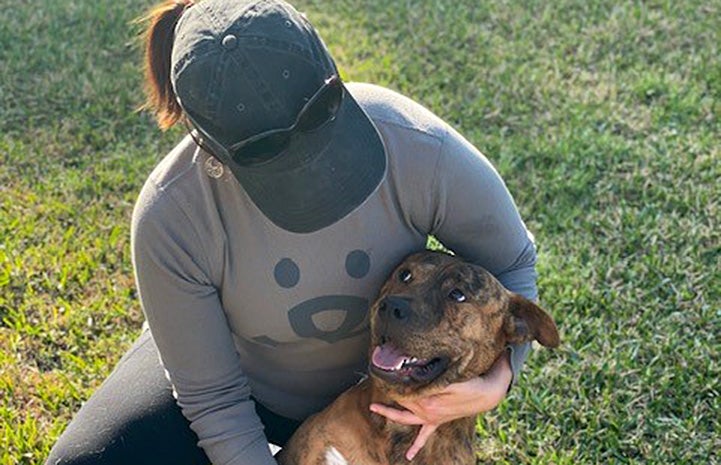 The power of social media ― and friendship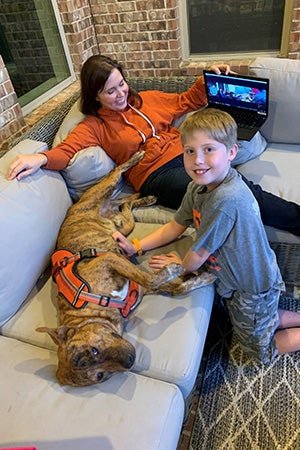 Now it was time for Kerry to once again use the power of social media to get word out about the happy, gentle dog. That's how her friend and former colleague, Lisa Tudor, learned about Pancho. Lisa, a northern Virginia resident who's a certified dog trainer and owner of KissAble Canine Training & Behavior, was helping her neighbor, Cathy Field, find a dog.
While Cathy's husband had lived with dogs before, she and their children had not.
Their goal was to find a dog who was friendly with people and could assimilate well into their lifestyle in a dense, suburban neighborhood. Basically, they were looking for a dog like Pancho.
Kerry shared several videos of Pancho at home in his element. Since Lisa is a dog trainer, she could observe his behavior and share what she learned about him with the Field family. "It really helped having Lisa's input," says Cathy, who arranged a video call to meet Pancho up close and personal (or at least as close as they could get from several states away).
Within minutes of ending the Zoom call, Kerry received a message that it was unanimously decided that Pancho must come to Virginia and be part of their family. There was just one challenge: Pancho was still more than a thousand miles away in Houston. But with Best Friends helping with everything from vaccinations, to securing a health certificate, to arranging for him to be part of a transport already bound for Virginia, the wheels were set in motion.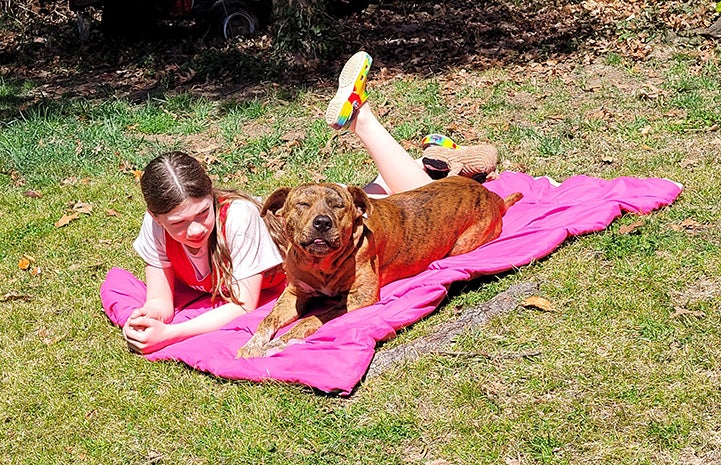 Dog is one of the family
Cathy will never forget the first time she and her family saw Pancho. When they pulled up, he was standing in the parking lot outside of the transport van with a big grin on his face and his tail wagging. In fact, he seemed to be having an easier time keeping his cool than Cathy. "As soon as I saw him, I had to tell myself to calm down," she says.
If anything, these first interactions were a sign of how easy life with Pancho was going to be. After a little walk and plenty of sniffs to take in the new smells, they all hopped in the car, hit a drive-thru on the way home and kept going. It was like Pancho had been a part of the family forever.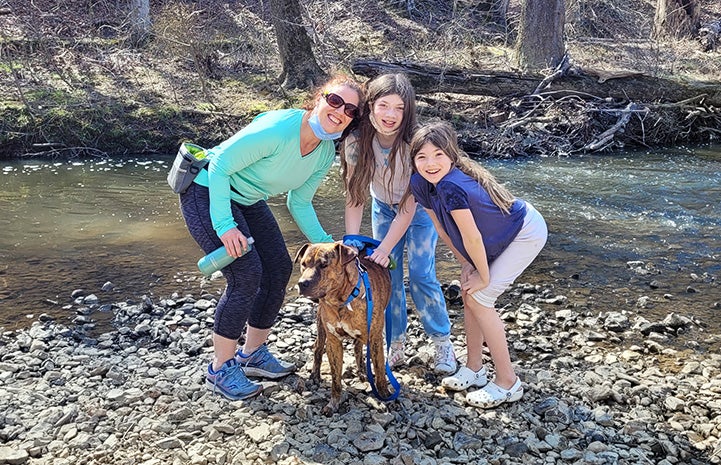 Shelters as resource centers
Today Pancho is thriving in Virginia. Meanwhile, back in Houston, Kerry can't help but to think about him and be reminded of what's possible when people come together to help pets in need. "It is so exciting to think this could become the new standard sheltering model across communities in our country ― animal shelters turning into true resource centers to support found animals while they temporarily stay in a foster home until they get their second chance," she says.
Recently, Pancho adopted the sweetest nighttime routine. He sleeps in a dog bed in the hallway to be near everyone's bedroom, but whenever he's awakened by something or someone, he'll make his way into Cathy's bedroom to give her a quick lick on the cheek.
Perhaps it's his way of letting her know he's happy in his new home, or maybe it's his way of making sure that Cathy is safe and secure ― just as he was the day he came to Best Friends in the middle of that historic Texas snowfall.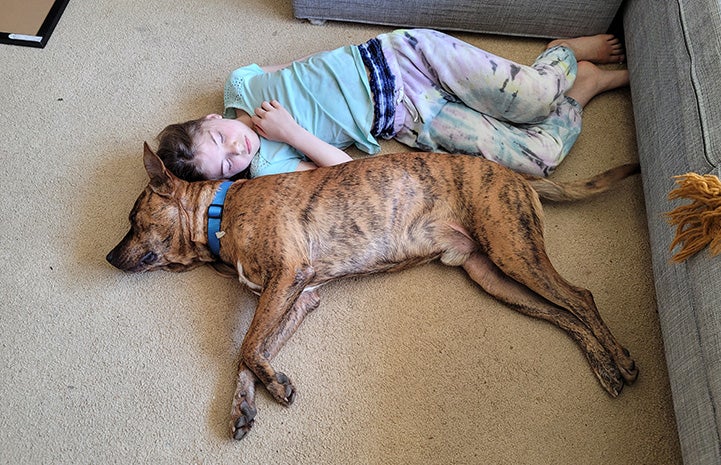 Foster a dog near you
It's a new day for homeless pets like Pancho. No matter where you live, you can take part in community-focused sheltering by fostering a dog from your local shelter.
Read more
Where animal welfare and social services meet
Never giving up on a senior pit bull with a challenging past
5 everyday heroes helping animals
Photos courtesy of Cathy Field and Kerry McKeel