Shetland pony and mini horse at the Sanctuary
Shetland pony and mini horse are fun, mischievous, delightful to be around, and love treats. They have recently come to Best Friends Animal Sanctuary.
By David Dickson
There are a couple new arrivals at Best Friends sure to drum up attention in no time. Hershey the mini horse and Toffee the Shetland pony are as sweet as their names. Combined with their adorable size and all, it's easy to see why they might receive the nickname the "Candy Boys."
Two pint-sized equine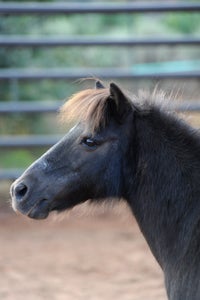 Hershey
Here's the thing, though: Don't let their pint-sized bodies and puppy dog eyes fool you. They know how to plot mischief! There's a reason the gate to their pasture has a secondary lock. There's also a reason that those who enter their play area know not to bring in any manner of food they aren't prepared to hand over stat.
As a quick aside, ponies in general have something of a reputation for being rather mischievous. When the suggestion was once raised to put all the ponies at Best Friends together, horse staffers gave it two seconds' consideration before nixing it. In the end, they were afraid the united ponies would plot to take over the world.
Newcomers Toffee and Hershey are enjoying a quiet space all their own off Sanctuary grounds until horse staffers decide where they'd like to bring them into the general population at Horse Haven, the horse part of the Sanctuary. As well, all new animals accepted at Best Friends stay separate from the main population until receiving medical clearance.
Mini horse Hershey loves treats
Hershey is quick to whinny a greeting when anybody approaches their pasture. He's not simply being neighborly, however. This guy wants treats! "He's always searching you," says volunteer Richard Anderson, who works with Hershey and Toffee every day. "That's why I call him TSA!" Sure enough, step one foot inside their play area and Hershey trots right over, sniffing and searching every pocket, bag, or any other place he's convinced you might have some goodies.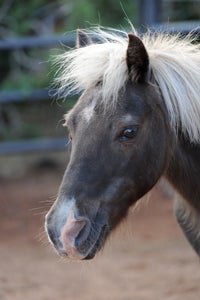 Toffee
There's not a shy bone in his body, not when tasty snacks are on the line. Hershey especially lights up when children approach. Maybe he's come to realize kids are often all too eager to pass out treats. Hey, he's no dummy. He's also been a bit too successful over the years in coaxing goodies out of people. Hershey is a teensy bit chubby.
Shy Shetland pony Toffee
Toffee, meanwhile, though every bit as interested in treats as Hershey, took a little while to overcome his initial shyness. When these two came to Best Friends several weeks ago, Toffee used to maintain some distance. He had an eye infection that required medication, and in the early days it used to take two people to give him the meds. Not anymore. All the kindness he's received from Best Friends staff and volunteers along the way has left an impression. "Now he'll meet you at the gate," points out Richard.
Horse volunteer gets his "fix"
This lovable pair came to Best Friends when their family could no longer care for them due to health reasons. They really are a gentle couple of animals, mischief and treat-searching tendencies included. And for Richard, the volunteer who works with them so often, they are one of the highlights of his day.
Richard has been a regular volunteer at Best Friends for several years now. He volunteers at horses, doing anything from feeding, to cleaning, to helping give the horses their meds. "I just fill in special projects where I can," Richard explains. He doesn't feel he's at a point in his life where he can adopt a horse, which is all the more reason he loves to work with the horses (and in this case, ponies too!) at Best Friends.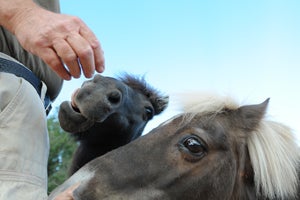 Hershey and Toffee beg for treats.
"This is how I get my horse fix," he says with a smile. Richard has a unique opportunity to help even more closely with Toffee and Hershey, as they are currently staying on the private property of one of the Best Friends veterinarians, who happens to live down the road from Richard. Until they move in to a pasture at Best Friends, Richard enjoys heading over to help care for them, and pass out a few treats, each day. "They're fun," he says.
The Candy Boys, as Richard calls them, will certainly make a big splash once they head over to Best Friends and start meeting visitors each day. You can't be this cute and not turn a few heads.
Adopt a horse from the Sanctuary
Photographs by Molly Wald