The shy dog and the hound
When Fenway needed a companion to help build her confidence, Stax was the perfect dog for the job and he's loving his new friend.
By Sarah Thornton
For pets as well as people, good friendships can make a world of difference. For a shy dog, having a confident canine friend is important to help show that the world isn't so scary. That's why Fenway, the shy dog, was introduced to Stax, the hound. And Stax absolutely adores having Fenway around as his best friend.
Going on walks and car rides, playing in the water and chasing lizards, the two dogs spend almost all of their time together here at the Sanctuary. From lazy days hanging out in their yard to agility-filled field trips, there's no shortage of good times when it comes to Stax and Fenway.
Gaining confidence with a friend
When Fenway and her litter of puppies were brought to Best Friends Animal Sanctuary from a shelter in New Mexico, the new family had distemper. But they were strong and with dedicated veterinary care, soon the mom and six pups were feeling better and playing with each other. Fenway loved spending time with her puppies and, when the pups were weaned and adopted, other adult dogs. But when it came to people, she was very shy.
She didn't want to walk with a harness and leash, and if caregivers tried to take her out of the building, she leaned back and put on the brakes. And that's where Stax came in. A lover of hikes, adventures and his human friends, Stax was the perfect, confident companion for Fenway. She'd met other dogs, but Stax was easily her favorite, and she was happy to follow his lead.
[Hound dog with no manners, no skills, no problem]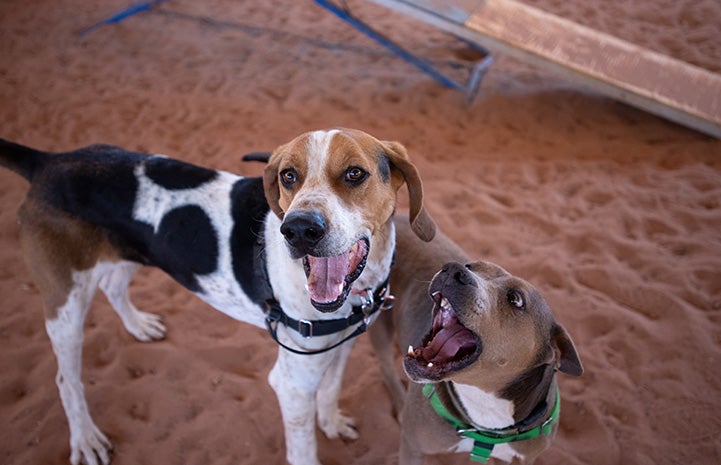 With Stax by her side, Fenway was open to a whole new world of activities: long walks, golf cart and car rides, dog park pools, figuring out the agility course and lots of rolling — everywhere. "Fenway loves to roll," says Kyra van der Zalm, a caregiver who works with both dogs. "Whenever we go on walks, she rolls in the weeds."
Fenway goes to shy dog classes, though she still needs Stax's help to get out of the building. She'll go and spend time with other shy dogs, enjoy the dog treats people hand out, and meet a few confident dogs who show the shy ones how it's done. "She goes up to people no problem and takes treats, and she'll offer her sits or her sit-prettys," Kyra says. "She's come a long way."
She's come such a long way, in fact, that Kyra says they're going to start focusing on her independence. For outings, caregivers load Fenway and Stax into separate cars and then meet up at the destination. Fenway is doing great with the exercise. The brief partings, followed by excited reunions, also show how much Stax has come to appreciate having Fenway around.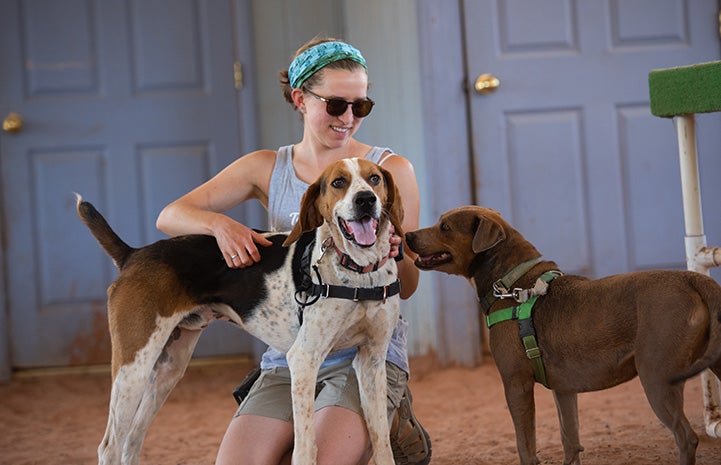 A comforting friend for a confident dog
Fenway isn't the only one growing from this friendship. Stax, too, is benefiting from the bond, because while he's a confident dog when it comes to interacting with people and going on walks, Stax still has his own anxieties, including that of being a nervous chewer. After chewing up and eating bits of blankets, dog door flaps and Kuranada beds, the dogs' room has undergone modifications that include installation of a metal dog door. Instead of potentially hazardous-if-eaten bedding, they have a metal frame filled with hay.
[Quirky dog brings joy to adopter with PTSD]
Now that Stax is used to having his best friend with him all the time, she's become a comforting presence. That makes being apart tough, especially when they go on those separated car rides. Kyra says, "You can even see how dependent Stax is on her, because he just bays and whines the whole time."
When they're back together, it's a reunion full of excitement, tail-wagging and playing. "They're really cute together," says Kyra, noting that with some confident-shy pairs, the confident half might be more aloof. "With Stax and Fenway, I think he really appreciates having her there, too."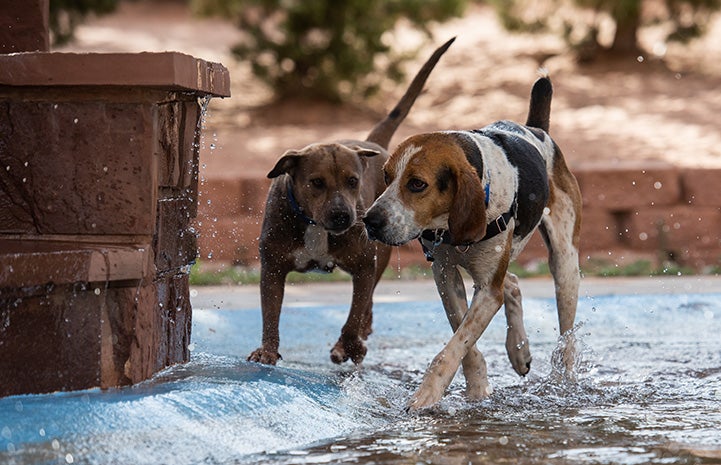 Stax is also very tolerant of his friend. She has a habit of grabbing onto his leg and grumbling when he starts baying at other dogs or running along the fence line with them. Stax patiently goes along with it. And soon enough, he's focused back on their own activities.
A shy dog learning to be confident and a confident hound learning to chill, Fenway and Stax truly are the best of friends. Whether they're enjoying their time relaxing or going on exciting adventures together, they're helping each other through their individual difficulties and building each other up. And isn't that, really, what friends are for?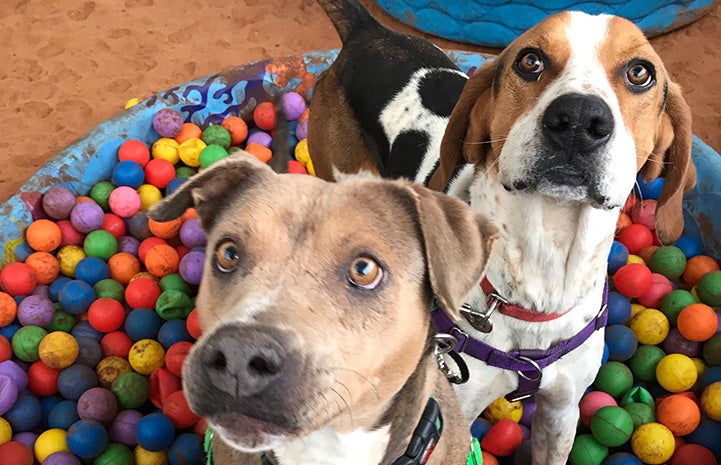 Join Best Friends and help more pet friends
Read more
9 photos of dogs having the time of their lives at Best Friends
Rescued cat helps homeless dogs get adopted
17 poodles get a fresh start in life
Photos by Molly Wald