Shy mama dog Marble learns about love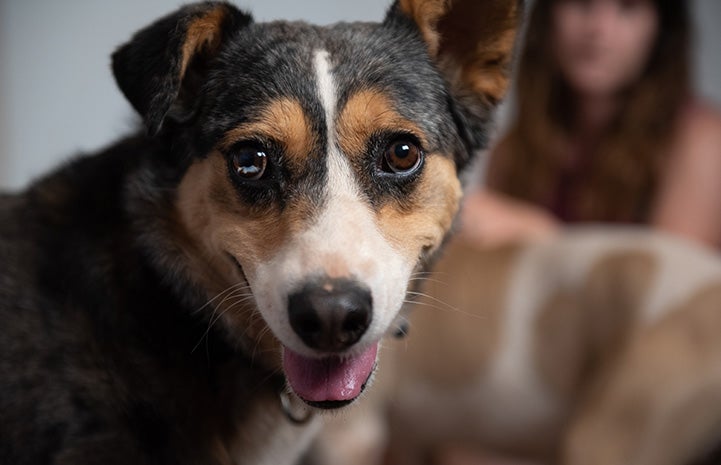 As a stray dog Marble evaded people at every turn, but these days she's learning the joys of walks and squeaky toys.
By Sarah Thornton
When you're a stray dog unused to people and just trying to feed and protect yourself, you can learn to be a little elusive. Marble, with her cute looks and one floppy ear, had no problem getting food from the people she approached, but as soon as she had her meal, she would run off and hide again. She never stuck too close to humans for very long; however, when she showed up one day begging for food and heavily pregnant, it was time for some big changes.
When the staff at Tuba City Humane Society learned that Marble (everyone's favorite local stray) was pregnant, it became a priority to catch her before the puppies were born outdoors. But Marble, who always avoided people, did not make it easy. She was pretty good at reading body language and steered clear of anyone looking like they were trying to catch her. And when she gave birth, she made sure that no one else could find those puppies.
It was the end of winter when they found where Marble had hidden her puppies — 10 feet into a culvert pipe that was in danger of flooding from melting snow. They arrived just in time to pull out the nine puppies before the pipe started filling with water. Still, Marble evaded them.
By the time Marble was finally captured, each puppy from her first litter was already adopted and she was nursing a second. This time she took shelter nearly 30 feet into another culvert. To get the puppies out, one rescuer endured a dusty and claustrophobic crawl on her belly, then broke down a wall of dry clay in order to reach them. After nine months of Marble avoiding them at every turn, she and her five puppies were safe and headed to a foster home.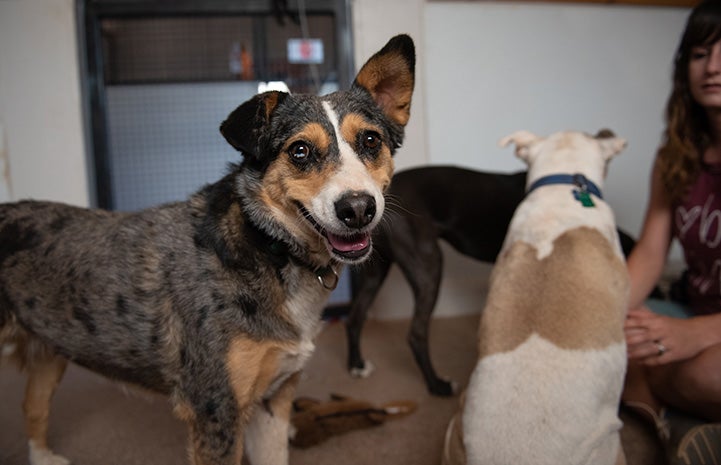 Not quite ready for home life
Although Marble allowed her pups to be handled in her new foster home, she had never been in a house before — so close to humans for so long. When she was approached she would freeze, and then when she had the opportunity, she ran at windows and doors trying to escape. The foster family was worried she would injure herself or escape, making it so they might not be able to find her and bring her back.
Marble needed some extra time to get used to people at her own speed. Best Friends could help her, so after just a week in foster care, she and her puppies were brought to the Sanctuary.
When her puppies were weaned and quickly adopted, Marble moved in with two very social dogs. Though still nervous around people, with a large yard to run in and confident friends to help her, she was able to gain a new sense of security. Within a few weeks of not feeling confined, Marble began to open up to caregivers.
When her love of squeaky toys and cheese was discovered, caregiver Megan Boemeke says, "It didn't take long for her to start getting excited to see us."
More about Dogtown at Best Friends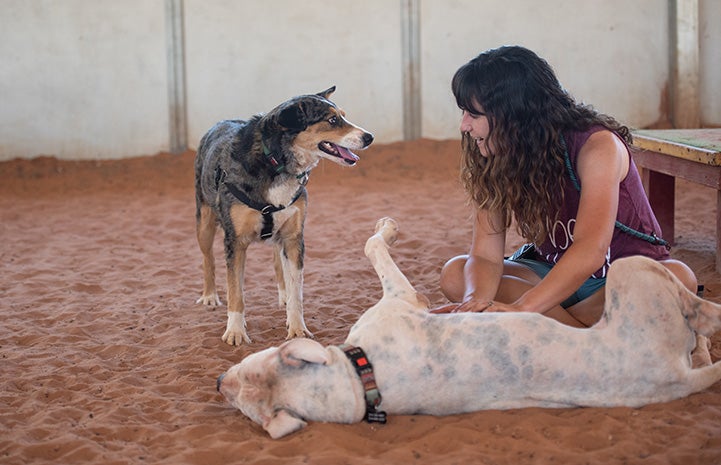 Shy dog makes friends and learns to love the leash
With toys, treats and confident canine friends, Marble started to realize maybe people weren't so scary after all. She was able to observe the other dogs' interactions with caregivers, and if things got to be too much, she was free to go outside to her yard and get some distance.
The best bonding time was when caregivers brought Marble and her two friends into the kitchen to have lunch together. There were plenty of toys and lots of treats, and sharing the small space with humans bothered her less and less. Instead, it became a fun place to be with everything she loved, and people were looking more and more like friends.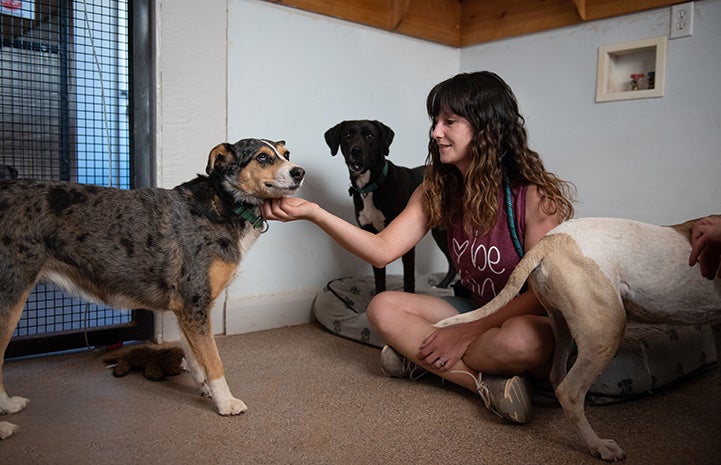 When it came to walks and leashes, however, Marble still had a bit of a hurdle to clear. She'd been outside her whole life. She had never learned to walk on a harness and leash, both of which were completely foreign to her. "Anytime we approached with a leash," says Megan, "she would run and hide."
It took longer for Marble to get comfortable with a leash than it took to get comfortable eating lunch with people. Even with her favorite squeaky toys and the tastiest of treats, it was slow going. But her caregivers were patient, knowing she needed time to get used to every new thing — especially for a dog so afraid of confinement. Several weeks later when they were finally able to get the harness and leash on her, the scary part was over.
On her very first walk (with her dog friends next to her), Marble was calm and engaged. She sniffed at all the different things to sniff and barked at birds she spotted off the trail. She was a walking pro. And she loved it.
"Now when it's time for a walk she gets very excited," Megan says. And there's no question about it: If one of her friends is going on a walk, Marble has to go, too. For as nervous as she was about the leash, now it's just the first step to one of her favorite things. (But squeaky toys and cheese are still at the top of the list.)
Marble is even starting to enjoy being petted. She's still shy meeting new people, but she's gaining confidence with those she knows. Every day she's making progress and getting more and more comfortable. And with any luck, she'll soon find a home where she can really blossom ― just like all her puppies before her.
Join Best Friends and help more pets find safety and love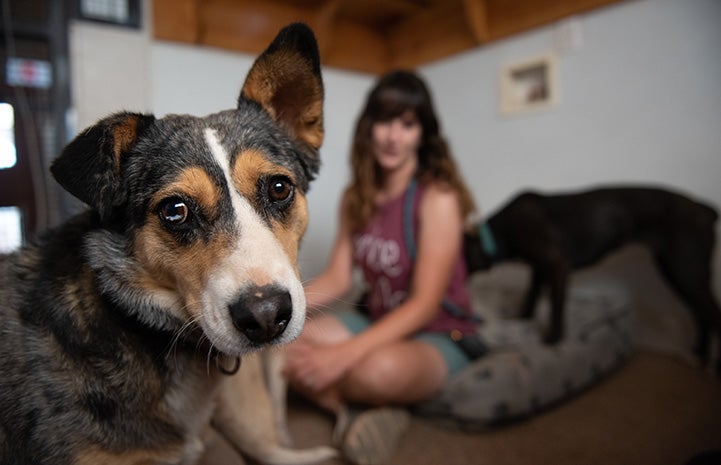 Photos by Molly Wald