A singles ad (yes, you read that right) helps a dog meet her match
A virtual first date becomes a committed relationship for a dog and a couple that traveled 200 miles to meet her.
By Tracy Blowers
Who says you can't find love online? In Bonnie's case, it was her singles ad that connected her to her adopters, Savannah and Ryan Pekar. They took one look at the beautiful two-year-old dog, read her story and knew they had to meet her — even if they lived 200 miles away.
Amid the pandemic, Bonnie landed at Best Friends in Atlanta. At the time, she was heartworm positive and while she was a champ throughout her treatment, the condition left her with a persistent cough. That, coupled with the fact that she prefers to be in a home without other dogs, meant that she might have to wait a little longer to find her people.
While looks aren't everything, fortunately for Bonnie, she's very photogenic and the team used that to her advantage. Once she was finished with her heartworm treatment, they decided to create a fun online singles ad to share on Instagram and Petfinder, with the hope that she'd meet her perfect family match. And it worked.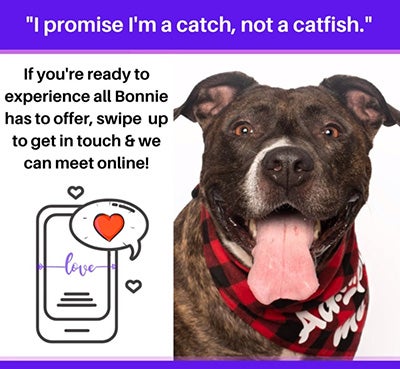 Wanted: Family for big-hearted dog — must have tennis balls
Sidney Spear, Best Friends lifesaving operations specialist in Atlanta, remembers her first meeting with Bonnie. "I went into her kennel on one of my first days working to love on her and get a picture worthy of this sweet girl. I very quickly realized she was the biggest fan of butt scratches, and I fell in love with her almost immediately," she says.
[Connecting Florida cats with families across the eastern U.S.]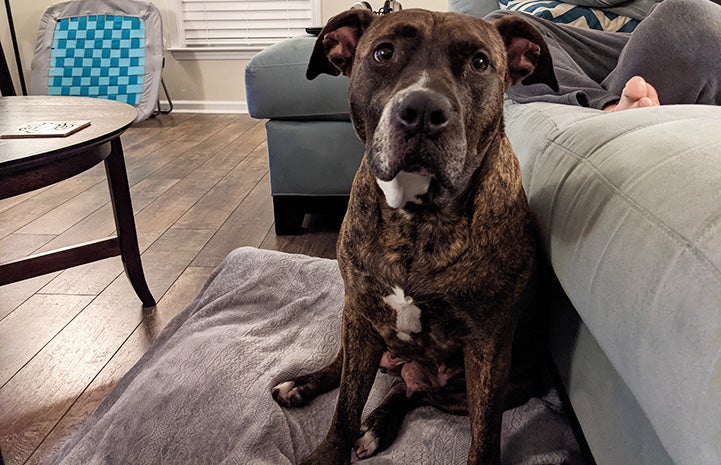 Bonnie might not be a huge fan of other animals, but she adores humans, and they tend to adore her, too. "She loves with her whole heart," says Sidney.
Heartworm treatment requires plenty of downtime and rest, but once Bonnie was on the mend and got the go-ahead from the vet, the big-hearted girl enjoyed playtime, as well as her all-time favorite pastime — chewing up tennis balls. "We would send home boxes of balls to her fosters for her to enjoy," says Sidney, noting that Bonnie was always supervised when a new tennis ball was tossed her way. "She would have a ball in pieces within two minutes flat."
Bonnie's foster days were fun, but it was time to settle down. Eventually, she captured the attention of Savannah and Ryan, who had recently moved from Atlanta to South Carolina. They saw her ad online and made contact with Best Friends.
"Our first interaction with her was virtual, and we saw just how sweet and chill she is," says Savannah, who already had a trip to Atlanta planned. They decided that if Bonnie was still available when they got to Atlanta, they would make her part of the family. And that's precisely what happened.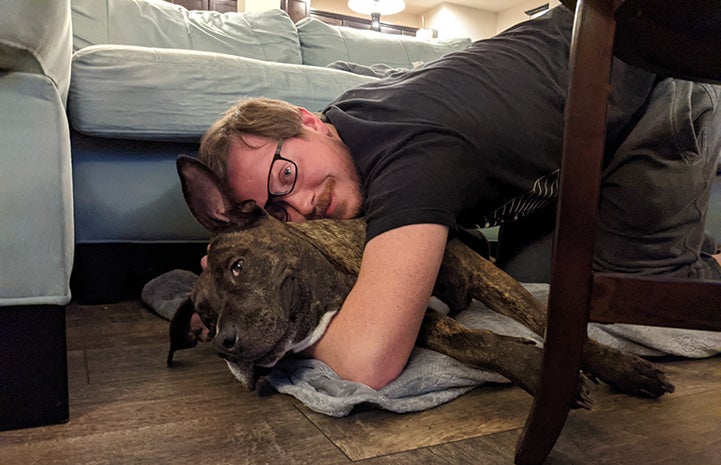 Virtual first date leads to long-term relationship
Savannah and Ryan are currently working with Bonnie on her challenges. And with a bit of training and lots of love, things are going great. In fact, Savannah recently shared an update with Best Friends on how Bonnie's training is coming along.
[Puppies on the run at Best Friends Roadhouse]
"She is still very dog-reactive, but we've gotten her to the point where she doesn't react to the sounds of other dogs barking. She is even used to the little dog next door now and doesn't seem to notice when he's also outside in his yard," says Savannah.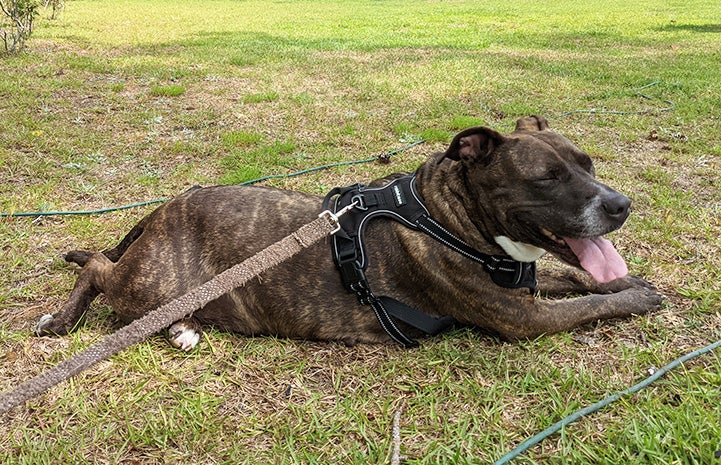 Bonnie eagerly greets Savannah and Ryan as soon as they get home. The three of them enjoy lounging and snuggling together in the evenings, and Bonnie likes to cozy up at Savannah's feet.
Savannah and Ryan are both so in love with Bonnie and their new little family. When asked what is unique about Bonnie, they answered: "How goofy she is and smart and well-behaved. Neither of us can think of any dog we've ever interacted with who's as well-behaved as her."
Ultimately, Bonnie found her perfect match and is living her best life. She's having a blast in her new backyard and her love of tennis balls and squeaky toys continues. It seems the expression "A picture is worth a thousand words," really is true because Bonnie's online photos spoke volumes to Savannah and Ryan. In fact, those photos (and that ad) are what led her home.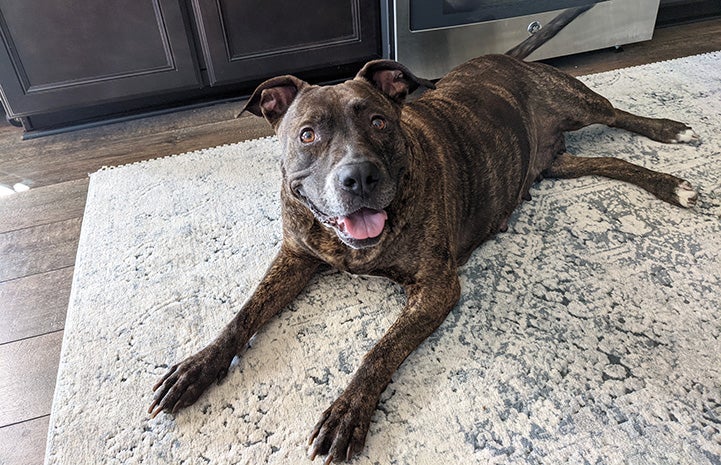 Meet singles in your town
If you're not ready for a commitment, consider fostering a pet. Looking for a committed relationship? Why not adopt?
Read more
County shelter pays it forward to others
Courtesy of Savannah Pekar and Best Friends staff