Snow day with dogs at Best Friends
See fun pictures of dogs having a blast during a recent snow day at Best Friends Animal Sanctuary.
By Molly Wald
Snow in the high desert is magic. The combination of red canyon walls and crystalline white powder elevates the beauty of Best Friends Animal Sanctuary to a whole new level.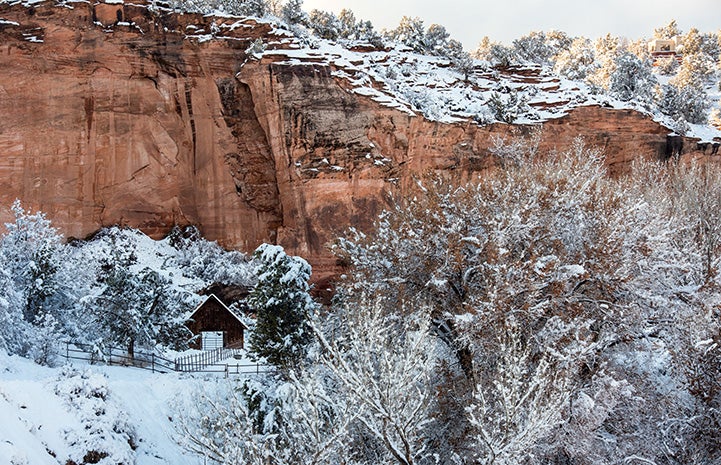 Thick layers of snow drift and settle over the sand, absorbing the ambient noise and making everything hushed in this new winter cathedral.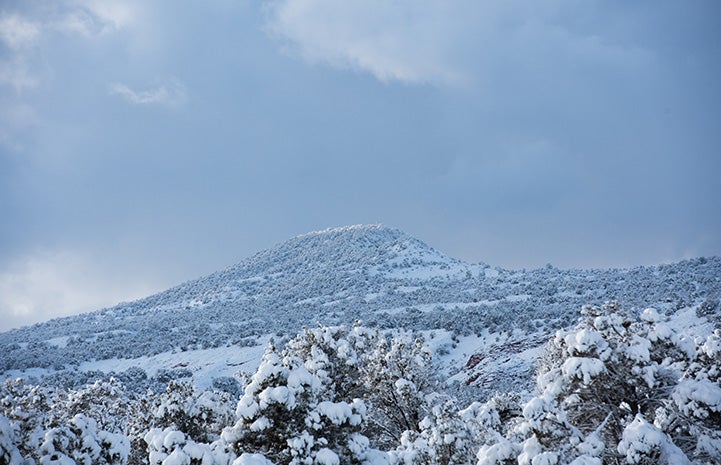 The dogs in Dogtown, however, did not get the memo. To them, snow is just another reason to party!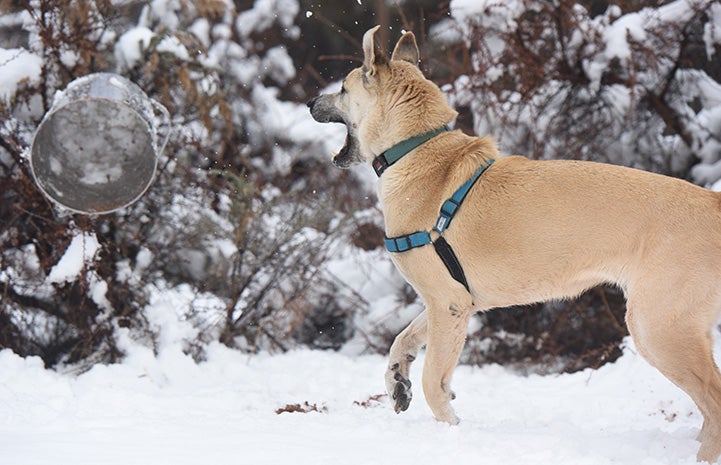 "YASS!! SNOW!!!" Tonya thinks snow makes everything more exciting, including her favorite bucket game.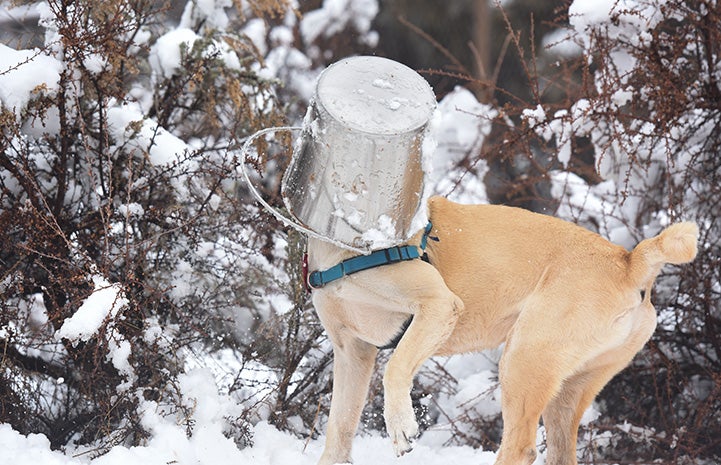 "Hey, wait. Where did everybody go?"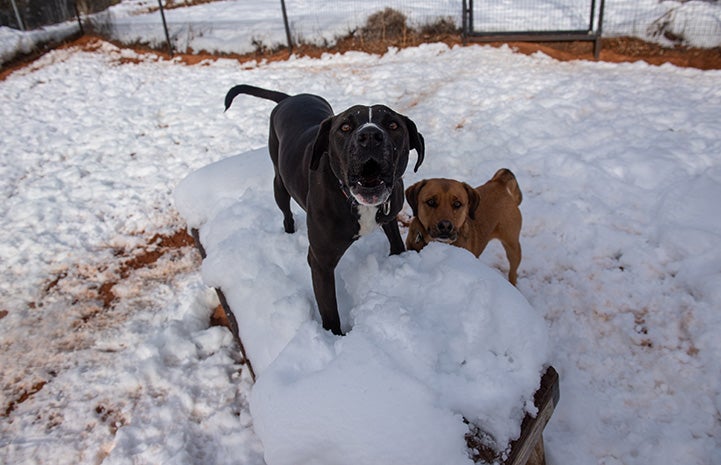 Sosa was so excited that he couldn't keep his mouth shut. "SNOOOOOOOW. SNOOOOOOOOW."

And while some dogs, like Inky, enjoy wearing coats in the cold weather, others, like Mokie, are better-equipped for chilly temps.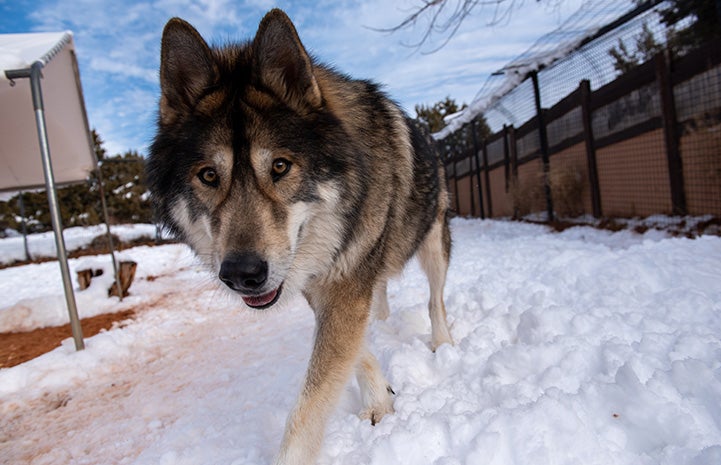 "Ahh, reminds me of my ancestral homeland."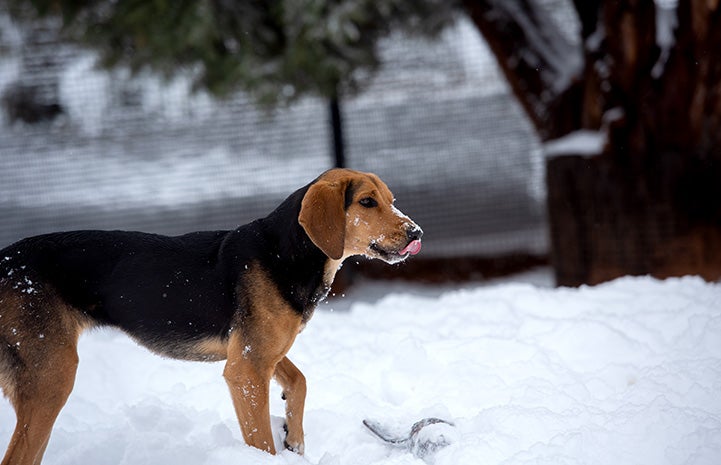 Snow is also really tasty and a great option for staying hydrated.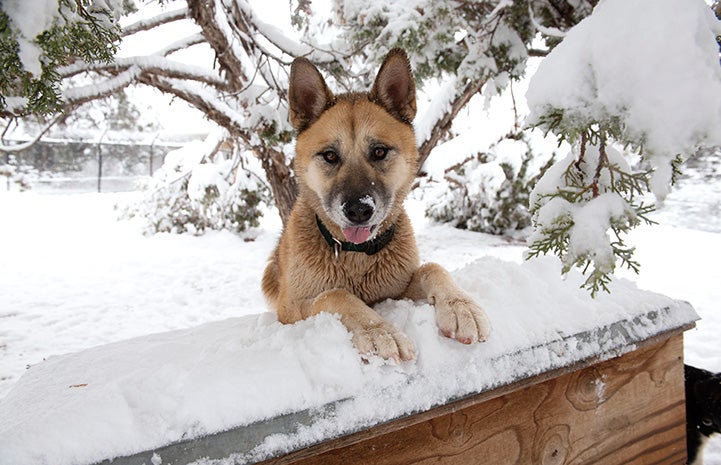 "Thith thtuff tasths good."
The snow day award goes to Freya, pictured above, who gamely kept up with puppies Saber and Pinwheel as they played in the white powder all morning.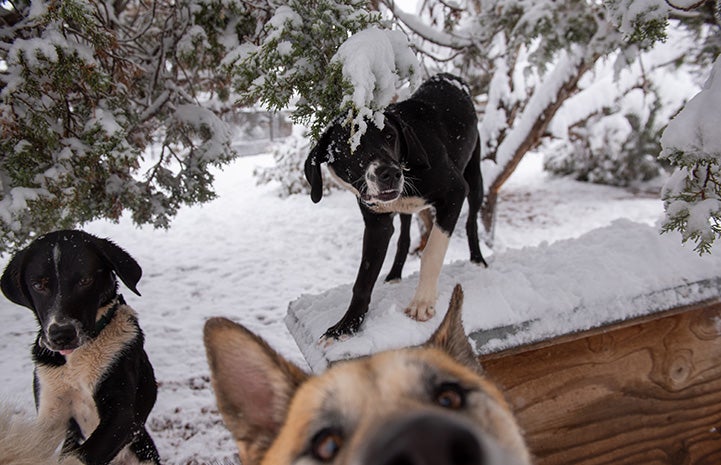 "Whew. These puppies are a lot to handle. Please send help!"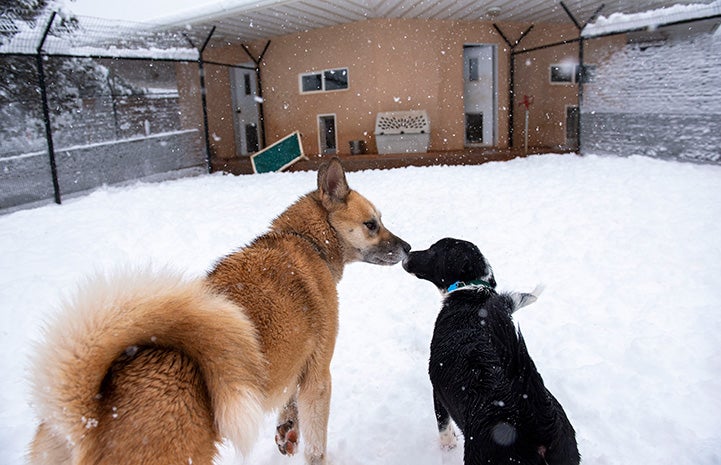 Awww. Freya shares a magical moment with Pinwheel.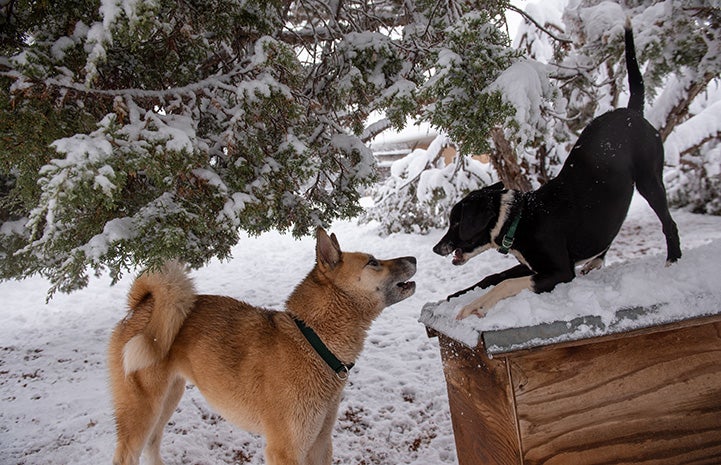 Actually, this is a more realistic portrayal of what it's like to babysit a puppy.
Luckily, Freya is the perfect auntie to the two boisterous pups, happily engaging them in a rousing game of keep-away.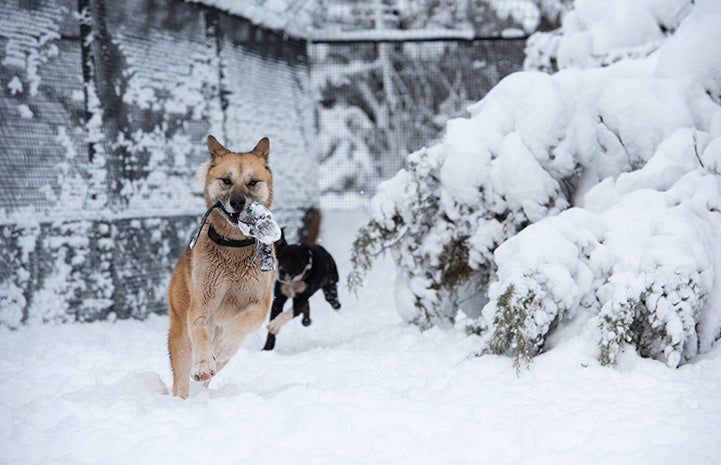 "You'll never catch me!"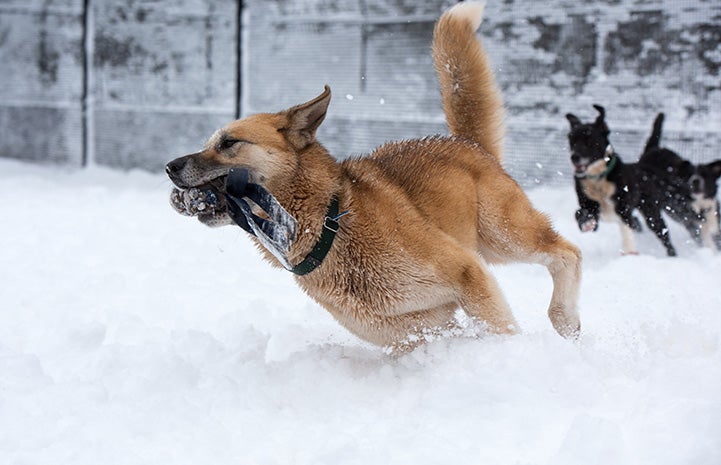 ZOOOOOM!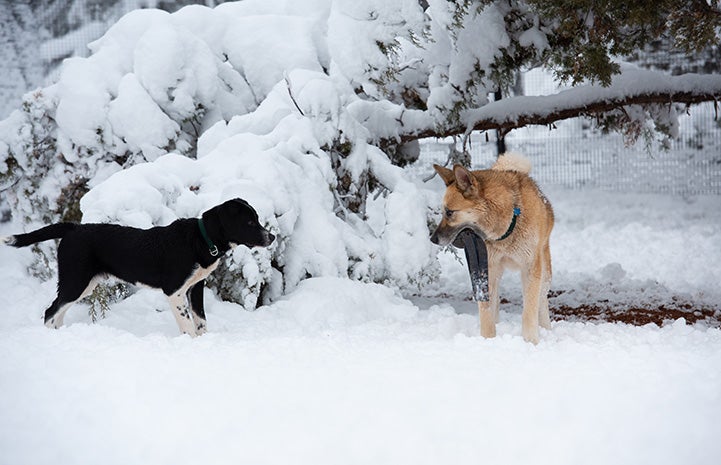 "Come on … you've almost got it … just a little bit closer."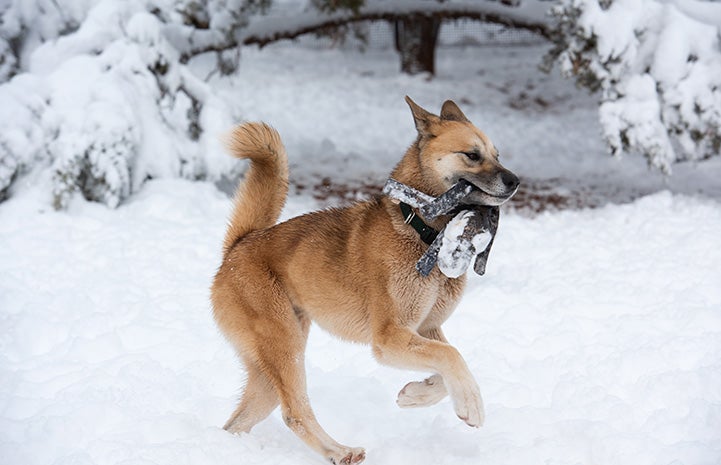 "PSYCH!"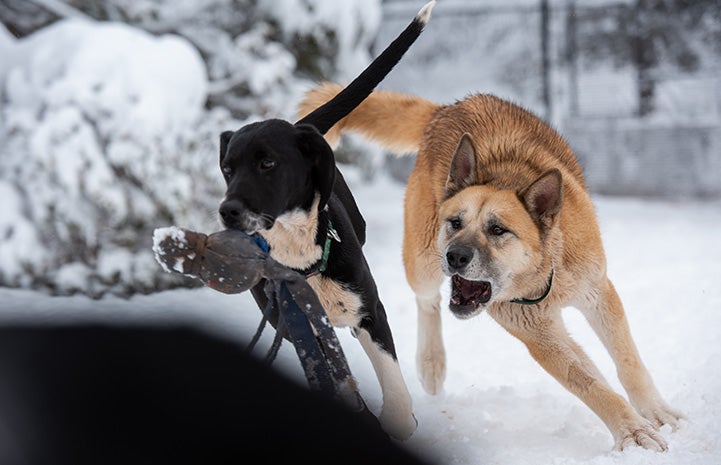 Of course, like any good auntie, Freya lets the pups win sometimes.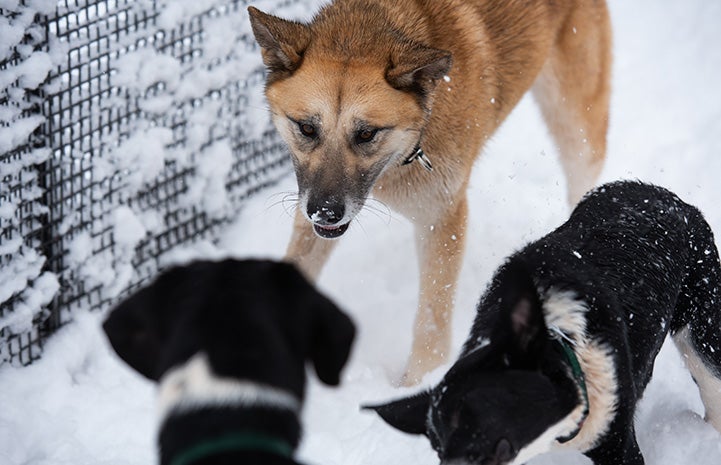 Here at Best Friends, until the dogs go home with new families, they can find family in each other.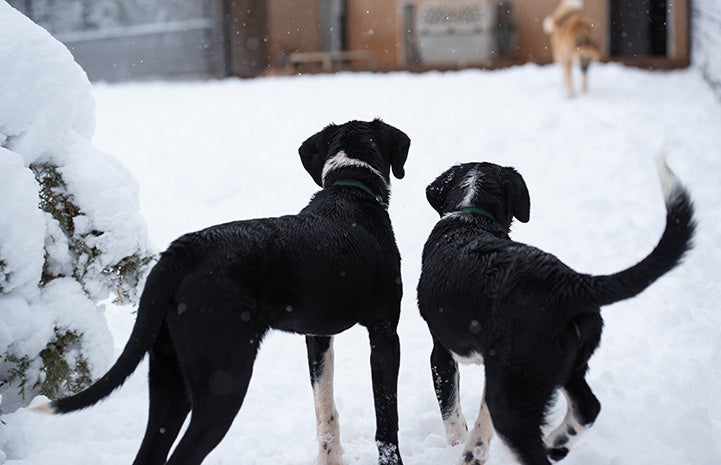 And there's no doubt that the lessons Freya teaches the pups about doggie manners and socialization will stay with them the rest of their lives.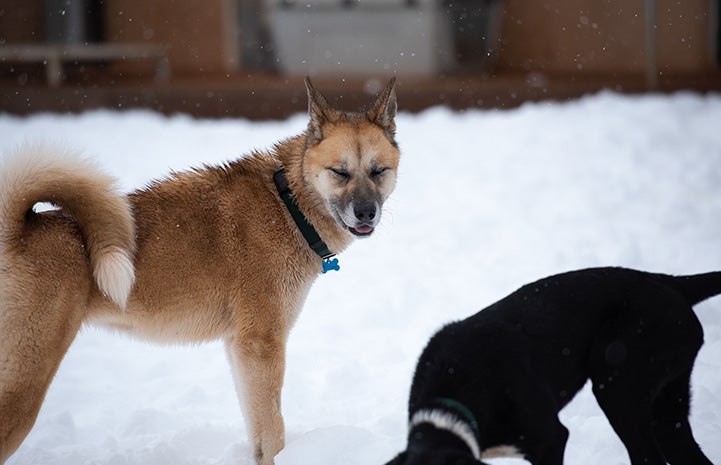 Freya's smiling face says it all. Happy holidays to you and yours!
Photos by Molly Wald