Stop Puppy Mills, Adopt a Shelter Pet event in New York
Image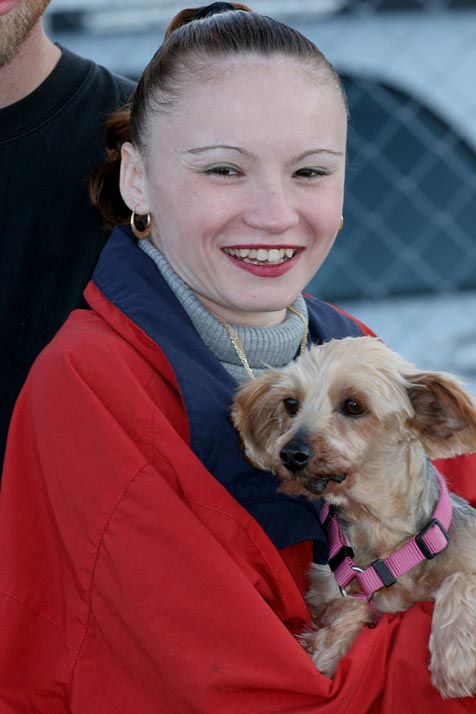 New York adoption event held for dogs rescued from a Virginia puppy mill commercial breeding operation. Read about the dogs who were adopted.
By Amy Abern
Fifty dogs and two cats found forever homes this weekend as hundreds of people showed up early and stayed late at the Stop Puppy Mills, Adopt a Shelter Pet event in New York.
"It was fantastic," said Best Friends staffer, Kelli Ohrtman. "We handed out lists of rescue groups and shelters in the area to people who didn't find a pet at the event."
Adoptions of puppy mill dogs from commercial breeder
The event was inspired by the rescue of 179 dogs last month from a commercial breeder in Virginia. They were taken to the Pets Alive sanctuary in upstate New York.
In the wake of the rescue, more than 1,000 adoption applications came flooding in, prompting Best Friends and Pets Alive to hold a mega-adoption in conjunction with other breed specific rescue groups, including the American Bullmastiff Rescue Association, Sweet Border Collie Rescue, Northeastern Boxer Rescue and the Rottie Connection.
Support from local volunteers kept things running smoothly, while local country music radio station Thunder 102 broadcast live from the event, which was held Nov. 10 from 11 a.m. to 4 p.m.
Tractor Supply, in Liberty, N.Y., not only graciously hosted the event, but its employees pitched in as well.
"They couldn't have been more helpful," Kelli said. "I'd realize, 'Ah! We ran out of adoption applications,' and someone from Tractor Supply would run inside and make more copies."
Rottie Connection finds homes for 18 dogs
One of the big success stories of the day was The Rottie Connection, which found forever homes for 18 dogs.
"It was gratifying to see that not just the cute little dogs were wanted," Kelli said. "Bigger dogs are often harder to adopt, but several went home on Sunday."
Bull Mastiff rescue group brings an ambassador
Speaking of big dogs, the Bull Mastiff rescue group brought Mac, its ambassador to the event. The huge "marshmallow" attracted the attention of little kids and big burly guys alike.
Mac came to the rescue complete with a microchip from the Hunte Corporation, one of the largest commercial dog breeders in the country. He had been purchased from a pet store, used as a breeding dog for two years and then sold to a family. When that family moved to Costa Rica, Mac was placed in the rescue group. He drew a great deal of attention throughout the day, and several people are interested in adopting him.
Timid terrier adopted
Twelve Virginia puppy mill dogs found homes this weekend, including Dottie, a shy terrier.
Dottie kept getting overlooked by potential human companions. Her hair is "funny," she has no teeth and compensates with a tongue that lolls naturally outside of the mouth.
"When I learned that she had been adopted, I was so happy I had to find the couple who took her," Kelli said. "The woman told me she picked Dottie because she was so sweet and calm and had a good soul."
Other puppy mill dog adoptions
By the end of this week, an additional 15 puppy mill dogs will leave Pets Alive with new human companions pending successful vet checks and home visits. Pets Alive "elderstatesdog" Mickey Moose will also go home to a new family.
Photos by Chuck DeVito
Read more about the dogs who were rescued from the Virginia puppy mill.