Stowaway cats
Best Friends helps some unexpected new Utah residents.
By Denise LeBeau
After moving from Florida to St. George, Utah, a couple was surprised to find an unexpected passenger loaded with their belongings in the U-Haul. Stowed away among the boxes and furniture was some precious cargo. A stray cat had made the long trek with them. The surprises just kept coming when they discovered that the cat had given birth to a tiny kitten along the way. Moving into a new place, they already had a million things to do, and now they had a little feline family in need. But luckily, help was nearer than they ever could have hoped for.
Cat initiatives at your service
Not sure what to do, the couple reached out to the maintenance department of their new apartment complex. Perhaps the biggest surprise of all was when Scott, the head of the department, knew exactly what to do. As it turns out, there happened to be an expert living in the building. Best Friends staff person Ellen Steube is a community cat coordinator for the St. George area, and she'd already been helping cats on the premises.
"We've had free-roaming cats at this complex for about three years," says Scott. "We didn't know about trap/neuter/return (TNR) until Ellen moved in. She's had all the cats spayed or neutered; she's been absolutely amazing to have in our midst. As soon as I heard about the stray cat, I called her and got the folks and the cat the assistance that they needed right away." The mama cat couldn't have chosen a better ride to hitch.
Ellen took in the wayward cat, now called Opal, and her tiny kitten, Flo Rida, but she quickly realized Opal had a mass in her abdomen that needed medical attention. She got the momma cat to a local veterinarian's office where they performed the required surgery.
"Due to Opal's infection, I knew she wouldn't be able to nurse her kitten, but our program has some great volunteers who also foster bottle baby kittens, and I had the perfect person in mind to help," says Ellen. Ellen called longtime foster parent Sara Leavitt to see if she had "room at the inn." Sara said, "Of course."
Working together helps the helpless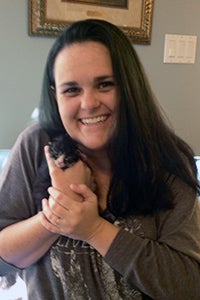 Flo Rida, still less than a week old when he arrived at Sara's, was welcomed with open arms. A busy mother of five children, Sara finds bottle-feeding young foster kittens (also called neonatal kittens) one of the easiest ways to help homeless animals in need and jumps at every opportunity to do so. "The kids get excited about having a new kitten in the house and Flo Rida was no exception," says Sara. "He was so tiny; he still had his umbilical cord attached."
Sara has fostered over 20 litters, so she knew the drill. "He's been on a strict schedule of feeding every two hours," says Sara. "I love fostering. In addition to addressing their physical needs, it's an important time in the kitten's life because that's when they need to get socialized and learn coping skills. What they learn in the first few weeks of their life can help throughout their lifetime. I also like that my children learn empathy. It's an all-around wonderful experience."
Swiftest rescue in the Southwest
Opal and Flo Rida won't be ready for adoption for a while. Opal is recovering nicely from her surgery, and Flo Rida will be with Sara until he's big enough for adoption. Thanks to Ellen's quick response, two lovable, precariously displaced felines will each find their happily-ever-after.
Get involved
Learn how you can help community cats in your neighborhood through Best Friends' cat initiatives. Click here.
Photos by Sara Leavitt