Strut Your Mutt marches for all breeds
Breed rescue organizations make the most of fundraising.
By Denise LeBeau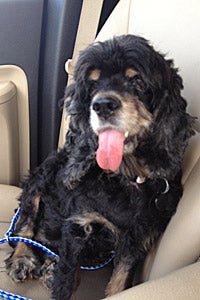 Grace is an 11-year-old cocker spaniel, who has bilateral mammary tumors and is in desperate need of dental care. Who knows what would have happened to her without some special intervention. Thanks to teamwork facilitated by Gulf Coast Cocker Spaniel Rescue (GCCSR), she is getting the medical attention she needs and ultimately will be someone's beloved pet.
One of Gulf Coast Cocker Spaniel Rescue's foster families stepped up to the plate and is caring for Grace through the necessary medical procedures. The sweet girl with a fighting spirit is also able to get the costly surgeries taken care of in part because of the funds raised at one of our Strut Your Mutt events in Houston, where the walk took place for the first time this year.
"We've been raising funds for Grace's care, and will be meeting her adopter halfway between Houston and New York once she gets the 'all clear' medically," says Stephanie Collins, president of GCCSR. "The $9,000 we've raised through Strut Your Mutt will help cover any deficit remaining when it's all said and done. We are so grateful to our faithful fans for supporting us in our effort, and helping us to have a great first year in Houston."
Lhasa funds save lives
It's not just first-timers who sing the praises of Strut Your Mutt. Lhasa Happy Homes has been participating in the Los Angeles event for four years. Randee Goldman, executive director, was the top individual fundraiser (also for four years in a row), helping Lhasa Happy Homes become the top dog pack, raising more than 56,000 online, which doesn't include their offline donations that are substantial as well. "It's funny, I had no idea what we would raise, so the first year, I put a $3,000 goal, and the first day, one of my adopters gave us $3,000," shares Randee.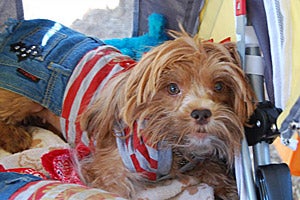 The Lhasa apso breed rescue group has been able to save lives because of the funds raised. Two dogs who exemplify the importance of Strut Your Mutt are Imari and Franco. Imari actually strolled with Randee during the event. She is a distemper survivor whose medical costs exceeded $4,000. Then there's Franco, who needed four surgeries within three months. The group's medical expenses last year alone ran about $70,000, so the funds raised by participating in Strut Your Mutt can certainly mean the difference between life and death.
"Strut Your Mutt is a team effort," shares Randi. "It isn't me raising the money. It really is our volunteers and walkers and our very generous adopters and donors who make this all possible. We are also hoping to have the funds to enable us to pull more Los Angeles Animal Services dogs and bring them to the NKLA facility (Best Friends' recently opened NKLA Pet Adoption Center), so that we can save more lives. What people really don't understand is that little dogs need rescue too."
Support the lifesaving of animal organizations by adopting or volunteering. To find a No More Homeless Pets Network partner in your area, click here.
Strut Your Mutt donations can still be made through October. 6.
Photos by Best Friends staff and courtesy of Gulf Coast Cocker Spaniel Rescue and Lhasa Happy Home