Super Bowl party benefits homeless pets
Image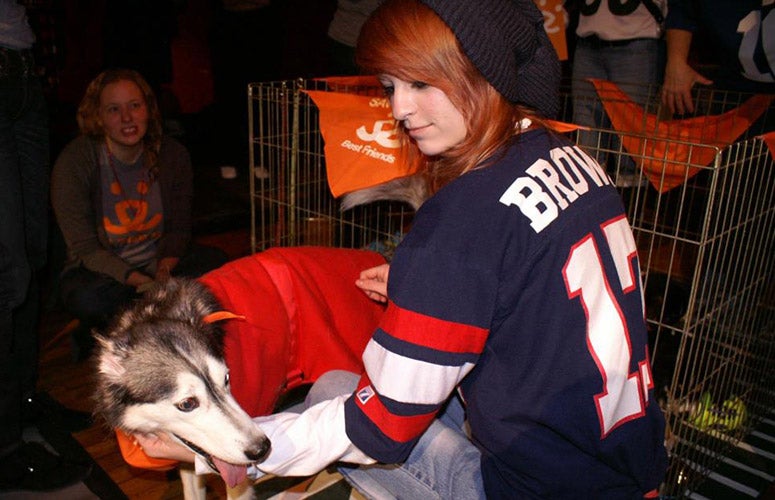 New York's PLJ radio station celebrates in style and invites Best Friends to join the fun.
By Denise LeBeau
The Super Bowl has turned into so much more than a football game. Parties, commercials, and the halftime show are as much of a draw to non-fans as the game itself is to diehard football fanatics. This year, Best Friends' New York programs staff and volunteers took advantage of pre-game festivities to help get deserving puppies into homes in time for the big game.
The weekend before the Super Bowl, 3,000 people streamed into Roseland Ballroom for radio station PLJ's Big Game Party, which included the Best Friends–hosted "doggie bowl." The puppies and dogs were from local No More Homeless Pets Network partner Husky House. The attention they got made it clear that to many, the puppies' cuteness rivaled the event's main draw: a concert headed up by American Idol finalist Chris Daughtry. The concert accounted for the impressive turnout of PLJ listeners, who could only get into the event with tickets won from the station. It was an audience new to Best Friends, and a great opportunity to show concertgoers that some of the cutest pets out there are adoptable, waiting for homes.
PLJ: Touchdown for the animals
"We wanted to offer something unique to Best Friends Animal Society, something that would provide them with a special up-close and personal event that would help find homes for puppies in need," says Katie Neal, PLJ account executive.
And find homes they did – there were multiple adoption applications for the dogs accepted during the Big Game Party, as well as lots of education shared with football fans on the importance of adoption.
"Seeing the listeners squeal with excitement when they saw the puppies and learning that three of the five dogs had been adopted at the event was tremendous," says Katie. "I was once again so proud of the partnership that we have built with Best Friends Animal Society."
PLJ has been a major contributor to animal events in New York, lending their talent to the Best Friends Strut Your Mutt every year in the Big Apple. They emcee the event and promote it on the airwaves. "At PLJ, we have an office full of animal lovers, so helping to find homes for the animals in need is a cause that is near and dear to all of our hearts," says Katie.
Cheering section
Tammy Heeber, Best Friends New York City volunteer and outreach coordinator, was excited by the number of volunteers who helped at the event. "The Big Game Party really brought out the volunteers in droves. The types of events we have are so varied; we have something for everyone's skill sets," says Tammy. "Our volunteers are the lifeblood of what we do, and seeing them here today, enjoying the event and spreading the word about homeless pets, makes us so happy." One volunteer even designed and built a mock football field to make the doggie bowl area sporty and fun.
"The passion and dedication that the volunteers and employees at Best Friends Animal Society have is truly inspiring to see. There are so many people willing to dedicate their time to such a wonderful cause," says Katie.
It really didn't matter which team won the big game on Sunday, because in New York, thanks to the Big Game Party, it was a big win for homeless pets in need. And with the help of friends like PLJ, the wins will keep coming.
"I hope that PLJ's voice in the tri-state area will continue to encourage our 2.6 million listeners to adopt, volunteer and support Best Friends Animal Society so that together we can Save Them All," says Katie.
Get involved
Learn more about Best Friends–New York.
Photos courtesy of Best Friends–New York