Super sweet tortoiseshell cat with neurological challenges
Image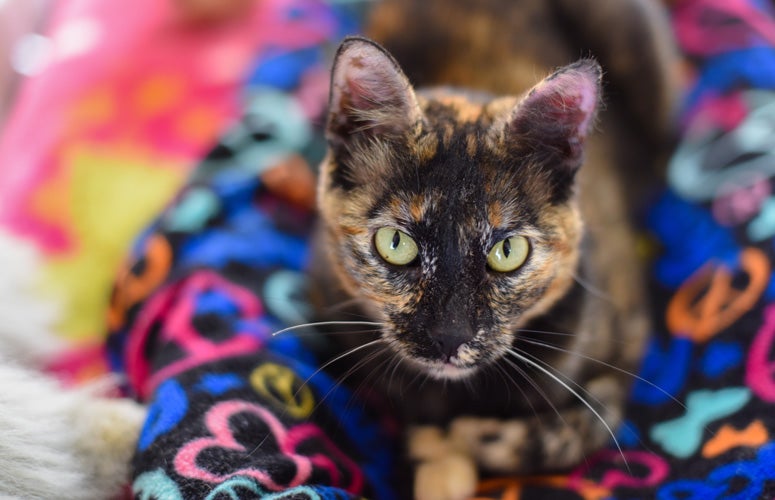 Tortoiseshell cat with neurological challenges due to a head injury is super sweet and loves life. Her symptoms are improving, too.
By Christelle L. Del Prete
As her name implies, pretty, petite Flora the cat looks like a little flower. She's absolutely adorable with her striking tortoiseshell markings and the caramel cream-colored patches on her chin and paws. And, as it turns out, this special little girl is also lucky to be alive.
Cat with head injury
Flora came to the Sanctuary from a shelter in Idaho where she had trouble finding a home. Before going to the shelter, she was attacked by another animal and suffered a severe head injury. She might not have made it had she not been rescued and treated right away. Luckily, Flora got the help she needed, and her physical wounds healed completely. But the attack left her with permanent damage.
For months after her injury, Flora suffered seizures and developed a big wobble in her walk. So although she's incredibly sweet and friendly with everyone she meets, she kept getting overlooked by adopters at the shelter because she was different. But Flora fits right in at Cat World, where she'll get plenty of love and care until she finds her forever home.
Seizures and other symptoms lessen
Best of all, Flora's symptoms have become much less severe over time — especially the seizures. Though it's too early to say for sure that she won't have them anymore, she's enjoyed several months without them. She still walks a bit stiffly, has some weakness in her hind end, and can't seem to hold her tail up very high. But now that she's feeling better, these things don't seem to bother her much.
Cat World caregivers, however, have to be a bit careful about where she sleeps. Because she tends to kick her legs in her sleep (a lot), her caregivers make sure she's never slumbering too close to the edge of anything. They put a nice sturdy cat bed in the center of a large counter where they can keep an eye on her.
Untypical cat with neurological issues
Other than that, Flora's not exactly what people might think of when they think of a cat with neurological issues. She's beat the stereotype of what it means to have special needs, since, for the most part, she's a perfectly normal, happy girl who spends her days entertaining the Cat World staff.
She may be a little clumsy at times, but, in addition to being a complete sweetheart, Flora's clearly got a sense of humor about her lack of coordination. "She gets the 'zoomies' and runs around really fast, skidding and sliding across the floor when she takes a corner too fast," says one of her caregivers. "But she gets where she's going (which is usually the outdoor cattery) just fine."
As sweet and petite as she is, Flora has shown a fierce will to live and an even fiercer will to enjoy her life as a normal cat. So, although the attack may have left her with some physical quirks, she's not treated as a special-needs cat at the Sanctuary. She's just treated as special, like any other cat.
To bring hope and healing to more animals like Flora, support our work.
Learn more about the cats at Best Friends. Also, read about two other cats, Pooh Bear and Spud, with a neurological condition.
Photos by Molly Wald and Kurt Budde