Surrogate momma cat's love helps kitten tackle the world on three legs
Love from a foster mom and a momma cat helps a kitten overcome a serious injury and thrive on three legs
By Nicole Hamilton
Sure, Maximus looks a little different than most cats. He just happens to walk (and hop and jump and play) on three legs instead of four. But spend some time with his adopter, Jeri, and she'll tell you how so many people — and one loving momma cat — helped him when he was most in need.
Little Maximus was barely old enough to walk when he sustained a serious injury to his leg. Roosevelt Animal Shelter shared his details on Facebook and when team members at Best Friends in Utah saw the Facebook post, they contacted the shelter with a plan to take in Maximus. At Best Friends, he could get needed medical care that would get him back in the business of being a kitten.
The medical team discovered that Maximus had suffered a degloving injury, caused by a paw getting caught under something heavy that is quickly pulled away. Because the injury was beyond repair, Maximus' front leg was amputated.
Like a typical kitten, Maximus was able to bounce back quickly from the surgery, but he couldn't chase tails or toys just yet. No, what he needed was a foster home where he could remain under someone's watchful eye until he was all healed and ready to take on the world. And the foster team at Best Friends that knew just the right person (and just the right cat) for the job.
[What stops a cat from living the good life on two legs? Absolutely nothing]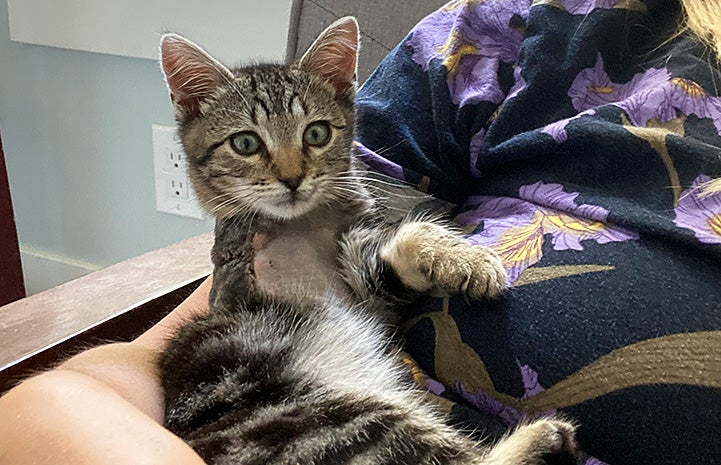 Foster mom(s) know best
Nikki Orlando had been fostering a mama cat named Baklava and her four kittens for a couple of weeks when she got the call about Maximus. The foster team was hoping that Nikki could foster Maximus and that Baklava could help by caring for him along with her own kittens.
Nikki was on board with the plan from the get-go. In fact, she'd been wanting to gain experience fostering kittens with special needs. So, she quickly got her home ready for another tiny houseguest.
"When I met Max, I could tell he was special," says Nikki. "As soon as I picked him up in his carrier, he was purring. He was just the most loveable kitten."
At first, she kept Maximus in a room separate from Baklava and the kittens. Then, once she felt confident that Maximus had healed enough to move around a bit, she introduced him to the mama cat and her litter. The meeting couldn't have gone better.
"Baklava is a very loving cat," says Nikki. "She would groom him and play wrestle with him the way mama cats sometimes do with their babies. We really couldn't have asked for a better introduction."
 [A momma dog gives birth to six healthy puppies with the help of her foster family.]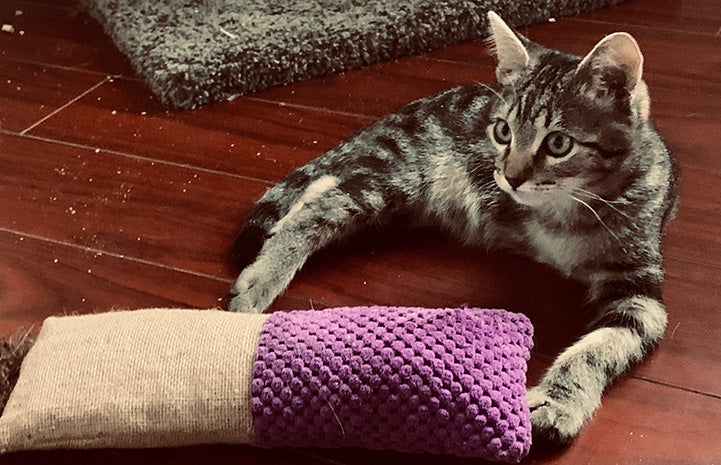 A kitten's journey home
After a few weeks at Nikki's place, Maximus was all healed and big enough to be neutered and adopted into a new home. It didn't take long for Maximus to claim the heart of an adopter named Jeri, who fell in love with the little guy. Today, he's doing great and has made fast friends with Jeri's dogs and cats.
"He is so friendly and eager to investigate and play with each of them," Jeri says. "And he is so fast and can climb like there is no tomorrow. At the end of each day, he hops on to the bed, climbs next to me to snuggle and falls asleep."
Perhaps Maximus' missing leg isn't as much a special need as it is a reminder that no matter what the obstacles in life, you can always find a way to keep going and be happy. And to think it was all made possible with help from the teams at two shelters and the love of two foster moms — one feline and one human.
As for Baklava and her kittens, they're still all together and doing great. Soon the bunch will be spayed or neutered, and then they'll all be ready for what Maximus has now — a home.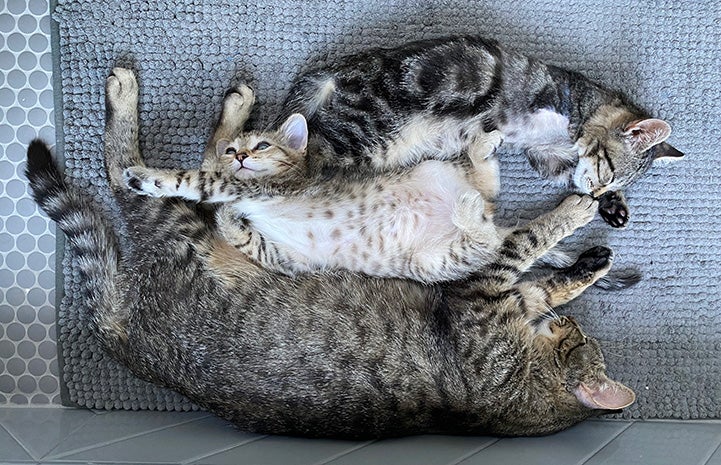 Bring a bundle of feline joy home
It's kitten season, which means it's a great time to foster or adopt a little one from your local shelter.
Read more:
Momma cat and kittens go from cardboard box to homes
First a dog found confidence, then she found a home
Two kittens pls three boys equals a house full of love
Photos courtesy of Jeri Broadhead and Nikki Orlando