Sweet, nap-loving senior pit bull enjoys the good life, thanks to the incredible people who worked so hard to save him
With help from Second Chance Rescue and Best Friends, a senior pit bull, who loves naps and is really mellow, is adopted.
By Nicole Hamilton
One of Apollo's favorite things to do is to stop and smell the roses. Literally. It's something the sweet, mellow dog gets to do almost every day during walks in New York City's Prospect Park with his adopter, Benjamin.
Then when he gets home, he'll often take out his toys, plop them down at Benjamin's feet and roll onto his back wearing a big goofy grin and waiting to play. "He's very happy, very relaxed and seems thrilled with the stability that's in his life now," says Benjamin.
It's the kind of life that Denise Diaz, director of operations for Second Chance Rescue, always knew was in the senior dog's future, even if it took a little more time and some help from Best Friends.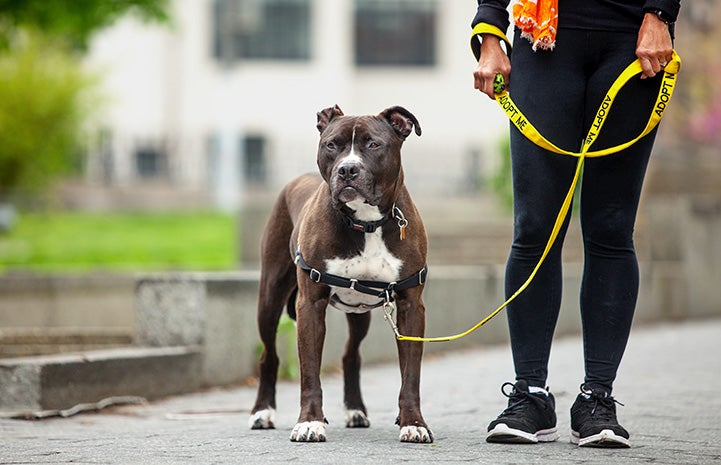 Finding a home for Apollo
Benjamin will never forget meeting Apollo for the first time at the Best Friends Lifesaving Center in New York City. "He was sound asleep," he says, "But when I said his name, he jumped up and wanted to go for a walk."
Before Apollo met Benjamin at Best Friends, he was first surrendered to Animal Care Centers of NYC (ACC) and then transferred to Second Chance Rescue, a Best Friends Network partner organization. Older and larger, pit bull type dogs such as Apollo can have a more difficult time finding homes from big shelters like ACC, where they are usually surrounded by younger, smaller dogs.
At Second Chance Rescue, however, Apollo had more room to take those naps he loves, while a team of people focused on finding him a home. Considering his gentle disposition and the fact that he would be fine living with other pets and children, Denise thought Apollo would find a home fairly quickly. But time went by and he remained at Second Chance.
"I started thinking, this guy really needs a home," says Denise. "I really thought it would be pretty easy. He's got these soulful eyes and a soulful personality."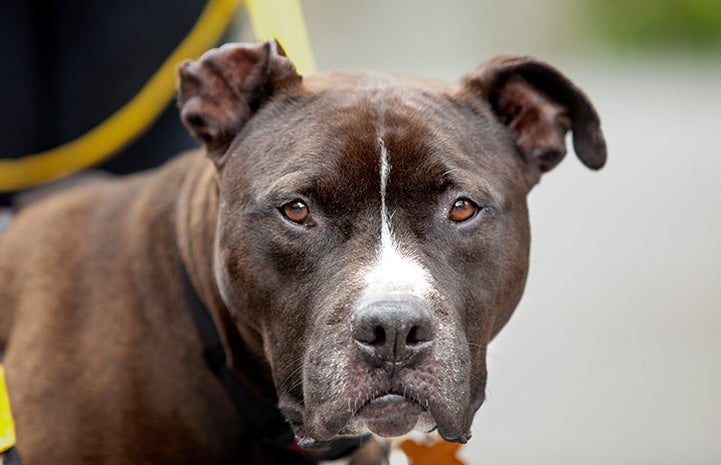 Supporting Best Friends partners in New York City
Denise and her team stepped up efforts to help Apollo find the home he deserved. And then one day a call to Denise changed everything for Apollo. It was someone from Best Friends in New York, checking in to see if Second Chance needed any support.
Many of the pets at Best Friends in New York come from ACC, while others are from various Best Friends Network partner organizations in the area. Upon learning that Apollo needed a little extra help finding a home, Best Friends offered space for him at the lifesaving center and it was an offer Denise didn't hesitate to accept.
"We knew that when Apollo went to Best Friends, he was going to a place that values and cares about our dogs as much as we do," says Denise. "Apollo was going to be taken care of holistically and be happy. That's what matters most to us."
More about the Best Friends Network
In search of a mellow dog
Soon after landing at Best Friends, Apollo showed staff and volunteers what Denise and everyone at Second Chance loved about him. "He was amazing," says Remson Omotayo, adoption specialist. "He was a bit anxious at first, but once he settled in he was one of the most well-behaved, well-trained and kid-friendly dogs we had at the time."
Remson recalls the day Benjamin came to the center looking for a dog to adopt — specifically, an older, mellower dog. And when he saw Apollo peacefully napping in his kennel despite the bustling energy outside his door, he had a good feeling he'd be taking Apollo home.
After meeting Apollo, Benjamin told Remson he had to think things through and would return in about three days. But the very next day, he walked out of the pouring rain into the center and adopted Apollo.
A perfect, senior companion
The ability to stop and smell the roses is a real gift — especially if you can do it in the city that never sleeps. It's something that Benjamin is learning how to do now that he's adopted Apollo. "It's pretty therapeutic to be able to just slow down for an hour and a half and walk in the park," he says.
While Apollo is definitely the mellow dog that Benjamin wanted, he still happily manages three- or four-mile walks with Benjamin every day. When Apollo isn't at the park or on walks, he's at home napping or just being Benjamin's quiet companion. But he has a playful side, too, "I love all the silly things he does," says Benjamin.
Apollo's advanced age was never a factor when deciding to adopt Apollo, says Benjamin, who grew up with dogs, and now that he's settled into his NYC apartment is thrilled to have one again. "I'm going to give him the best years I can," he says.
When Denise learned that Apollo was adopted and living the life she and her team at Second Chance wanted him to find, she was over the moon. "Apollo deserves the best," she says. "And he certainly got it."
Adopt a dog near you and give them a second chance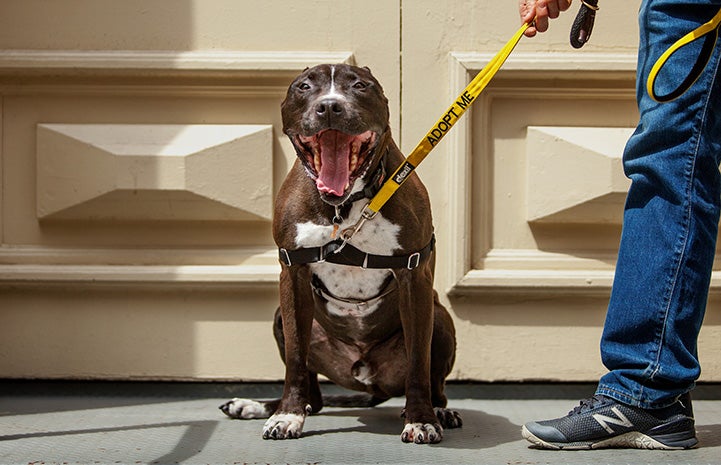 Photos by Robert Stoetzel