The sweet, no-hair-don't-care attitude of a sphinx cat
Bald, beautiful and one of the most affectionate cats ever to grace the Sanctuary, Tivoli is happy in a new home.
By Sarah Thornton
He may look like the right-hand cat of a comedic-yet-dastardly super villain, but Tivoli just really enjoys a nice, warm lap and a hand or two (or more) petting him. The hairless sphinx cat lost his home and came to Best Friends Animal Sanctuary but, not surprisingly, he didn't stay long. Everyone was smitten with his soft peach fuzz and super-cute wrinkles, but it was his extra-affectionate personality that endeared him to everyone he met. Once he received some medical care and pampering, it took only one day for someone to adopt him.
He'll leave an impression on us at the Sanctuary, and it's easy to see why.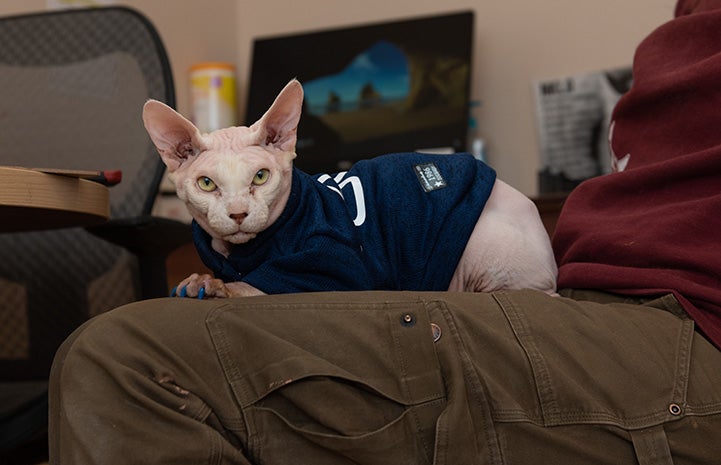 Because he doesn't have any fur, Tivoli's skin has wrinkles and gets dirty easily. And sphinxes aren't as fixated on grooming as a lot of fluffier cats. Can you blame them, though? A lick from a sandpaper-like tongue may be nice at first, but after a while it starts to hurt. Instead, Tivoli gets regular baths to keep him looking and feeling fresh.
After a bath, Tivoli is eager to get back into any available lap for some more petting, lots of biscuit-making and showing off his manicure. He's currently sporting a set of bright blue nail caps to help protect his skin.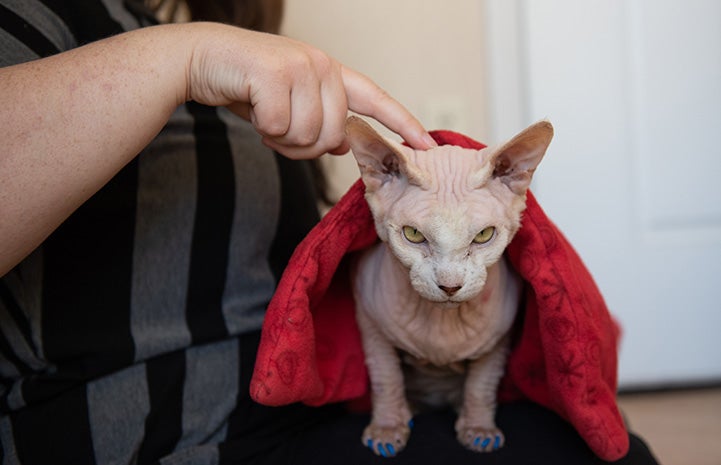 Seriously though, if he could, Tivoli would probably spend all day curled up in someone's lap or with his face buried in someone's hands.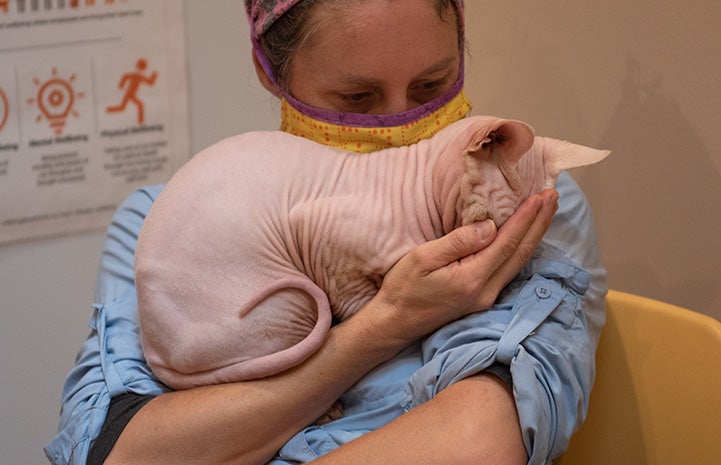 Tivoli found plenty of ways to help out at Cat World, too. From manning the front desk …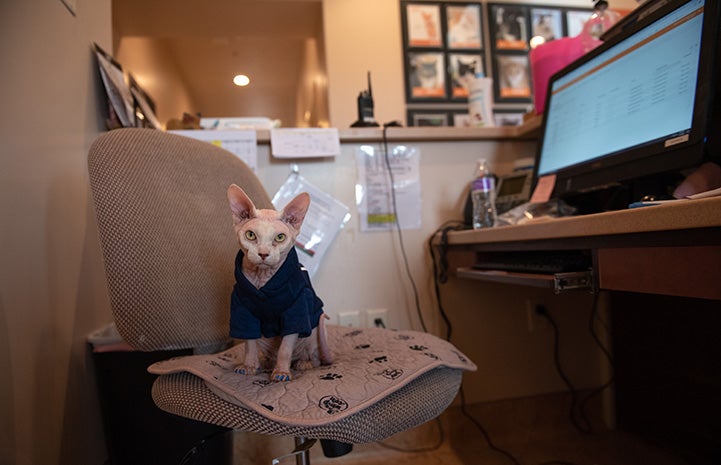 … to attending meetings …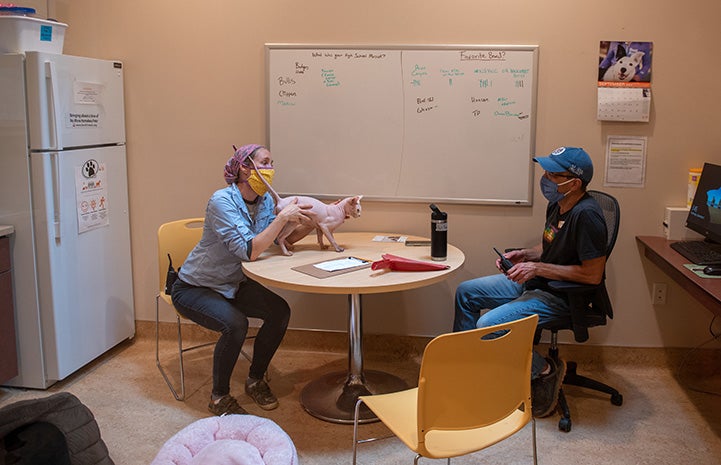 … to keeping an eye open for volunteers and cats heading out on sleepovers.
And he wasn't afraid to ask for proper compensation for his work: More. Petting. Now. With both hands, please.
Tivoli more than makes up for his lack of fur with absolute, nonstop affection. If there's a lap, he sits on it. If there's a hand, he smooshes his wrinkly face into it. If there's a shoulder, he'll climb on it. All day, every day, Tivoli is happy as long as he's getting attention.
He was only at the Sanctuary for a just over a week, but in that short time he won over everyone who met him (and even those online who didn't). And we're all happy to see him go home, where he can be the lap cat, couch buddy and bedtime snuggler he was born to be.
Find a fabulous feline near you
Fluffy, wrinkly and anywhere in between, there's a cat waiting for you.
Read more:
Putting a Persian cat on the road to recovery
How a single cat became boss of the Best Friends mailroom
Hot off the keyboard: When cats type
Photos by Molly Wald