Tale of a cat princess and the power of fostering
How a kitty with scabies went through a transformation worthy of a fairy tale, thanks to the magic of love (and medicine).
By Ana Merkulova
When Natalie Culbreth rounded the corner to meet some new cats (a perk of being a Best Friends cat program coordinator), she saw what appeared to be an impish critter with little fur and giant ears crouching inside the carrier. She remembers exclaiming, "When did we start taking in gremlins?"
Indeed, when Gizmo first arrived at the Best Friends Lifesaving Center in Los Angeles, she looked like she came straight out of a fantasy film, rather than the city shelter. From that point on, the staff called her Gremlin Princess, a title fitting the character of a quirky, off-beat cat who sometimes acts like a dog, loves everyone and is generally happy to be the center of attention.
[Calling all kitten lovers: The time to help is now.]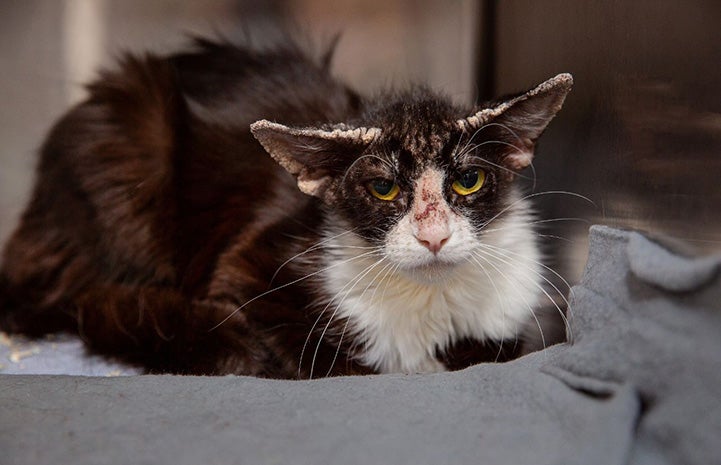 Unfortunately, Gizmo's unusual looks are due to a case of sarcoptic mange, also known as scabies. Though not life-threatening, it's a pretty uncomfortable skin condition caused by mites. It sometimes pops up in cats who live outside, and it brings with it scars, itchiness and general misery for the affected kitty. Safe to say, by the time Gizmo came to Best Friends, she was ready to go back to looking like a cat. (Besides, she had plenty of personality to qualify her for the cat princess title, quirky looks aside.)
Gizmo was also a mom and her kittens arrived at the center from Los Angeles Animal Services a few days before she did. Luckily, the babies were already big enough to hang out on their own and were able to spend the rest of their pre-adoption time at the Best Friends kitten nursery; meanwhile, Gizmo got some much needed R and R.
From patchy fur to princess cat
As scary as scabies look, Natalie says the treatment  is pretty simple — a few medicated treatments and time. Because a shelter environment can be stressful for cats, especially those in rough shape, Gizmo was sent to a foster home.
First-time foster mom Melissa Guieb decided to take in Gizmo for three weeks of love and peace in a home environment. Taking in a cat with scabies as a first foster pet is pretty unusual, but Melissa says she wasn't worried. "I did some research, and they also explained to me that she was mid-treatment and that it's not common for this type (of scabies) to bother humans too much," she says. Plus, Melissa couldn't help feeling for the poor kitty. Gizmo was clearly in need of a staycation.
[13 pro tips for fostering kittens]
On the ride to Melissa's, Gizmo was quiet as a mouse. She spent the first few days in the bathroom hiding in her crate. She was scared and unsure of herself, but not for long. "As soon as I started petting her, she quickly became my friend," Melissa says.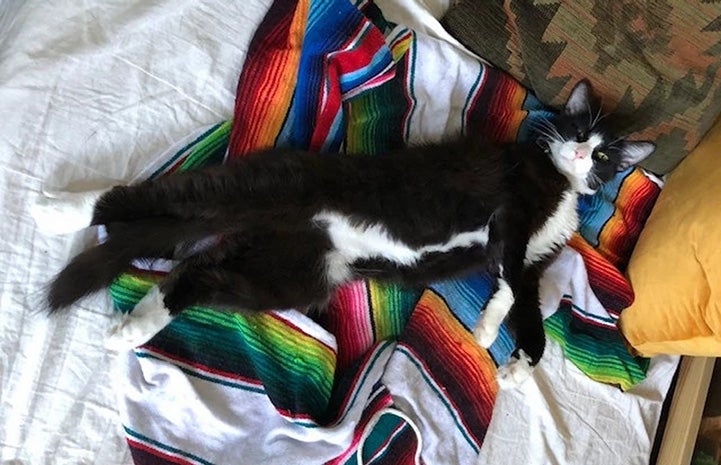 More medicine, then adoption-ready
In the next couple of weeks Gizmo's personality blossomed and she went out of her way to be petted. "She would get so excited that she would sometimes fall over when trying to rub on you," says Natalie. "As she began to heal and feel better, the kitten side of her came out and she would always be playing and jumping around in her kennel."
Melissa discovered that Gizmo could play fetch. "She was super cute, pretty, smart, active and cuddly, all in one little package. She had big ears and a long body and she was like a noodle when we carried her," says Melissa.
[Momma cat and kittens go from cardboard box to homes.]
While Gizmo was undergoing treatment at Best Friends for her scabies, Melissa happily cared for the cat's daily needs as Gizmo gradually transformed back into a luscious tuxedo cat. Melissa even nursed her through an eye infection. (Giving eye drops to a wily cat is no easy task, as anyone who ever tried will know.) And after Gizmo was spayed, Melissa made her a little shirt to wear, since Gizmo hated wearing a cone and very much wanted to get at her stitches.
In three weeks' time, Gizmo was ready for a permanent home.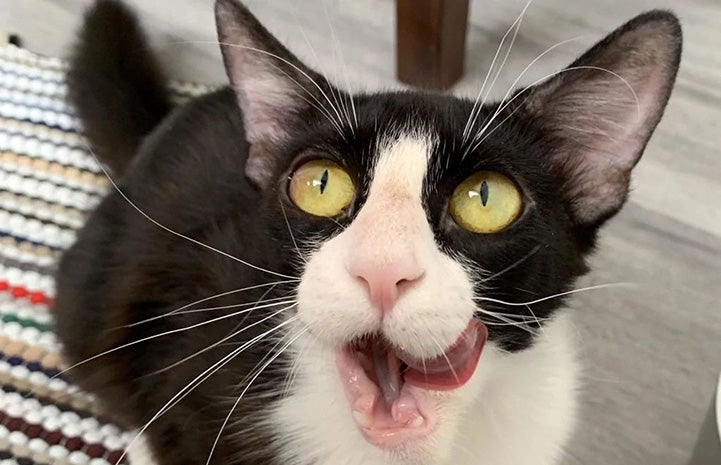 The princess finds her new kingdom
At around two years old, Gizmo is playful and full of energy, which is just what her new parents, Alix McAlpine and her boyfriend were looking for. (The adorable ears didn't hurt either.) They had pretty much decided that Gizmo was the one for them when they saw her photo, and a virtual meet-and-greet cinched the deal.
The rest is history, as the cliché goes. These days, Gizmo plays to her heart's content, riles up her older cat sibling and is the apple of her new mom's eye. In other words, the princess has arrived in her kingdom.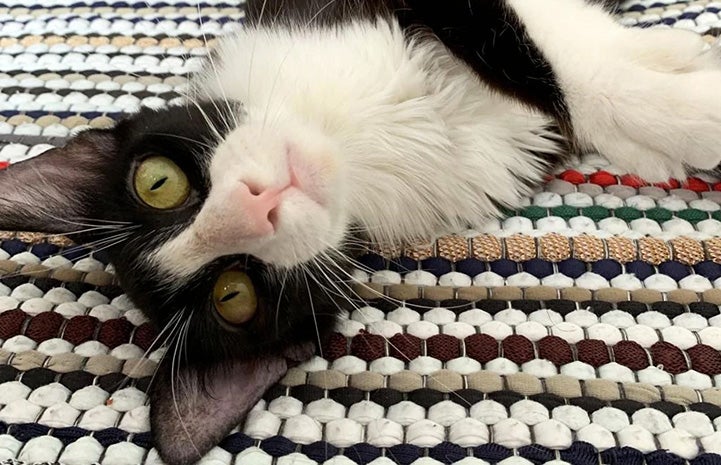 Foster a cat, save a life
The shelter is no place for cats and kittens to stay. You can help kitties in need near you by signing up to foster.
Photos courtesy of Alix McAlpine and Lori Fusaro