Texas dog gets a lift to New York and a new life
Magnolia's life could have ended after she was surrendered to a busy shelter in south Texas, but she's now bringing joy to her new family in the Northeast.
By Jess Roper
Adorable little Magnolia had a home in south Texas that she shared with a lot of other dogs. But when her human family felt they could no longer care for them all, they made the heart-wrenching decision to give up 11 of the dogs to a local shelter, Palm Valley Animal Society (PVAS), in the hope of giving them better lives.
If you follow our stories, you may already know about the dramatic, positive changes at PVAS, a Best Friends network partner organization in Edinburg, Texas. With Best Friends staff members working directly in the shelter, PVAS has experienced an increase in local community engagement and implemented proven lifesaving programs, such as open adoptions and a community cat program. PVAS went from saving just 23% of the animals entering the shelter in 2016 to nearly reaching no-kill status through the first nine months of 2020.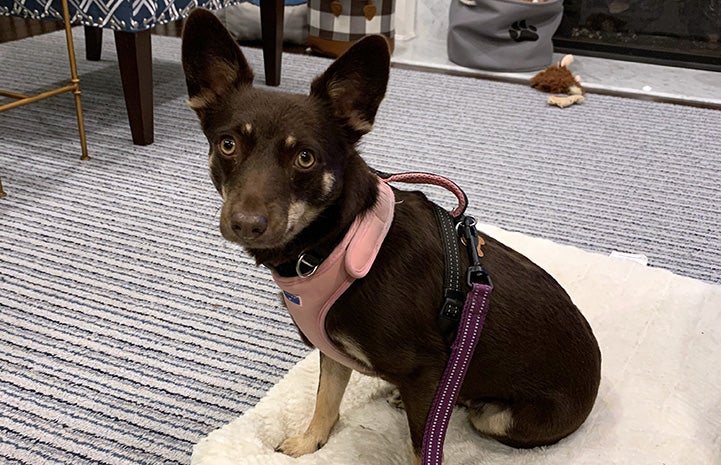 Pet transport to the rescue
Magnolia might not have survived the shelter in previous years, but she did in 2020, thanks to regularly scheduled transports from PVAS to shelters in other parts of the country with higher save rates. Magnolia was taken to Best Friends in New York, and now she's bringing joy to a new family there. While shelters in parts of the country such as Texas, Southern California and the Southeast receive more animals than they have the resources to handle, many northern states, such as New York, have more interested adopters and not enough adoptable dogs and cats. Cross-country transport partnerships among these organizations allow more people to connect with adoptable pets and allow more lifesaving than ever before.
[Husky finds love on two paws.]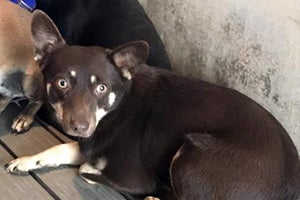 When Magnolia first arrived at PVAS in February 2020, the odds of being adopted were stacked against her because of her behavior: She was utterly terrified and did not want to be touched or even looked at.
"Understandably she really didn't want to be here and gave our admissions team a hard time while evaluating her," says Melissa Saldana, senior manager of lifesaving programs at PVAS. Magnolia's world was turned upside down when she lost her home and suddenly she was in a stressful environment with new sounds, smells and other animals. But Melissa and her compassionate PVAS team, who fight to save lives every day, didn't give up on Magnolia.
A brand new start in the city where dreams come true
Magnolia received another chance at a new life when the teams at PVAS and Best Friends in New York agreed that a change of scenery just might enable her to thrive. Soon the black-and-tan dog was loaded into a van with other pets from the Texas shelter and driven north to New York.
That's where Emily DeFelice, foster coordinator for Best Friends in New York, welcomed Magnolia to her home. She has a soft spot for shy dogs who need extra time to build trust. The positive change that occurred in Magnolia after just one week demonstrates the transformative power of a patient foster home.
"I wanted to make sure she got some special attention," says Emily. "When we picked her up, she was very nervous. That all changed when she got to know our dogs. She started to follow their lead and learned how to play with toys. She was a completely different dog than we thought she was."
Foster parents are an indispensable bridge for dogs and cats needing extra time or care before moving to a loving home of their own. Shelters are stressful environments for any animal, especially previously single-home pets like Magnolia, who have no idea why they are in a new and scary place. Foster homes allow dogs and cats to find a sense of normalcy and safety while they transition to a new life. "(Magnolia) went from not knowing how to play with toys to stealing them all within a couple of days," says Emily.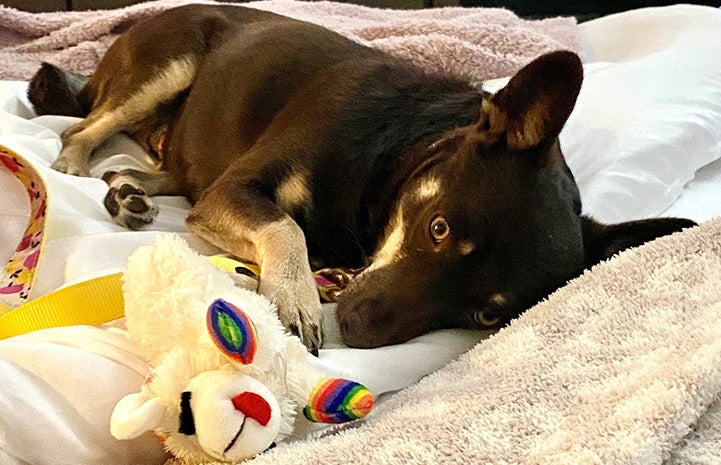 Social success: A new home through Instagram
Emily shared Magnolia's progress on social media as she came out of her shell, and it didn't take long for someone else to fall for her charms. Liz Zubritsky and her fiance, Matt (both friends of Emily), had been thinking about adding a dog to the family for a while, but every time they were interested in a specific pup, another adopter committed first.
Browsing Instagram one day, they saw pictures of Magnolia. Liz says, "When we saw Maggie, it's hard to explain, but we both instantly fell in love. It was something in her eyes — those deep beautiful yellow eyes that just said, 'Don't give up on me yet.'"
[Puppy beats distemper with the help of two foster moms.]
She immediately messaged Emily and before she knew it, they were driving to meet Magnolia in person. Although the timid pup was still uncomfortable around new people (and wasn't ready to be touched), the couple was willing to give her time and space to be comfortable. "Emily told us about all she had been through and we knew she was a little warrior and deserved an amazing home," says Liz. "She was so sweet-natured and gentle, and in our hearts we just knew she was the puppy for us."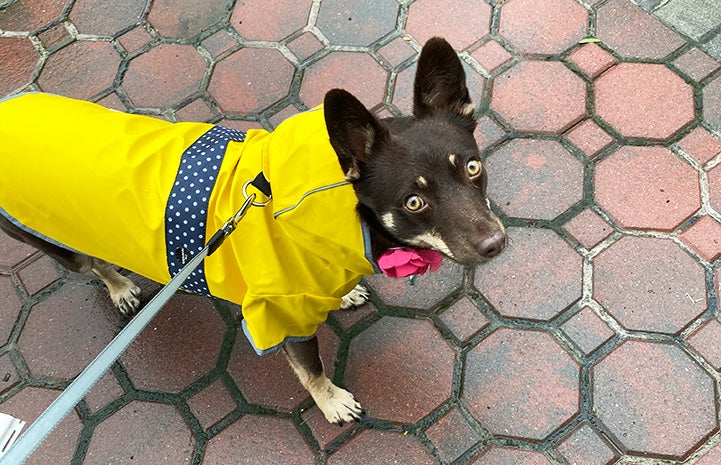 Time and patience pay off
Although it was love at first sight with Magnolia, Liz and Matt knew she needed space to get comfortable after all the sudden changes in her life. From losing her home to ending up in a crowded shelter to traveling across the country, this little lady was overwhelmed and needed time to decompress.
Their patience paid off and over the next month Magnolia (now affectionately known as Maggie) became more and more confident. "She is a completely different dog than the scared little thing we picked up a few months ago," says Liz. "Now, she is the most confident and playful girl, so goofy and full of life. She loves to snuggle with us, she has her own cute little things with each of us. She likes to play with Daddy's feet and she likes to kiss me on the nose with her nose."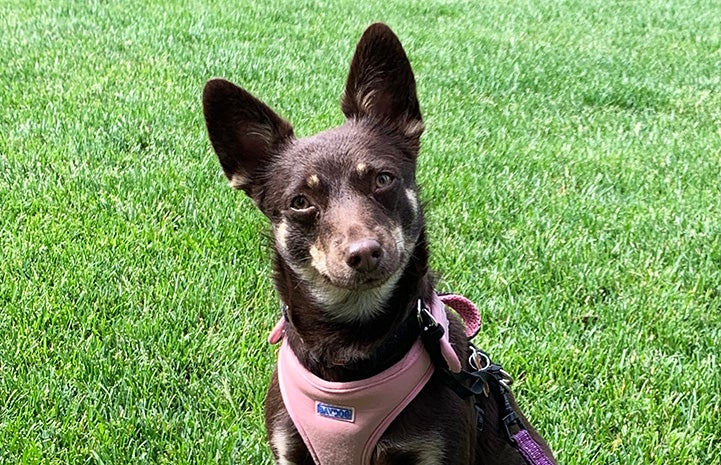 Together, we will save them all
It takes a community of caring people to achieve no kill nationwide. To that end, countless people who touched Magnolia's life — from Melissa and her team at PVAS to Emily's foster home in New York — helped her to find a loving home with Liz and Matt.
Dogs and cats enrich human lives too, especially when regular social activities are on hold. "She's a little shoe-and-sock thief and likes to make piles of your things mixed with hers," Liz says with a laugh. "But mostly she is the sweetest, most loving creature on the planet, and we are so lucky to have found her."
Save a life, adopt a pet
There's nothing like the feeling of giving a scared pet a safe, loving home with you.
Read more
Dog goes from jumpy and mouthy to sweet and cuddly.
Shy dog no longer lets fear get in the way of happiness.
Three tough tabbies survive a wildfire.
Photos courtesy of Liz Zubritsky, PVAS and Emily Defelice