Therapy cat spreads happiness
Image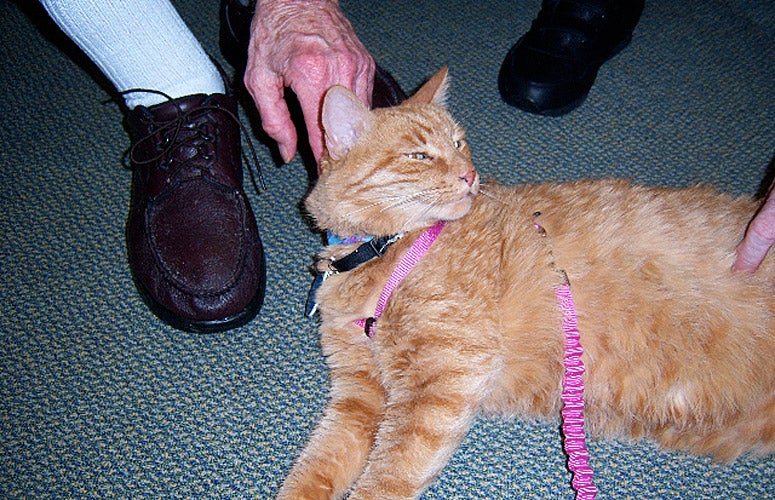 Diabetic cat is adopted and becomes a therapy cat with Pets on Wheels of Maryland. The orange tabby visits residents at an assisted living facility.
By Christelle L. Del Prete
In 2011, Karen Martinchek brought her niece to Best Friends for a week of volunteering. At Benton's House, which houses many special-needs cats, in Cat World, they developed a particular affinity for an orange tabby cat named Lucky Coin. He jumped up onto Karen's lap, where he slept for over an hour, and then he kept Karen's niece company while she brushed another cat. Charmed and delighted, the two took Lucky Coin on a sleepover and promptly fell in love.
A wave of emotion for a loving cat
During that sleepover, Karen says that she "felt an overwhelming wave of emotion," and that she "knew that this sweet, loving cat had a special purpose." He also had some special needs. Born in 1999, Lucky Coin had come to Best Friends four years earlier when his family could no longer care for his medical condition (Lucky Coin was diabetic). Though Karen had never cared for a special-needs pet before, she knew that she could not leave Best Friends without him, and made the commitment to adopt him.
Soon, Lucky Coin was flown to Virginia, where Karen picked him up and drove him to her home in Maryland. During their first year together, Karen introduced Lucky Coin to her other two cats and learned how to manage his diabetes. She also brought him with her to a family reunion, an animal blessing at a local church, and to events hosted by the animal rescue organization that she volunteered with. In every situation, Lucky Coin impressed people with his calm, sweet nature, and his genuine desire to be around people of all ages.
"One mellow cat"
Then, at a pet expo in Baltimore, Karen met a group of volunteers for Pets on Wheels of Maryland, a nonprofit organization that brings therapy pets to approximately 250 facilities across the state. Though dogs were by far the most common therapy pets, the organization was thrilled to accept Lucky Coin after a volunteer evaluator declared Lucky Coin "one mellow cat." And thus, Lucky Coin's life as a "therapist" began.
Since that time, Karen and her cat have visited an assisted-living facility once or twice a month. The residents are often surprised to see a therapy cat, rather than a dog, and especially one who walks so well on a harness and leash. Lucky Coin interacts with people by sitting beside them (or, if they are interested, on their laps) and inviting them to give him belly rubs. Karen says that she has even seen some people rub their own heads against Lucky Coin's. Often, he inspires conversations in which the residents tell Karen about pets they have had in the past. In some cases, Lucky Coin has used his loving personality to win over those who were previously afraid of cats.
The therapeutic effect
Michelle Warfle, manager of Cat World, says that, to her knowledge, Lucky Coin is the only feline alumnus of Best Friends to become a therapy pet. But even when he's not officially working, Lucky Coin has a calming, therapeutic effect on people wherever he goes. And Karen, who was a bit nervous about adopting a senior pet at first, is grateful for each day she gets to spend with him: "He loves to cuddle up under my chin or on top of my pillow at night, he talks to me in his own cute way, and he has brought some wonderful people into my life." But, she stresses that, as much joy and love as he brings to her life, she is "equally pleased and proud of the happiness and love he brings to others.
Check out the adoptable cats at the Sanctuary.
Photos courtesy of Karen Martinchek