Three-legged baby goat gets a new leg and an unlikely new best friend — a chicken
Three-legged baby goat, who was injured or had a birth defect, gets a prosthesis and a new best friend: a chicken!
By Christelle L. Del Prete
If you've ever been around baby goats or watched videos of them, you know that they love to run, jump, climb and play. But for the first two months of her life, poor Peaches couldn't even walk very well. Born in a neglectful situation where her lameness wasn't treated, Peaches wasn't getting the help she needed or the chance to be a happy baby goat. But her luck changed dramatically after she was rescued by animal control and brought to Best Friends Animal Sanctuary.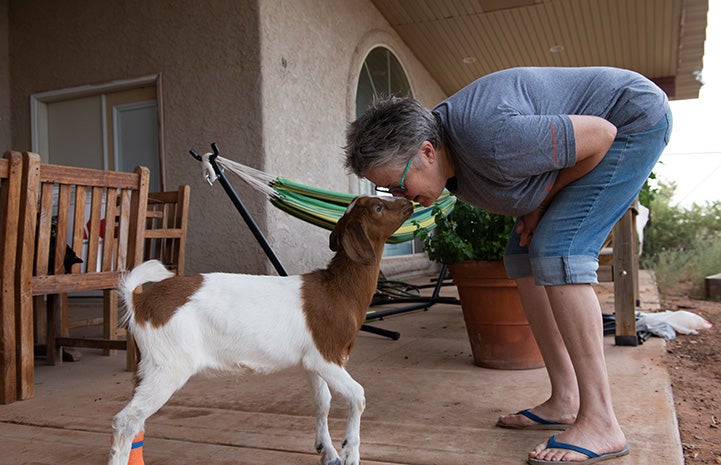 Welcoming a baby goat with special needs
Injuries or birth defects left Peaches with part of her left back leg missing and a sore, misshapen right front hoof. The best she could do to get around was to hop on her two good legs. But Peaches, who wanted to dance, run and have some fun, would soon get the chance to do all of that and more.
When she arrived at Best Friends, she already had a foster home waiting for her. Suzanne Condit, who owns a local hobby farm that raises chickens and goats, welcomed baby Peaches with open arms — literally. For the first week, Peaches lived inside the house. Suzanne carried her around, gave her baths in the tub and tucked her into a cozy bed at night. She also took Peaches up to the Sanctuary for appointments at the Best Friends Animal Clinic and to the Best Friends animal fitness center for hydrotherapy sessions to strengthen her muscles.
More about hydrotherapy for animals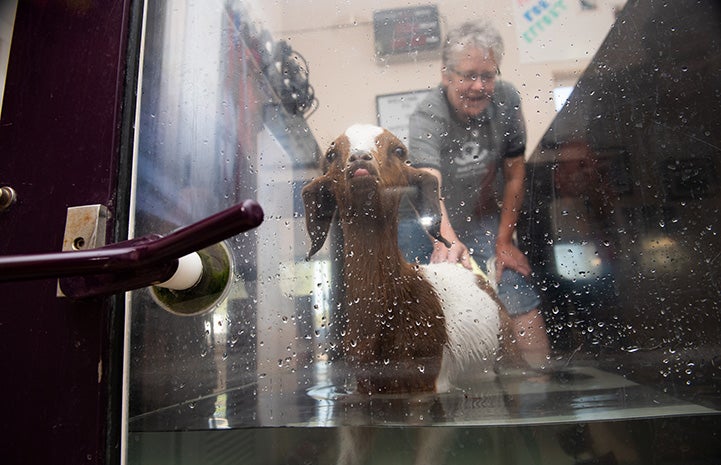 'Pool noodle prosthesis' for a baby goat
Fitting Peaches with a prosthesis to get her moving more easily and comfortably was a top priority for the Best Friends veterinary team. Finding the right one, though, would be a challenge because she was growing by leaps and bounds, which meant that she would quickly outgrow any custom-made prosthetic leg. She'll be fitted for a more permanent one when she's done with most of her growing, but the veterinary team needed a temporary solution. The vet team put their heads together, got creative and made her a temporary prosthetic leg from, of all things, a pool noodle.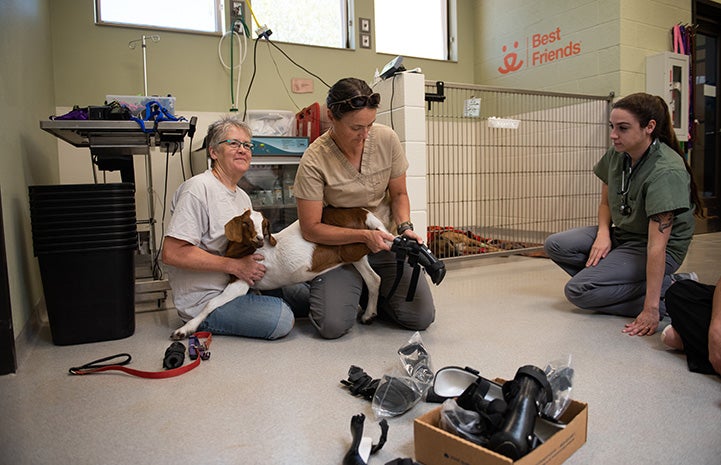 As soon as they strapped that pool noodle on her leg, Peaches was able to walk and jump around. She soon discovered she loves to "tap dance" on a giant flattened cardboard box that serves as her dance floor on Suzanne's back patio. She also does a happy little dance at hydrotherapy sessions after stepping out of the water and getting dried off with a big fluffy towel.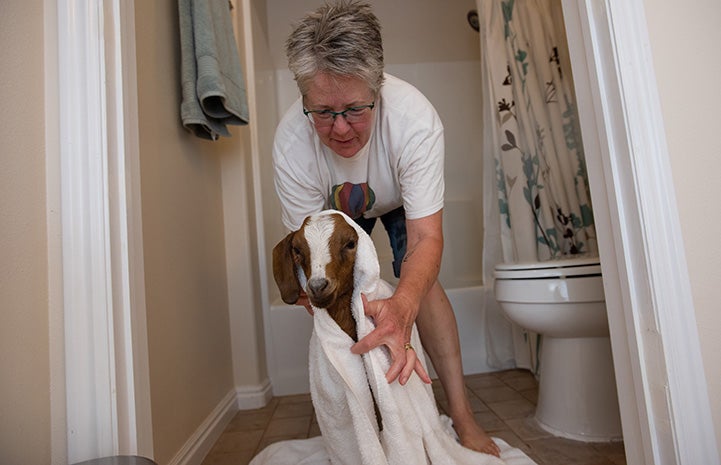 Dance parties with a chicken
At the farm, Peaches lives in a cozy enclosure on Suzanne's back patio. She helps Suzanne with the gardening, which means she also gets to sample tasty homegrown broccoli and peas. Though she's not yet living with other goats, she has good company.
That includes Mrs. Chicken (who is indeed a chicken), who needed some quiet space away from the farm's other chickens to rest and recover from an injury. As soon as she met Peaches, they became best friends, running around the patio and yard together and snuggling up together at night in Peaches' crate. It appears that the pair will always share a special bond, even though Peaches may eventually move in with the other pet goats and Mrs. Chicken may return to her flock.
Peaches may have had some bad luck in the first few weeks of her life, but in the two months she's been with Best Friends and Suzanne, she's had more love and care than she might have received in her entire lifetime. And although all bouncing baby goats are adorable, not many of them can do the things that Peaches can do — like run on an underwater treadmill or have dance parties with a chicken.
Join Best Friends and save a life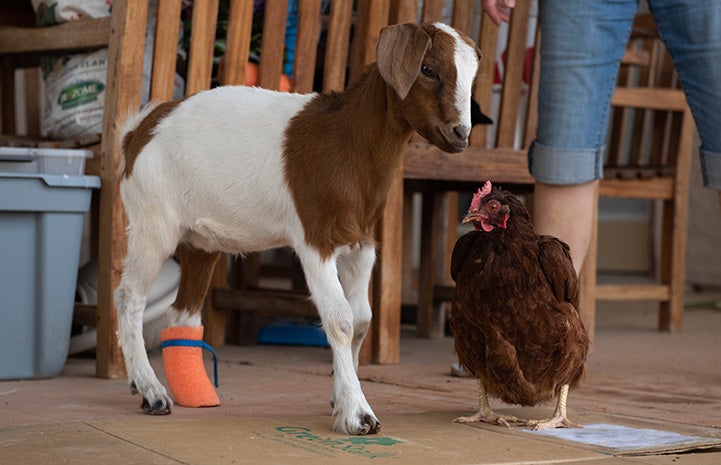 Photos by Molly Wald