Three (million) cheers for Best Friends volunteers
This National Volunteer Appreciation week we celebrate and honor volunteers who make the Best Friends mission and vision possible.
By Nicole Hamilton
It's National Volunteer Appreciation Week, but not a day goes by at Best Friends when we aren't incredibly grateful for each and every volunteer who works alongside us every day and is integral to just about everything we do.
This year, Best Friends is making the week extra special for our volunteers with raffles, prizes and discounts on Best Friends merchandise. In the meantime, we thought we'd share stories about volunteers all across the country who are lending a hand in their own unique and wonderful ways to Save Them All.
David Glazer, Best Friends Lifesaving Center in Los Angeles
"I cannot personally change the world and how animals are treated, but I can make a world of difference for one dog when I interact one-on-one."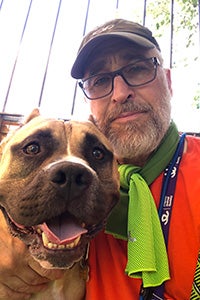 A retired motion picture prop master, David volunteers at the Best Friends Lifesaving Center in Los Angeles three to four days every week, and while he has an affinity for helping dogs, he's also known for his ability to switch gears to help out in a variety of ways while drawing on his experience in the motion picture industry.
He pitches in to help Lori Fusaro, our photographer in Los Angeles, and has helped out as a dog handler for the marketing team on various productions. He also enjoys meeting potential adopters, introducing them to pets and helping them through the adoption process.
"I'm motivated by the animals," says David, who was inspired to volunteer in 2015 after his wife, Lyle Ann, asked him to join her at an adoption event. "When I see a dog's excitement to get out of the kennel or joy to see me, I am reminded how little I am giving to them. I'm giving compassion, kindness, love, discipline and concern, and none of that costs me anything."
Bella and Justin Brodie, Best Friends Lifesaving Center in Salt Lake City
"I've certainly learned to not judge people or animals. We all have our own story and it's important that we all get a second chance." – Bella Brodie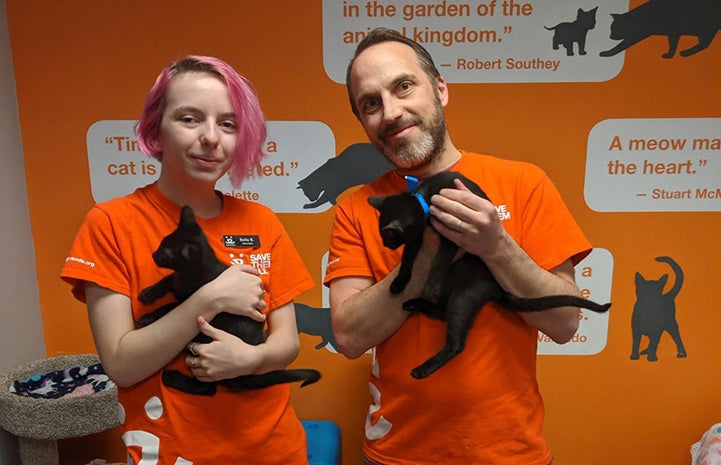 If you see Bella Brodie helping out at the Best Friends Lifesaving Center in Salt Lake City, there's a very good chance her dad, Justin, isn't far away. The father and daughter duo has been volunteering for the past three years. And it appears a love of felines runs in the family, since the Brodies are known for their willingness to do whatever it takes to help cats at the center. (And they've been known to clean a few dog kennels, too.)
When Bella and Justin aren't helping shy cats build confidence or sprucing up the kitty condos, they're likely connecting an adopter with a feline match or caring for kittens.
"Volunteering means a whole lot to me," says Bella. "When people ask about me, that's often the first thing I tell them. Working with animals (especially cats) has always been something I've wanted to do for as long as I can remember. My goal is to learn as much as I can, so I can continue to help for as long as possible."
Read more about Bella and Justin
Fabio Vitolla, Best Friends Lifesaving Center in New York City
"Many times, I don't know the whole story of our animals, but what I know for sure is that they need and deserve to be loved."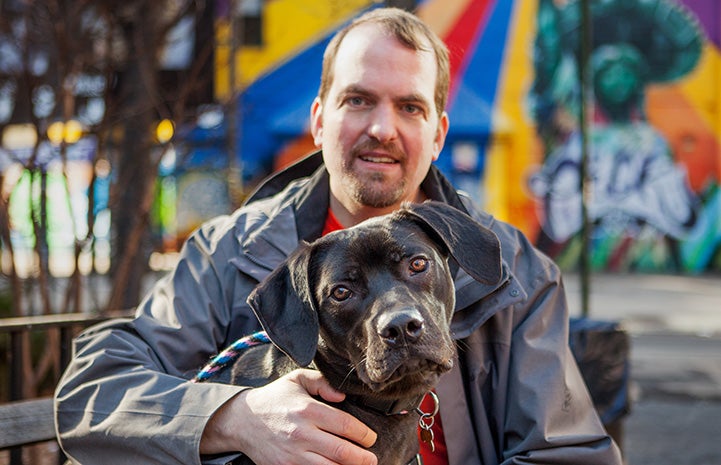 Fabio Vitolla moved to New York City from Zurich, Switzerland, last year and when he was settled he decided it was time to start volunteering to help animals again. And he knew exactly where he wanted to do it: the Best Friends Lifesaving Center in New York City. He'd visited the center back in 2017 and never forgot the experience.
The lifesaving center is temporarily closed during the coronavirus pandemic, but if it wasn't, you'd probably find Fabio volunteering there almost every day. And although he spends most of his time with the dog care team, he's also trained to work with cats and has even helped out on a few photo shoots.
"Fabio always has a smile on his face and everyone loves him, especially the dogs," says Mallory Kerley, communications manager for Best Friends in New York. "He's always exactly where he needs to be when you need him to be there. Honestly, when we are doing events, I hope that I see Fabio's name on my volunteer sheet, and I usually do."
Faye Robinson, Best Friends Lifesaving Center in Atlanta
"What inspires me the most are the happy wagging tails I see when I walk in."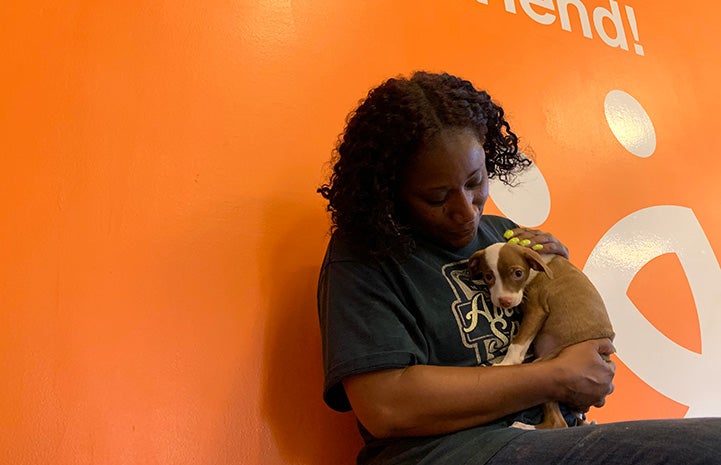 Faye Robinson, a volunteer at the Best Friends Lifesaving Center in Atlanta, isn't afraid to get a little dirty. The U.S. Navy veteran spent 15 years serving the country, and today she helps out wherever she can at the center. And if that means rolling up her sleeves and cleaning out kennels, that's fine with her.
Faye started volunteering at the encouragement of her son, who is on active duty in the U.S. Air Force. He knew she'd been missing her beloved dog, Mozart, who had recently passed away, and he thought volunteering to help pets would be good for her soul. He was right.
"What motivates me to continue is the fact that I love all these guys in all their uniqueness. The staff is awesome and it felt like I fitted in from my first day there," says Faye. "I have formed bonds with the animals, who just want to be loved and taken care of just like you or I would want to."
Deyra Galvan, Best Friends in Houston
"The first time I heard Save Them All, it hit a chord within that has forever changed me."
If anyone embodies the term "wearer of many hats," it's Deyra Galvan, a Best Friends in Houston volunteer. From organizing events to helping with adoptions (sometimes at the same time), Deyra will step in and do anything she can to help homeless pets in her community.
Deyra first learned about Best Friends back in 2016 when she helped her sister-in-law launch an NKLA Coalition member organization. After returning to Houston, she supported Best Friends from afar until the fall of 2017 when Hurricane Harvey hit and Best Friends started working collaboratively with city shelters and local animal welfare organizations in Houston and the surrounding areas.
"I knew then that I wanted to help Best Friends in any way I could," says Deyra. "Getting to help (and let's be serious, getting lots of sloppy kisses and cuddles from so many amazing animals every day) brings such joy to my heart."
Chelsea Hughes, Palm Valley Animal Society
"There are so many lives to save and so many ways to help."
Chelsea Hughes, a volunteer at Palm Valley Animal Society (PVAS) in Edinburg, Texas, is known for working around the clock to help pets. Since she began volunteering in PVAS's foster department, the Toronto, Canada, native has logged countless hours helping to organize pet transports from the shelter to places all across the country.
After helping to get the pets ready late at night, she'll return early the next morning to load them into the transport van. She also launched PVAS's innovative Tail's Around Town program after being inspired by a Maddie's Fund workshop she attended with PVAS staff.
"To me, volunteering means getting involved in the community, but it is also filled with the opportunity to make a difference in a cause you feel passionate about," says Chelsea. "I volunteer for a number of reasons — above all else to save lives."
Andrea Kraus and Mike Lorrig, Best Friends Animal Sanctuary
"Every time we come here, there is something new."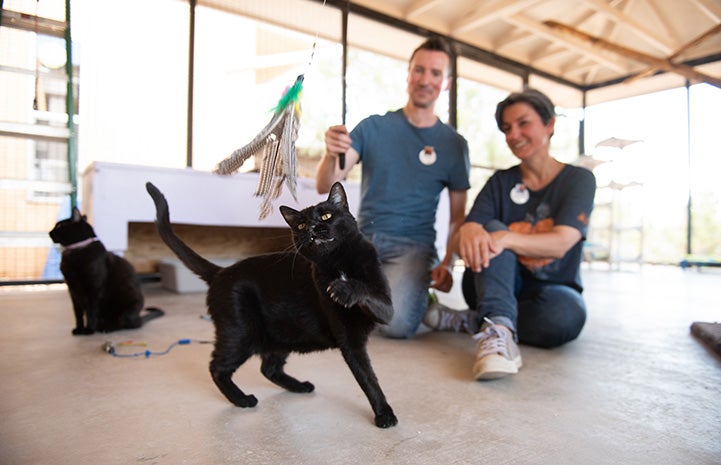 Andrea Kraus and Mike Lorrig have known about Best Friends since the early 1990s, when Andrea came across a Best Friends fundraising table at a Los Angeles area mall. From then on, she and Mike donated every month to Best Friends. Then in 2005, they made their first visit to Best Friends Animal Sanctuary and loved it so much they decided to come back ― again and again.
Andrea and Mike have visited the Sanctuary more than 30 times and have volunteered on most of those trips. Over the years, they've lent a hand in all sorts of areas at the Sanctuary, but they're particularly fond of volunteering in Cat World, where they've helped with everything from socializing to deep cleaning cat rooms, from walking cats in strollers to taking them on sleepovers.
Says Mike: "It makes us happy to help out at the Sanctuary because we can see how well all the animals are being cared for and how much the wonderful caregivers do to prepare them to find their future forever homes. It's nice to be a part of all that."
Read more about Andrea and Mike
Photos courtesy of Mike Lorrig and Andrea Kraus, David Glazer, Best Friends Lifesaving Center in Salt Lake City, Robert Stoetzel, Harley Kemp, Sonya Sellers and Molly Wald