Time, patience help two shy senior cats get adopted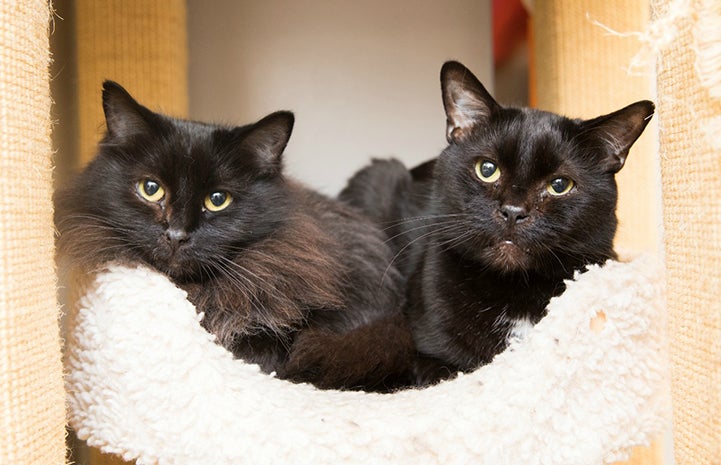 Two shy and introverted senior cats get a reprieve from the shelter when they are fosterer, and, upon returning, are soon adopted into perfect family.
By Nicole Hamilton
After their caretaker passed away, two senior cats named Jen and Stark found themselves at a large municipal shelter where they were so scared they hid in the back of the kennel, huddled together so tightly that you couldn't tell where one ended and the other began. It was as if they were trying to disappear.
Big shelters can be overwhelming for any cat — especially for senior introverts like Jen and Stark, who faced the likelihood of never leaving the shelter because they were surrounded by younger, more extroverted felines who also needed homes.
To make sure they got all the time they needed to feel confident enough to find a family, they were brought to the Best Friends Lifesaving Center in Atlanta. There, in addition to having plenty of nooks and crannies where they could hide, they also had the support of the Best Friends staff and volunteers, who helped them learn how to trust others again.
Timid cats need time
Everyone at the center knew that the recipe for building Jen and Stark's confidence was time and a whole lot of patience. Finding courage is often a slow and steady process, so the staff took their cues from Jen and Stark, who showed when they were ready for affection and attention, and when they wanted to be left alone.
Stark was the first to overcome some of his shyness, but too much interaction with people made him so nervous he'd pull out his hair. On the other hand, Jen could only let her guard down if Stark was around. "If you wanted to earn her trust you had to start with Stark," says Brantlee Vickers, adoptions specialist at the center. "She loved snuggling with him and having him near her."
Months went by and Jen and Stark remained at the center, curled up together in a basket or perched high on a cat tree so nobody could touch them. Time in a foster home, the staff determined, would do Jen and Stark a world of good. And so staffers contacted Christie Lynn, a volunteer who previously fostered shy cats from the center.
Finding confidence in a foster home
Christie quickly stepped up to help. "We wanted to see how they would behave in the relative calm of a home," she says. "I hoped that with time and patience they could relax and show their personalities again."
During Jen and Stark's first week at Christie's, they hid whenever she entered the room. After they had time to settle in, she started sitting in the room to read and put cat treats near their hiding spot.
Stark was the first to overcome his fear — in search of more treats. He kept his distance and let Christie toss treats to him, but by the end of the week he was taking them from her hand and letting her pet him.
Soon after that, Jen took Stark's lead and came out for treats, too. Eventually they both stopped hiding, and when they started to approach Christie for affection (and more treats) she knew they were close to having enough courage to find what they had worked so very hard for — a home.
Top 10 reasons to foster a pet
Adopting shy cats
After about three months at Christie's place, Jen and Stark were returned to the center. Although they weren't ready to give up their claim to the highest spots on the cat tree, they were trusting enough to let Treah Caldwell and other potential adopters approach them without hiding.
Treah had come to the center looking for two cats to adopt. She and her partner, Kye, had recently lost their two 19-year-old cats and they were ready to open their home to a new feline duo.
As soon as Treah saw Jen and Stark curled up together in a basket, her heart melted. "They were so beautiful," says Treah. "I decided I wanted to give them a safe and quiet home." She adopted them that day.
Watching two shy cats blossom
Treah and Kye knew it would take lots of time for Jen and Stark to feel comfortable with their new family. To help them, they gave the two cats their own room with plenty of places to hide, as well as their favorite place to repose — a cat tree.
Stark (like he did in his foster home) was the first to find the courage to roam. Soon after, Jen also started finding more confidence. "Stark is very bold. He's the explorer," says Treah. "Jen is more shy, but she's very fast and has an eagle eye."
The next step will be to introduce Jen and Stark to the two family dogs, who have been waiting eagerly at the door to make the acquaintance of their new feline friends since the day they arrived. Until that moment, the dogs are taking Treah and Kye's lead, patiently waiting for Jen and Stark show them they're ready.
"It's really about looking beneath the surface," says Treah about adopting two shy senior cats. "They really do blossom. You get to see their fierceness and watch them practice trusting. It's really gratifying, and they've brought a sweetness to our home."
Best Friends in Atlanta works collaboratively with area shelters, animal welfare organizations and individuals to save the lives of pets in shelters in the region. The Best Friends Lifesaving Center is a hub for animals and a base for local programming and coalition-building to help the metro-Atlanta area in its final push to achieve no-kill, while strengthening the movement in the Southeast. Together, we will Save Them All. 
Photos by Sarah Ause Kichas and courtesy of the Best Friends Lifesaving Center in Atlanta