On track to deliver our message
Image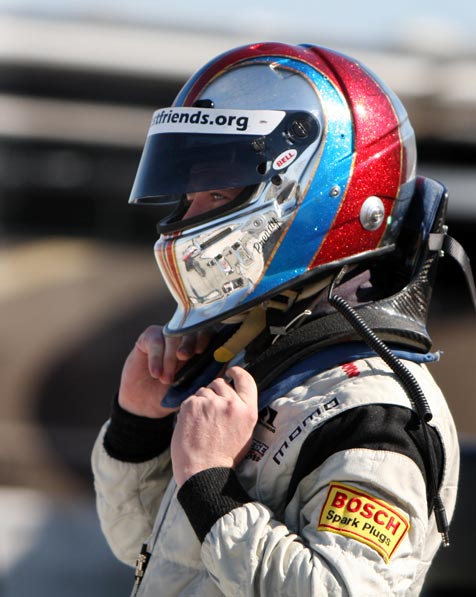 Racing Laps for Best Friends is revving its engine for another season of Indy Pro Series auto racing, raising money and bringing our message to a whole different breed (of people).
By Best Friends Animal Society
When the Indy Pro Series auto racing season gets the green flag next month, the Best Friends #5 car will not only be making pit stops, but PetStops as well.
As part of an enhanced partnership with Best Friends, driver Andrew Prendeville will take the car to a local rescue in the city where he is racing that week. Kids can sit inside the car – which has a cool new paint job showing off our logo – to see what a real race car looks like and get their pictures taken behind the wheel. Andrew will be there to sign autographs and talk to fans.
The PetStops will introduce people to the local rescue, which can use the opportunity to hold an adoptathon and provide education about responsible pet care.
Again this season, Andrew has donated the Best Friends signage on his car.
Indy Pro is the official development series of the Indy Racing League, which means it's where racing teams and drivers hone their skills in an effort to reach the highest level of racing, including the legendary Indianapolis 500.
This is Andrew's – and Best Friends' – second year in the series. Prior to joining Indy Pro, he was a championship driver and won 12 of the 59 races he started in national racing circuits. He finished in the top five an incredible 46 times.
In his rookie season last year, Andrew ended up just seven points out of the top ten. His highest finish was third, but his most meaningful finish was fourth at the Freedom 100, which was run at the Indianapolis Motor Speedway the weekend of the Indy 500.
He drives for the Andersen Racing team, which is affiliated with Rahal Letterman Racing, owned by former Indy 500 champion Bobby Rahal and late-night television talk show host David Letterman.
Andrew approached Best Friends last season when he was looking for a worthy charity to ride with him. His mother suggested Best Friends, where she was a long-time member. After visiting the sanctuary, which he described as "an amazing place with such amazing people," he decided to donate space on his car to Best Friends.
He also suggested the promotion, called "Racing Laps for Best Friends," which encourages animal lovers and race fans to pledge a nominal amount – as low as 25 cents – for each lap Andrew completes. Although Racing Laps began part-way into the season last year, it still raised more than $52,000 for Best Friends.
This year the program is launching in time for the beginning of the season and includes a number of enhancements.
For instance, the top three prizes in the Racing Laps raffle are lessons at the Bertil Roos Racing School. Third prize is a half day for you and a friend, second is a full day and the first prize is three days. The value of the prizes is $6,635. Bertil Roos has locations in Florida, Virginia and two in Pennsylvania, including one at the Pocono International Raceway. Transportation and lodging are not included in the packages.
Raffle tickets are only $5 and the drawing will be held Sept. 19 at the Best Friends sanctuary. There's no limit to the number of tickets you may purchase. Click here for more details and to buy a raffle ticket.
Racing Laps for Best Friends will also have an expanded presence at the races to help take our message of kindness toward animals to a demographic that our traditional efforts wouldn't reach.
There will be larger booths at the tracks, as well as the same car that appears at PetStops and a truck carrying Best Friends and Racing Laps merchandise, which fans last year were clamoring for.
And, of course, Racing Laps will allow race fans and Best Friends supporters to donate through its innovative program, which has been tweaked for its second season.
People can pledge a specific amount for each lap Andrew completes in a single race or throughout the season. They can also donate a flat amount. Click here for details on donating.
One of the new features this season is that everyone who makes a pledge for the entire season gets a paw print with their pet's name affixed to the merchandise truck, which of course is driven around the country and appears at most races. When that season pledge reaches $1,000, the person gets a paw print affixed to Andrew's helmet.
Donations to Racing Laps for Best Friends are tax deductible.
The Racing Laps web site also has been enhanced the year, with photo galleries, a video, news, the Indy Pro race schedule, and a link to andrewprendeville.com, where you'll find Andrew's travel blog and a fan center that provides information on how to become a race car driver, about racing teams, testing and other racing-related stuff.
And lastly, Racing Laps has an official mascot this season.
During one of his visits to the sanctuary last year, Andrew met a Dogtown resident named "Ballsy," that he had been sponsoring. At the time, the dog was afflicted with a condition that caused him to race around in circles inside his run. (He's now been cured.) That behavior, along with his attitude and his name, made the race car driver realize he'd found a kindred spirit.
Andrew talked about Ballsy and the Racing Laps program in an interview broadcast by ESPN2 last year.
So now Ballsy is the mascot for Racing Laps for Best Friends and his illustrated visage is part of the program's logo. On the web site, Andrew has a blog chronicling his relationship with Ballsy and Best Friends success in rehabilitating the dog. Throughout the season, the blog will have updates from Ballsy's caregivers and trainers at the sanctuary.
The Indy Pro season begins March 29 at Homestead Miami Speedway in South Florida.
Written by Michael Rinker
Photos by Sarah Ause
to watch a Best Friends-produced video about the Racing Laps program, including racing highlights and sanctuary visits from last season.
The work of Best Friends is possible only because of your generous support. Click here to help us reach our goal of No More Homeless Pets.
To check out more Best Friends news, click here.
To watch Andrew Prendeville
at the sanctuary
click here.