From two legs to four, a kitten's journey
Kitten with swimmer's syndrome learns to walk on all four legs.
By Ashley Hart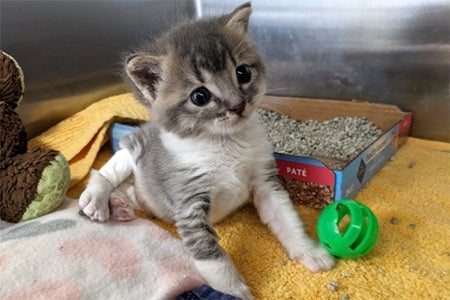 When Kramer came to Best Friends in Los Angeles, the team was quick to vote him the "cutest kitten ever." By the time he was four weeks old, he already weighed a little over a pound, making him one of the largest kittens ever seen by Nicole Wisneskie, manager of veterinary programs. The reason behind Kramer's size wasn't so cute though and it was clear that he had a battle ahead of him.
The orphaned kitten had swimmer's syndrome, a condition that makes it impossible to walk due to weak muscles in the back of the legs. Instead of Kramer's back legs holding him up, they splayed out to the sides. More commonly found in puppies than kittens, swimmer's syndrome gets its name from the fact that the back legs look like a swimmer about ready to kick. Left untreated, it can be life-threatening.
Treatment for swimmer's syndrome in kittens
Aside from being unable to stand and walk comfortably, swimmer's syndrome can cause other severe complications for puppies and kittens. Dr. Anna Sarfaty, a Best Friends veterinarian in Los Angeles, says that the muscle weakness in puppies and kittens with the syndrome gives them a tendency "to get over-conditioned (overweight) because they are not exercising but eating well, which makes the problem even worse because weak muscles can't support the additional weight."
The best thing to do for an animal with swimmer's syndrome is to start physical therapy. For Kramer, that meant taping his back legs to help position them correctly so he could start to walk.
[An itchy cat's total transformation]
Several times a day they placed him on nonslippery surfaces to encourage him to walk on his own so he could strengthen his underdeveloped leg muscles. He took to the therapy like a tiny champ.
Fortunately, because the Best Friends team was able to intervene sooner rather than later, the medical team felt confident that Kramer shouldn't have any lifelong health concerns. Even so, his chest will probably always be a little flat, a condition caused by the fact that when his bones were developing, he was unable to stand on all four legs, and so his chest always rested on the floor. But he was otherwise healthy and on the road to recovery.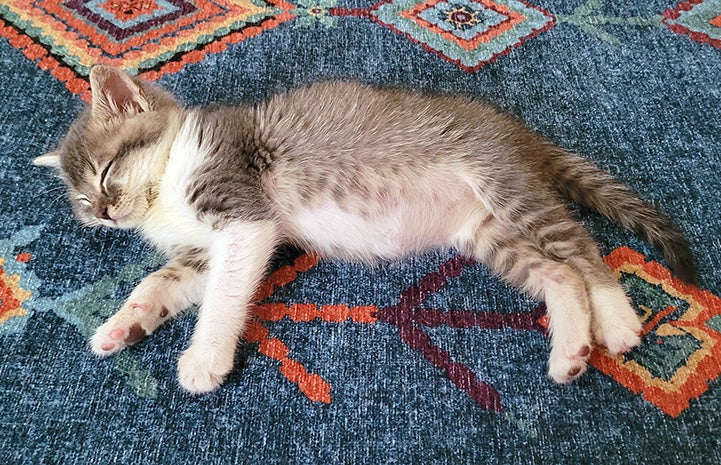 Foster home, then permanent home
After about five days, Kramer was able to walk on his own. At that time, the medical team felt he was stable enough to move into a foster home. And boy, did he have a great foster home lined up for him. Sophia Lim, who has been fostering kittens for Best Friends since 2012, was happy to take him in.
Setting your home up for foster kittens usually doesn't take much effort, but in this case, the Best Friends foster team recommended that Sophia take extra care to line her bathroom tile with towels to make it easier for Kramer to walk without slipping.
[Volunteer finds her calling, just keeps going]
Fortunately, he had already improved so much since his arrival that he was able to easily enter his foster home, and by the time Sophia took him home, he was already standing, walking and even jumping without any issues.
It was about a month before Kramer was old enough to be neutered and placed for adoption, but just days later he was adopted and the challenges he was born with became a thing of the past. He'll still be remembered as the cutest kitten ever by those who helped him when he needed it most.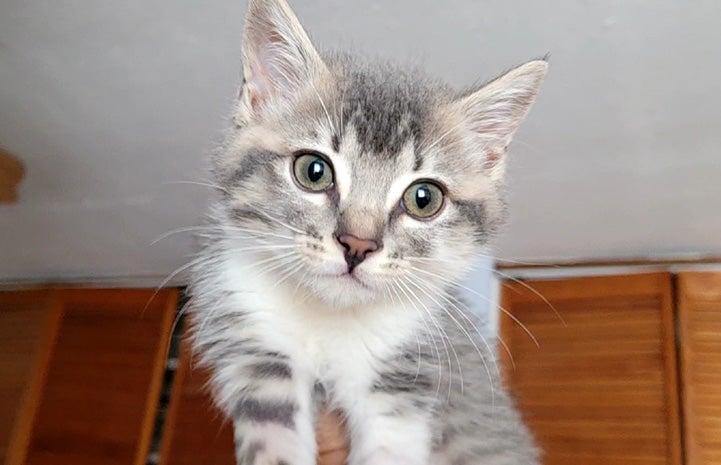 Want to help a cute kitten too?
Shelters and rescue groups all need foster homes. You can save a life by taking in a pet, even just for a few days.
Read more
Meet a foster volunteer whose determination helped save a tiny kitten's life
Lesson from a cat: hearts are made for love
The story behind the famous high-flying, almond-loving cat
Photos courtesy of Sophia Lim and Best Friends staff