Veteran changes his mind about community cats (and TNR) thanks to one ear-tipped cat
Unsure about return-to-field feral and stray cat programs, Jefferson Parish man changes his mind after employing effective cat deterrent suggestions.
By Christelle Del Prete
It's been a little over a year since the Best Friends community cat program (CCP) started in Jefferson Parish, Louisiana, and since then it has not only saved the lives of hundreds of ownerless, stray and feral cats, but it's also changed minds and opened hearts.
Program coordinator Leah Long works closely with the Jefferson Parish Animal Shelter, which is how she was able to recently help Mr. Johnson, a local citizen and a veteran who over a couple of months brought about half a dozen cats to the shelter.
Each of them were then spayed or neutered and returned to his block, a key component of saving cats in shelters, but that didn't solve Mr. Johnson's problem because what he really wanted was to completely remove the cats from his property. It wasn't until later when he brought in an ear-tipped cat (one brought in previously) that he first learned about RTF.
What is return-to-field (RTF) for cats?
When stray cats are brought to the shelter, they are fixed, ear-tipped and returned to the location where they were found. This process is called "return-to-field" (RTF), and Leah says it's the part of the program that allows for quick live outcomes for predominately unadoptable cats and reunification with their communities. "It also serves as a means of information that enables us to target where we are going to do trap-neuter-return (TNR), so that we can prevent future intakes from that address," says Leah.
Find out more about CCPs and TNR
Helping a veteran get some sleep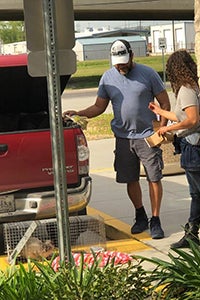 One of the biggest parts of any community cat program is answering complaints. Leah listens to what people have to say, because she knows she can help. Sometimes there are easy fixes for problems such as "a strong odor in my front yard" or "cats howling and fighting all night."
"Any complaint really comes down to listening to the person so that you can figure out an appropriate solution," says Leah. "Most issues are easy to resolve, because behaviors like spraying and fighting are tied to the cats not being neutered or spayed. Once the cats are fixed, those problems tend to go away."
Leah spoke to Mr. Johnson and learned that he has a very intricate security system for his backyard that includes cameras and motion detectors. "I can't sleep without my security system on at night," he said, "but the cats keep setting off the alarms, so I can't sleep with them going off either."
That was a problem Leah thought she could fix, so she set up Mr. Johnson with everything he needed to keep the cats from setting off the alarms. She provided him with deterrents and showed him how to use them. Meanwhile, he hesitantly took the ear-tipped cat back home with him.
How humane cat deterrents can help with nuisance behavior
Getting on board with RTF
When Mr. Johnson called Leah the next day, she was a little nervous because he'd been less than enthusiastic about her plan the previous day. But he had good news: The deterrents had worked, and he had finally enjoyed a good night's sleep. He'd even caught another cat that morning and wanted not only to bring the cat in to be fixed, but also to take the cat back afterwards. He'd gotten on board with RTF and was even willing to help with it.
"It's moments like these that remind me that a community includes everyone, even the people who are having issues with the cats," Leah says.
Now more community members like Mr. Johnson will be able to sleep better at night, and the lives of many more free-roaming cats will be saved.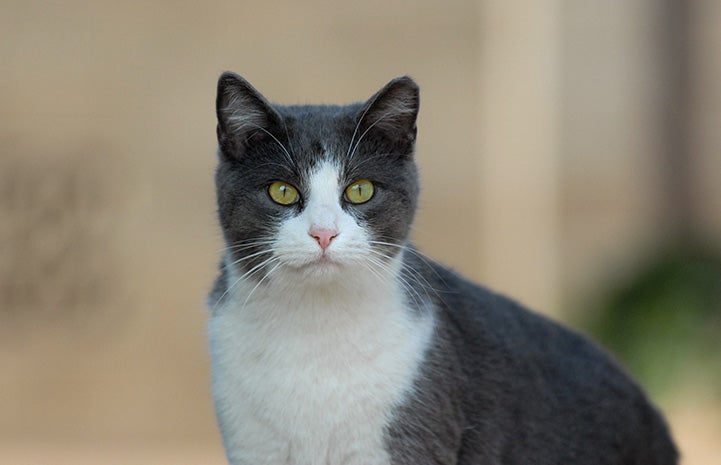 Photos by Best Friends staff and courtesy of Leah Long