Veterans make a difference for homeless dogs in L.A.
Image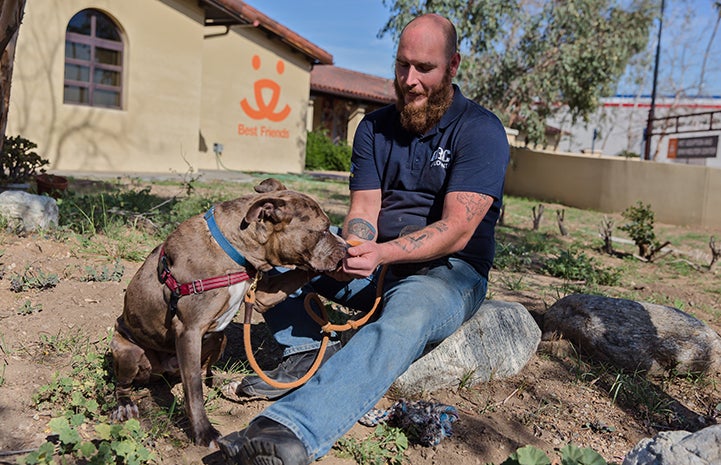 Students, many of whom are veterans, from the Animal Behavior College dog
training program work with dogs from Best Friends in Los Angeles.
By Nicole Hamilton
Best Friends in Los Angeles works collaboratively with animal rescue groups, city shelters and passionate individuals who are all dedicated to the mission of making Los Angeles a no-kill city. As part of this mission, Best Friends hosts adoption and fundraising events, manages two pet adoption centers, and leads the No-Kill Los Angeles (NKLA) initiative. Together, we will Save Them All.
When Sam first came to the Best Friends Pet Adoption and Spay/Neuter Center in Los Angeles after being surrendered to an L.A. Animal Services city shelter, he was wary of people. In fact, the shelter environment was at first so traumatic for him that he hid in his kennel and wouldn't let anyone leash him up to take him out. Sam would need help and a lot of patience before he could let his guard down.
Luckily for Sam, he would benefit from the expertise of the Best Friends staff and help from a team of dedicated volunteers. Students from the on-site dog training program of Animal Behavior College (ABC) meet several days a week at the Best Friends Pet Adoption Center in L.A. to work with the dogs who need it the most. And because many of the students are also military veterans, they know both the challenges that trauma can bring and the powerful, healing bond between humans and dogs.
Learn how Best Friends is helping Los Angeles become a no-kill city
Veterans helping homeless dogs
According to Brittany Sorgenstein, the center's dog care manager, ABC students have made a difference in the lives of so many of the dogs that come to the center needing help. "The ABC students are so good with dogs who are reactive, stressed out or have been traumatized," she says.
Most graduates of the ABC on-site dog training program go on to forge careers as dog trainers or as owners of dog boarding facilities. And after their experiences working with dogs at Best Friends, many become no-kill advocates and make saving pets' lives an integral part of their work.
After serving 20 years in the U.S. Air Force, Sean Marler decided to make a career change that would allow him to work with dogs. After learning about the ABC program, he left his home outside of Lexington, Kentucky, and headed to the ABC campus in Santa Clarita, California, just outside of Los Angeles.
"I like helping dogs live up to their full potential," says Sean, who will soon open his own dog boarding and training business near San Francisco. "I like to think that what I did at Best Friends was help dogs to not only become more adoptable, but also to learn how good their lives could be with proper training and attention."
Dog training program benefits homeless pets
The ABC students' work is truly saving lives. Every time a dog is adopted from the center, it opens space for another dog from one of the six Los Angeles city shelters.
Each student in the ABC program is assigned a dog needing extra behavior training. That's how Jennifer Roedl, a student from Columbus, Georgia, and a Navy veteran who spent time deployed off the coast of Kuwait, got to know Sam.
When she first met the scared dog, she sat outside his kennel and placed treats near the bottom of his door to let him get used to her. She was eventually able to enter his kennel and put his harness on him.
That may have seemed like a small step for Sam, but it was a giant leap forward. Once he started letting Jennifer put his harness on, the world opened up for him. With patience, Jennifer was able to coax him outside, and now she is helping him learn to play well with other dogs. Soon, Sam will be ready for his new home.
"I want to teach others that people and dogs can speak the same language," says Jennifer. Her dog back home, Tex, was pivotal in helping Jordan Roedl, her husband, overcome the post-traumatic stress disorder he developed after returning from heavy combat with the U.S. Army in Iraq.
Jennifer feels good knowing that Tex is sleeping next to Jordan every night while she's in L.A. "Tex wakes Jordan up whenever he has a nightmare," says Jennifer. "He's been our saving grace."
And she feels good about what she is doing at Best Friends for Sam, with whom she's formed a bond. "I feel like I'm doing something important," she says. "When I'm at the center working with homeless dogs, I know I'm making a difference."
Join Best Friends and help save lives
Photos by Lori Fusaro and courtesy of Sean Marler