Veterinarian is a senior dog's prescription for the good life
After taking one look at Hubie's snowy white face and the steep price of his medical plan, Zoe Braun knew he was her dog.
By Lindsay Hutton
Fourteen-year-old Hubie's muzzle has frosted so much that it's like a ski slope ― a blaze of white fur that starts between his brows and sweeps all the way to the tip of his nose. It's easy to imagine a younger Hubie with a dark muzzle and how the years have brought the color transformation. Unfortunately, the sweet, frosty-faced dog ended up in a Utah shelter when his person moved to a senior care facility.
When Hubie arrived at the shelter, he had terribly itchy skin that had caused significant hair loss. In fact, palm-sized bald patches of irritated skin were visible on his back. Hubie's age and medical challenges landed him on the euthanasia list, but shelter staffers wanted to give him another chance, so they shared his information on social media in case anyone could take him.
That's how Megan McCloud, Best Friends lifesaving programs support lead in Salt Lake City, learned about Hubie. After seeing the Facebook post and learning he was on borrowed time, she contacted the shelter, brought him to Best Friends in Utah and then took him to her own home for foster care.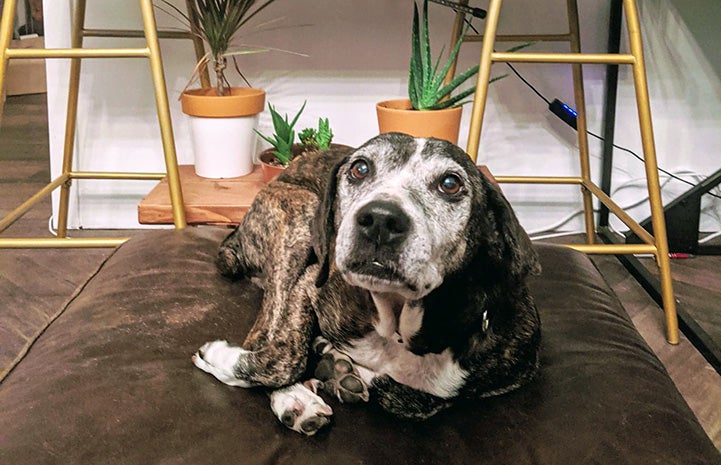 At first, Hubie seemed unsure of why he was at Megan's and was tentative when receiving affection. He also experienced intense itching when touched, even though he was on medication. When it was clear he needed even more help for his skin condition, they went back to the vet ― four times, including a visit to extract nine bad teeth.
Dental work of this magnitude requires lots of down time to heal, so Hubie started coming to work with Megan every day. At home, he settled in so quietly that she described him as a "cat dog," since his sleeping habit rivaled that of a cat. He also calmly received wipe-down baths and lived in harmony with the other dog and cats at Megan's place.
[Diabetic poodle gets the spring back in his step]
After a month and a half, Hubie started to come out of his shell. He played. He tap-danced in gleeful anticipation of food. He was given a blue llama toy and proudly carried it everywhere. Finally, the senior who came to Best Friends in rough shape was looking and acting like a different dog.
Feeling good and ready for a new home
The medical team had found a medication plan that effectively helped Hubie's skin condition, and that was great news. But something else gave Megan cause for concern: His medication came with a steep price tag that could deter potential adopters. She also worried about whether someone would be willing and able to maintain the regimen necessary to keep him comfortable after he'd made so much progress.
Hoping to attract someone who could give Hubie a permanent home, Megan wrote a long Facebook post detailing the costs of his care and everything she knew about him. The post included pictures of Hubie out and about ― from the home improvement store for plants to fundraising events for Best Friends. In a sweet surprise, it didn't take long for someone to respond ― only one day, in fact.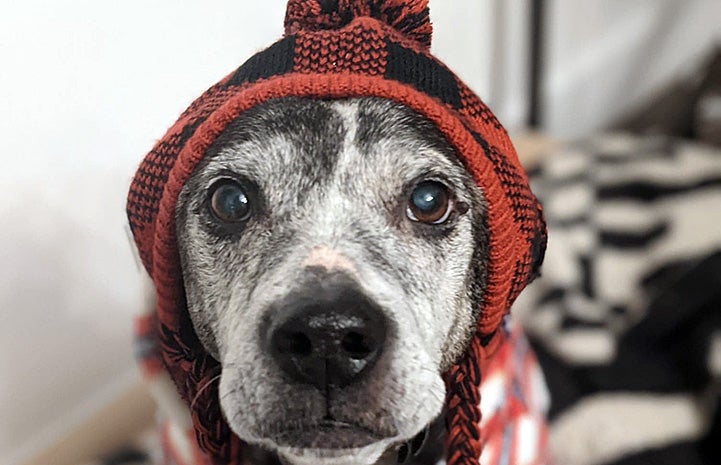 Cute, white-faced old dog in his own world
The Hubie that Zoe Braun saw on the Best Friends website was too cute. She loved his white muzzle and couldn't help but click on his post. When she did, she saw that it cost about $370 a month for his vet visits, medication and prescription food. She thought: Who's going to do that?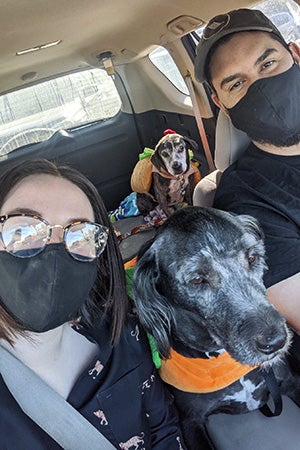 Actually, who other than Zoe would be more suited to take a dog like Hubie? After all, she was a vet with a passion for helping older animals with special needs, and she had recently lost her own beloved dog who had a heart murmur. So, she  reached out to Best Friends and Megan. To Zoe, Hubie sounded perfect.
They arranged a meet-and-greet at a park, and Zoe's feeling that this was the dog for her grew stronger. He was a bit in his own world and not especially interested in them or the surroundings. Serenely, he sat and watched. After that, Zoe and her wife, Chelsie, had Hubie come to their house for a sleepover to see how he would do in their home. He never left.
Having adopted her last dog, Henry, when he was 10 years old, Zoe says he was the best dog she ever had. Losing him, she said, was nothing short of heartbreaking; however, the joy of their time together outweighed the pain.
Zoe loves helping older dogs. In fact, knowing that they're sometimes overlooked at the shelter is part of the reason she decided to become a veterinarian. Chelsie says that it's one of the reasons that Zoe keeps adopting older dogs with medical conditions. It's about the desire to make things better for a fellow creature, fix a problem and see the transformation that it brings to the pet's life. Also, she loves them.
A quirky, cuddly, active, adaptable (and still cute) old friend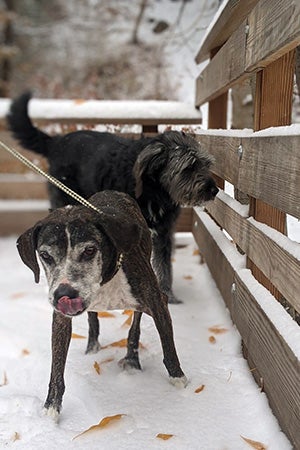 Zoe and Chelsie thought they would be adopting a senior dog who would lie around for most of the day, but the move into their house fully released Hubie's personality. He sought their attention, whined, begged to be played with and accompanied them on hikes. One day he even charged out the door and led them on a wild goose chase.
He has quirks. Zoe and Chelsie discovered that he is directionally challenged, unable to find the stairs in their house, so they blocked off parts of hallways to effectively herd him down the stairs to breakfast.
He doesn't care to listen unless he's interested. (Whether he's hard of hearing or simply exercising willful privilege, who can say?) He has a strong sense of his own personal space, which is not to be disrespected. He gets anxious in dog parks but enjoys playing with smaller dogs at doggy day care. And he has a deep hound-like dog bark, completely incongruent with his size (33 pounds).
Hubie has become cuddly. No longer just in his own world, he frequently makes eye contact and rubs his head against Zoe or Chelsie. "It's like he's realizing that we're his people," says Chelsie, reflecting on how Hubie began to put his head in her lap, a gesture of affection neither of them expected, given how Hubie acted when he first arrived.
Age and life's journey have colored Hubie's face white. But this latest transformation has also been a revelation of his unique, adaptable self and a testament to the transformative power of love. He's gone from a reserved older dog with an itchy skin condition and on the verge of euthanasia, to a quirky, directionally challenged lovebug who goes for hikes and lives with a house full of dogs (including a difficult, deeply beloved Chihuahua), ferrets (also difficult) and cats.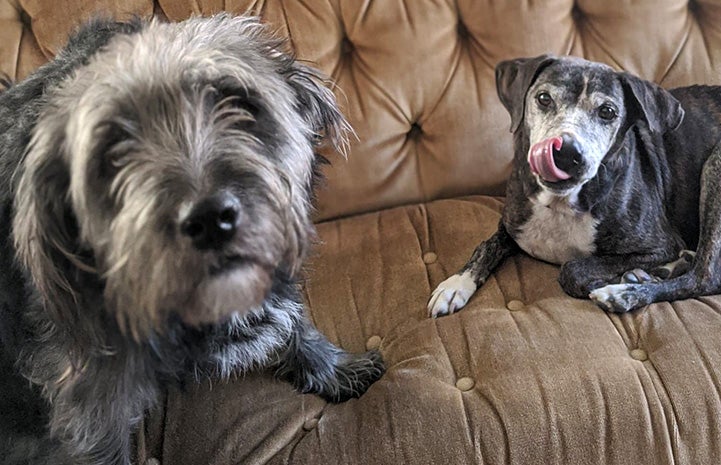 Advocate for pets where you live
Whether you choose to foster, adopt or volunteer, there are many ways you can step up and help pets at shelters in your community.
Get involved and save pets' lives
Read more
5 everyday heroes helping animals
Heart surgery saves a kittens life
Helping a dog with three legs find her footing
Photos courtesy of Zoe Braun and Best Friends in Utah