Helping a dog with three legs find her footing 
A broken leg was no match for a spunky little dog named London, who is enjoying New York City with nothing holding hold her back.
By Ashley Hart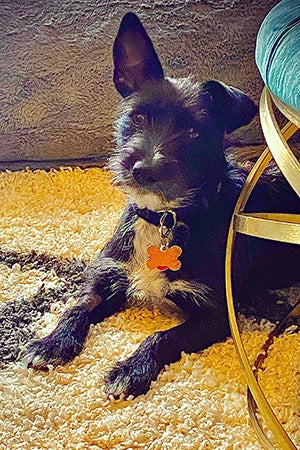 When London, along with 18 other dogs and puppies arrived at Best Friends in New York from Palm Valley Animal Society in Edinburg, Texas, the little dog had enough energy to fill the Lone Star State. There was just one thing standing in the way of taking her zest for life up to an 11 ― a broken leg.
Not to worry, though, because the team in New York was ready to help London as soon as the  transport van rolled into the Big Apple. Team members enlisted the help of a veterinarian, who determined that the best course of action was to remove London's leg. Considering her joie de vivre (after a 1,900-mile road trip no less), they were confident she would bounce back fast.
[Catching up with the poster dog of No-Kill Los Angeles]
Helping a dog stand on her own three feet
The medical team was right. After her surgery, nothing could break London's stride or spirit. Of course, that could be a problem because the next step after surgery involved rest so she could heal. And that's not an easy thing to do when you're a 16-pound dog with an unlimited supply of energy and love.
What London needed was a patient and empathetic foster home where she could remain under the watchful eye of someone who would help her rest, even when she really didn't want to. Although most dogs adjust to an amputation relatively easily, they still need time to adjust.
Fortunately for London, foster volunteer Morgan Roche was waiting for her as soon as she was out of surgery. Since Morgan had fostered dogs from Best Friends before (including a dog named Magnolia who Megan helped transform from a shy dog to one with confidence), Emily DeFelice, Best Friends coordinator of lifesaving outcomes, knew London was in good hands. "We knew she'd do a great job with London," she says.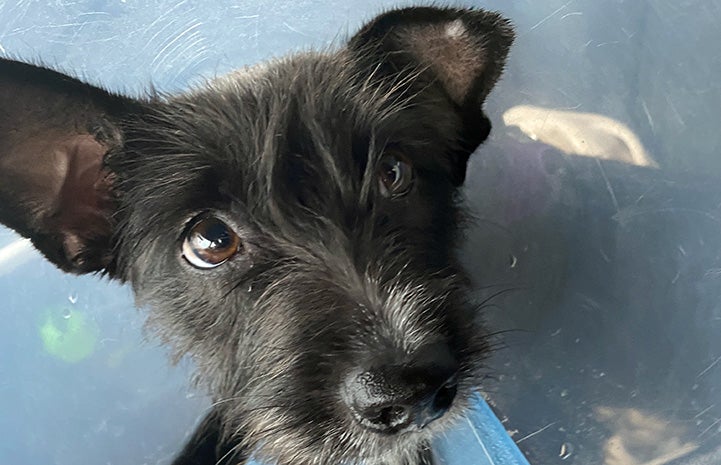 Converging roads to recovery and adoption
London experienced a lot of change in a short period of time. As an outgoing dog who loves to play, it was difficult for her to stay still and rest during her recovery. Morgan was able to take her on very short walks, but London had to wait before she could run and play to her heart's desire. Luckily, Morgan was able to supplement the short walks with lots of cuddles on the couch that made London a happy girl.
The story gets even better because Morgan soon realized that she was in love with this frisky little three-legged dog. As soon as she got the all-clear from the veterinarian, she texted Emily and asked for the adoption paperwork to make it official.
Today, London loves to zoom around the dog park and play with anyone and everyone who's up for it, proving that life on three legs is just a fun as life on four.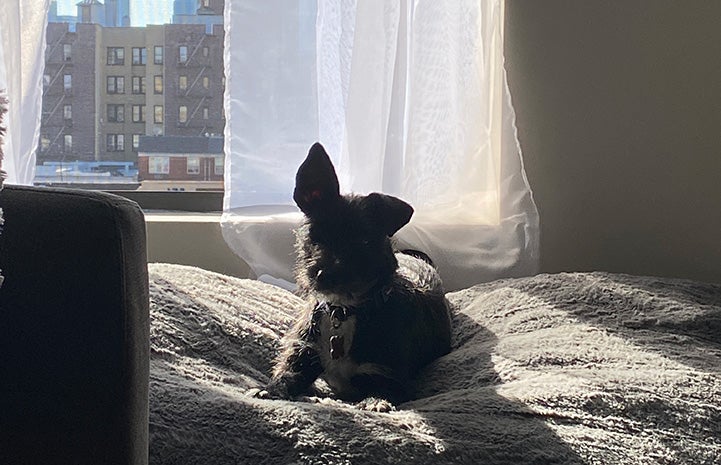 Be a hero (no cape needed)
Leaping tall buildings is a single bound is overrated. Instead, be a hero by fostering or adopting a pet from your local shelter.
Read more
New life for a skinny, sick 17-year-old cat
New animal control department serves pets and people in Kansas City
Dog becomes a foster win in the sweetest way
Photos courtesy of Morgan Roche