Volunteer finds her calling, just keeps going
When Sophia Lim discovered Best Friends Animal Sanctuary, she could hardly believe such a place existed, but now that she's a volunteer extraordinaire, she does it all.
By Sarah Thornton
Thirteen years ago, Sophia Lim turned on her TV, switched over to the National Geographic channel, and started watching a new show called DogTown. The idea of a place like Best Friends Animal Sanctuary ― a safe haven and home-between-homes for so many pets in need ― immediately caught her attention. She could hardly believe it, and she needed to know more.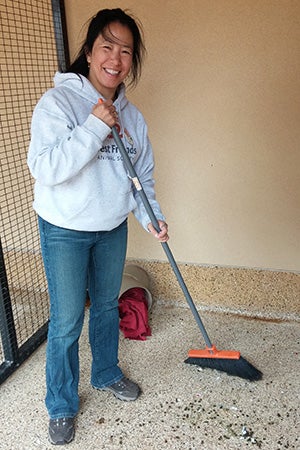 After discovering that everyone was welcome to go there and volunteer with the animals, she turned her birthday vacation into a volunteer trip. She headed out to southern Utah to sweep out rabbit enclosures, snuggle purring cats and accompany dogs on their walks. It was a life-changing experience, full of special moments that even today stick in her memory.
So, years ago when she got an email from Best Friends in Los Angeles looking for volunteers to help set up a new Best Friends lifesaving center, she responded immediately and never looked back. She became a regular volunteer, fostering kittens with special medical needs, helping get pets ready for transports, and dedicating time at special events. Sophia became an outreach ambassador, spreading awareness to the community about how they, too, can get involved.
While it's a lot to add to an already busy life, Sophia says meeting pets makes everything worth it. "It's difficult to encounter so many animals needing a loving home, but knowing I had a small part of any animal getting adopted makes my heart happy and fills my soul. I hope to be an inspiration to other like-minded people."
In the following interview you'll learn more about Sophia's volunteer adventures and what motivates her to continue her work in animal welfare.
What inspires you most in your volunteer work?
One inspiration that came instantly into my mind is the dedicated staff. I have nothing except admiration for the talented team working diligently every day to Save Them All. Another inspiration is the rock star volunteers who spend their extra free time caring for the animals.
Our common goal as volunteers is to provide anything we can to help the staff and ensure all the animals are safe and happy. My volunteer friends still amaze and impress me every day with their endless support, time and devotion. I feel honored to know such extraordinary individuals.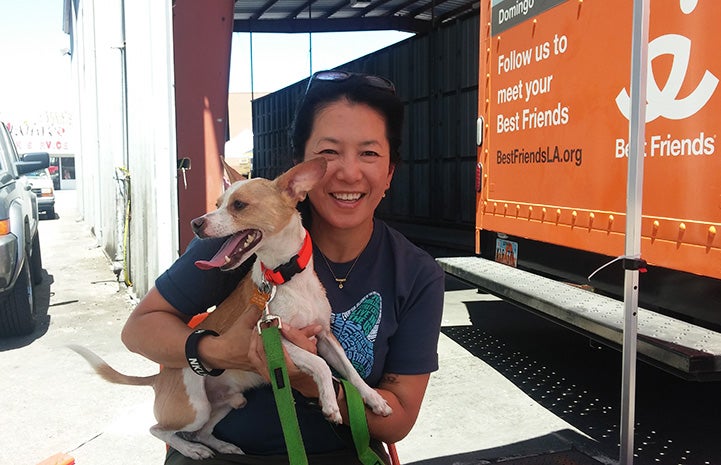 What have you learned since becoming a volunteer and has it caused you to see anything differently?
My eyes and heart have come to realize that too many animals are being euthanized because they don't have a home. The first time I saw the numbers of homeless and euthanized animals, I thought: That can't be right. My attitude has changed, and my knowledge has increased tremendously. Having been involved in animal welfare since 2009, I now realize the need for volunteers, donations, fosters, sponsors and educators to help the general public understand the plight of homeless animals. That is one reason I sign up and devote my volunteer time to outreaches — so I can help educate the public. My eyes are wide open now!
What are you most proud of with respect to your volunteer work?
Having volunteered in many departments at the Sanctuary and Mission Hills, there are several areas that I am most proud of.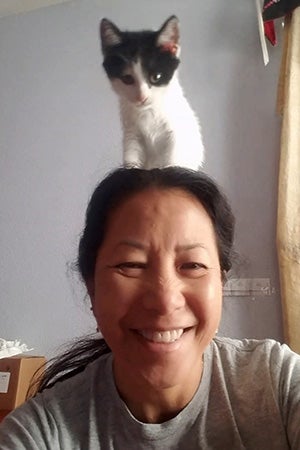 One is fostering kittens. I have to acknowledge Candi Maciel for introducing me to the wonderful world of fostering. Because of Candi's kindness when we first met at an outreach, I started to foster kittens in July of 2012. Now, I cannot imagine my life without foster kittens.
Another is feeding and caring for neonatal kittens in the kitten nursery. It is difficult to describe the passion I feel when I am in the nursery. Every kitten just makes me smile and my heart explodes because of the cuteness.
And (another is) being an outreach ambassador, I have had the opportunity to go out into the community and inform the public of the need for fostering, volunteering, donating, etc. My favorite part of outreaches is when someone realizes the need to be involved in any form. When they ask for more information and seem genuinely interested, in my mind I'm doing the happy dance and hope their hearts will be as happy as mine.
What does volunteering mean to you and why do you do it?
Volunteering means I've given my heart, my soul, my time and my devotion to a cause that I believe in. I do it because someone has to, and it is the humane thing to do. I am just thrilled beyond words that I am not the only one, and (that I) found my calling so long ago.
What is your favorite volunteer moment?
There are so many! My first favorite moment was when I met my idol and inspiration, John Garcia, in 2009 at the Sanctuary when I first volunteered there. Since John was on DogTown and one of the reasons I started volunteering, I would have to say that since I met him, my first trip to the Sanctuary was a success!
Another favorite moment was when I took my first foster kittens, Apple and Plum, home in July 2012. I did not realize at the time, but my life has never been the same because I foster kittens. Undeniably, the best thing I have ever undertaken is to open my home to underage kittens, care for them, ensure they are healthy and provide them endless love ― which is so easy to do.
One more favorite moment was attending my first Best Friends National Conference in Salt Lake City, Utah. Mind-blowing was the word to describe my experience ― so inspiring and educational. I recommend everyone to attend because it's something you have to see and experience to believe.
Besides volunteering with Best Friends, how else do give back to your community?
Because of Best Friends, I have also volunteered with other animal (rescue groups) by fostering and attending special adoption events. My city has an annual pet fair, and I have been on the committee since its inception. We organize the fair with vendors, adoptable pets, a costume contest and food trucks. Our main goal is to educate the public about spay/neuter, vaccinations and microchipping. It is a labor of love.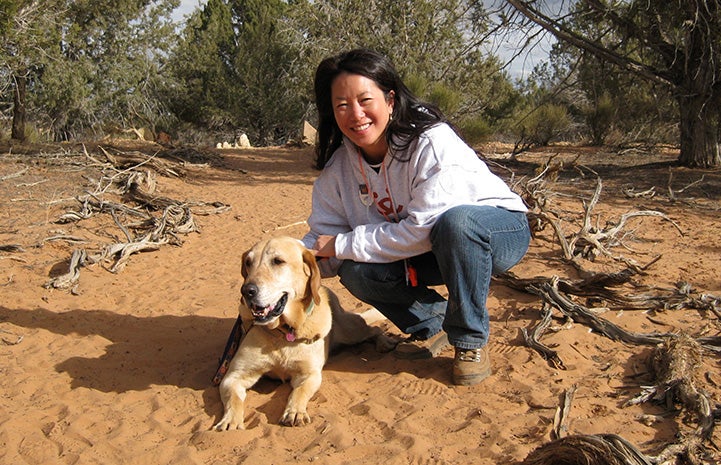 Could you tell us about something we might not know about you?
I've been a registered nurse for kids for 30 years, and was a student of hula dancing for six years. I bought my own home 24 years ago and have run more than 20 half-marathons. My first car had a manual transmission and I'm on my fourth car with a manual transmission.
Do you have a superpower and if so, what would it be?
My superpower is keeping an open mind and open heart.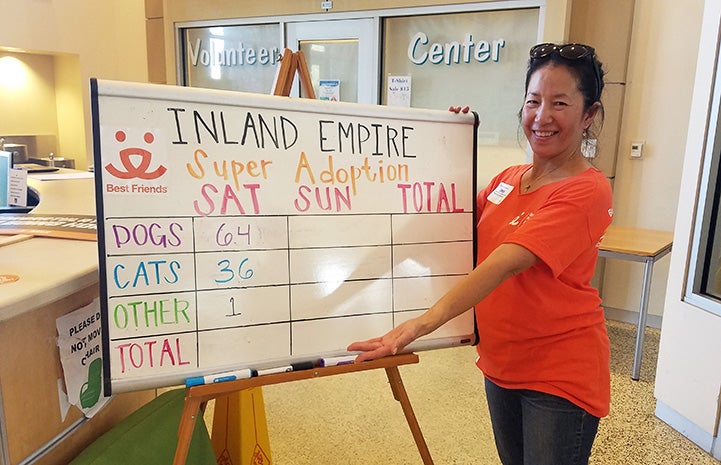 What would you tell others who are thinking of volunteering?
If you are thinking about it, then that is a great start. I would tell them it's the best experience because there are so many aspects of volunteering. If you don't have the time, then donate. If you don't have the money, then educate. There is always a way.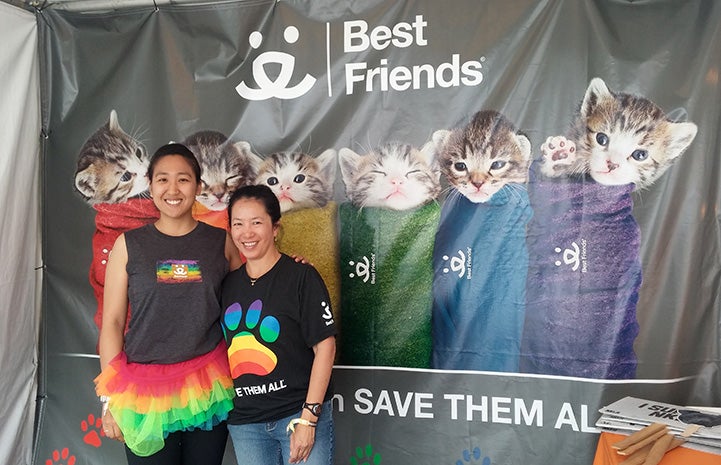 Find your calling
There are countless ways to help homeless pets near you. Why not reach out and find your calling?
Read more
Meet a foster volunteer whose determination helped save a tiny kitten's life
Senior dog gets a little help from friends and finds a home
7 tips from a social media pro on promoting your foster pet
Photos courtesy of Sophia Lim