Wanted: Old pit bull to love
Gemma had a medical record longer than she was tall, but all she ever wanted was love and she finally found it.
By Sarah Thornton
Love is all you need, they say, and it was certainly all Gemma was ever looking for. She leaned hard against people, looking for pats and behind-the-ear scratches whenever she got the chance. Her tail was always wagging. But because of a long list of special medical and behavioral needs, as well as her advancing age, it was hard for her to find a home. At nearly 10 years old, it wasn't even clear whether she'd ever known the love of a family or the security of a home. Before coming to Best Friends Animal Sanctuary as far as anyone knew, she'd only been in a shelter.
Things were about to change, though, when Andrea Robinsong came to the Sanctuary with her heart set on adopting "an old pit bull." Gemma was exactly who she was looking for ― her perfect match.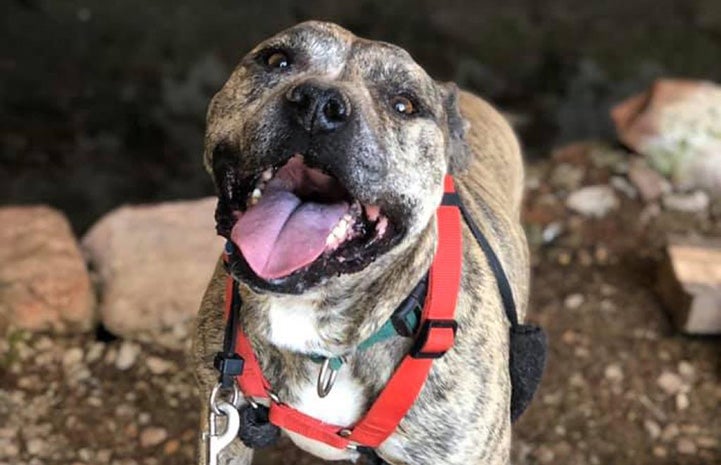 A senior dog's medical troubles
Gemma was safe at Best Friends, but her medical record was ever-growing. She had a mammary mass and another on her chin that needed to be removed. She was on a special diet for food sensitivities and had a chronic case of diarrhea. She wagged her tail so hard it became injured ― a condition called "happy tail." She had dental problems. And when Gemma started having trouble moving around, X-rays revealed that her left hip barely had a socket, and she had a bad case of arthritis in her knees, wrists and toes.
Caregivers also had to be careful about what Gemma had in her room and yard, because she would try to eat anything and everything she could get in her mouth, even if it wasn't food.
[Never giving up on a senior pit bull with a challenging past]
Veterinary staff at the Sanctuary did everything they could to help her ― surgeries, pain and behavioral medications, and regular therapeutic treatments to keep her feeling comfortable. Through it all, Gemma never lost her sweet smile.
Of course, she took her greatest comfort from snuggles and car rides with her human friends. She might stall out on walks and refuse to keep moving, but she didn't mind at all being picked up and carried back like a princess. She liked other dogs, and she even got to know a cat.
Her biggest challenge, aside from health issues and eating things she shouldn't, was getting overstimulated. When she was excited for attention or there was too much going on around her, she sometimes jumped and grabbed onto people or their clothes. She just didn't know what to do with her big emotions, a behavior that affects many dogs in different environments. But those who knew her best felt that if she could settle into a quiet home, her anxiety would likely dissipate.
Gemma needed somewhere nice and quiet to call home, with a family that loved her and could make her as comfortable as possible in her golden years. And that's exactly what she got.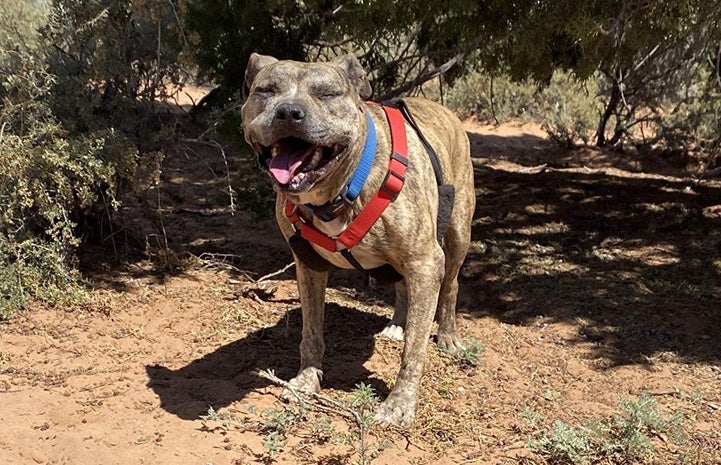 Finding the perfect match
Andrea had lived happily for several years with Bam-bam, her previously adopted canine companion. So, when he passed away and she found herself longing for another furry family member, she knew who she was searching for.
"I was looking for an old pit bull," Andrea says, "because my last dog was a pit bull and I rescued him as an old man. I live in a somewhat isolated spot with no immediate neighbors, and I've lived here for 25 years. So, I wasn't looking for a dog to protect me, but a dog to love me and be a presence in the house. I just really, really want a dog with me all the time now."
Andrea, 74, didn't want to adopt a young dog who might (you never know) outlive her. So what about a senior dog with lots of love to give, who would thrive in a quiet out-of-the-way home? Of course, Gemma was on Andrea's list of dogs to visit when she came to the Sanctuary. She was drawn in by Gemma's online profile, which talked about how much she loved love. And as Andrea learned more about her from talking with her caregivers, she was convinced that Gemma was the dog for her. Even Gemma's long list of ailments didn't shake her resolve. She knew what Gemma needed the most was a home with lots and lots of love.
[Dog lands a charmed new life for his golden years]
To get to know each other, Andrea and Gemma had a sleepover at the Best Friends Roadhouse and Mercantile. Caregivers gave Andrea a heads-up that Gemma might try to eat the furniture and bedding or go to the bathroom inside, so she kept a close eye on her. "She was certainly acting out, but as far as I could tell it was just in fear," recalls Andrea. "I just knew that once she was in a real home and knew she was loved that she would get better."
When they came back to the Sanctuary the next morning to make the adoption official, there was a group of caregivers and volunteers waiting for them. "They had cakes and little hats and a whole little goodbye party for Gemma," she says. "And they told me that they all loved her so much … they were so grateful to me for taking her."
Gemma was a perfect passenger on her trip home with Andrea, and as soon as they got back, she was right where she belonged.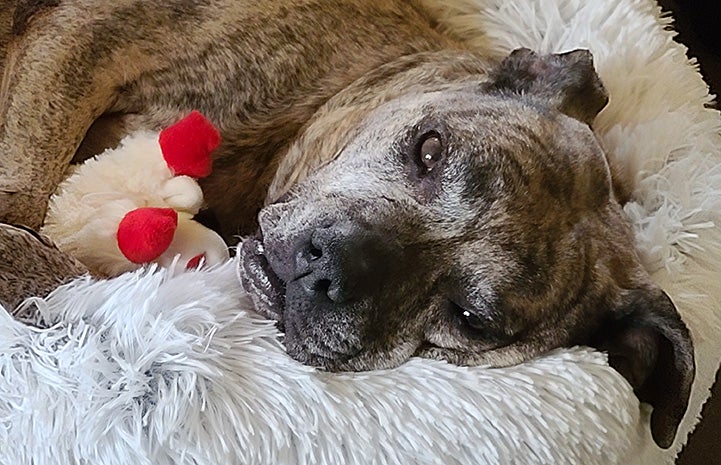 Enjoying their golden years together
Since Gemma went home, Andrea says everything is going wonderfully ― better than she could have imagined. "The second that she got here, she just settled down. She never tried to tear anything here. She did still have a nervous behavior of licking the wood on cabinets and doors and stuff like that. But she stopped doing it after a while."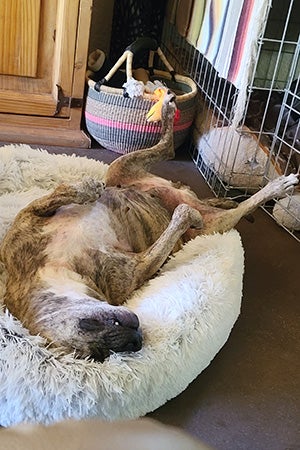 Despite perhaps never before having lived in a home, along with the similarities between the floor in her new home and her room at the Sanctuary, Gemma quickly learned that going to the bathroom outside was best. And Andrea soon understood when Gemma was asking to go out.
At first, Gemma was at first a little unsure of the new situation. She was slow to approach Andrea at home and got around by scooching her way across the floor with her front legs. But now she's like a little brindle shadow. "I spent all this time hugging her and kissing her and telling her how much I love her," says Andrea. (But now Gemma) never leaves my side. She just wants to be with me."
There is no longer a shortage of love in Gemma's life. Andrea and the two women who help Andrea around the house all adore her. And she's making new dog friends, as well.
[Outgoing dog is an expert at making friends]
"She immediately play-bows to any dog that comes here," Andrea says, "including two of them that come over with their (people) to see her (and) are just ferocious in how they play (with each other). But they play so gently, both of them, when they're with her."
Andrea says Gemma has a favorite game with one of her dog friends that doesn't involve much moving on her part. She lies on her back in her bed and they nip at each other playfully. "It works out really well," she says with a laugh.
She's feeling better than ever, too. Andrea reports that at home, Gemma doesn't chew up or eat anything she shouldn't, and her chronic diarrhea is all cleared up. She's got an orthopedic bed she rolls around and sleeps on upside-down, and her anxious, overwhelmed behavior has completely disappeared.
"She has free run here," Andrea says. "It's a wonderful place for dogs, it's all grass and she loves to roll, rub on her back and lie in the grass. She'll lie in the sun until she fries. Then she'll lay in the shade and then she goes back to the sun. She's doing everything that dogs do.
"I can't imagine that she could do better," she concludes. "It was all about love. This was definitely all about love and about saving an old dog."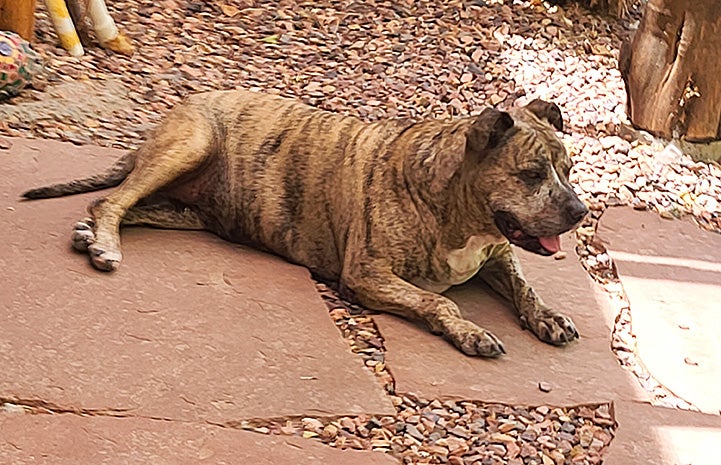 Find love
Shelters across the country are full of pets like Gemma who are just waiting for their special person to love.
Read more:
The Grey Muzzle Organization steps up for senior pets
Change of scenery does a dog with bad habits a world of good
6 unexpected benefits of fostering a dog during heartworm treatment
Photos courtesy of Andrea Robinsong and Best Friends staff