Wee kitten helps Scottish adopter adjust to life in the Lone Star State
For Chris Henderson, adopting a little kitten after a trans-Atlantic move during a pandemic made him feel right at home in the USA.
By Nicole Hamilton
Peach may live in a Scottish household, but this little kitten is as American as apple pie. "She's usually happy to do her own thing, but when baseball is on TV, she barely blinks," says Chris Henderson, who adopted Peach from Best Friends in Houston.
Chris moved from Scotland to Texas in March just as U.S. coronavirus cases were starting to climb. It was a difficult time for an international move, made even tougher because Chris' fiance, Emma Guthrie, was still waiting on her visa back in Scotland. That meant Chris had to navigate life alone in a new country during a very unusual time.
[The sweet no-hair-don't-care attitude of a Sphinx cat]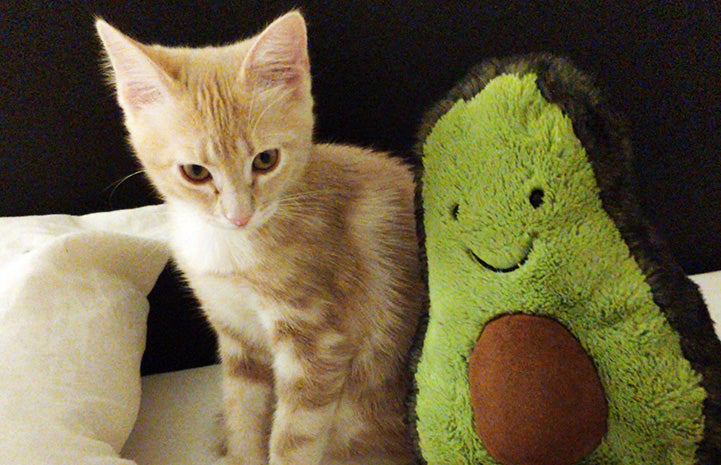 Foster mums know best
With more time than ever to search the web, Chris found himself looking at adoptable kittens. He wasn't exactly in the market for a wee one, but then he saw a photo of Peach, who was brought to Best Friends in Houston with her mom, Pandora, and littermates Paris and Penelope from BARC Animal Shelter.
"There was just something unusual about her coat, and she looked pretty adorable," says Chris. "So, I decided to meet her and see if it was a good fit." A few days later, he met Peach and foster mom, Jessica Snow, who along with Justin Brooks had been taking care of Peach and her siblings since they arrived at Best Friends.
Shelters aren't ideal for nursing cat moms, who need a quiet, clean environment to care for themselves and their babies. At home with Jessica and Justin, Pandora and her kittens could get the care they needed until they were all ready to be adopted.
Deyra Galvan, event and outreach manager for Best Friends in Houston, says foster moms and dads like Jessica and Justin are vital in the lifesaving work done each day by Best Friends in Houston. "They act as surrogate parents, playmates and they teach kittens like Peach to be the best they can be," says Deyra. "With TLC, patience and love, Jessica and Justin helped Peach thrive."
Chris liked that he was able to talk to the Best Friends staff, as well as with Jessica and Justin, about Peach's medical history, which included past minor belly troubles. "Her foster mum gave me a few tips, which were very helpful," says Chris. "Peach uses her voice a lot when she wants something. It would have worried me, as it was different to the cats I had growing up. But knowing that was just her nature really put my mind at ease."
[Big orange tabby cat in Los Angeles charms adopter in Texas, road trips home.]
Faithful kitten companion
From the very first day in her new home, Peach has been Chris' faithful sidekick. "Once I took her home, she set out to explore everywhere," says Chris. "I sat on the floor so she could play around me, but when she hopped up onto my lap, curled up and fell asleep, I knew she was my cat."
Like a true kitten, Peach can go from zero to 100 in a few seconds. "She's either curled up napping or running about and playing with just about anything she can get her paws on," says Chris. "And she loves to yap away when we're playing, like she's trying to hold a conversation throughout."
Peach loves sitting next to Chris when he plays video games. A natural conversationalist, she often takes part in his nightly Zoom calls with Emma, who can't wait to meet her in person. And judging from Peach's personality, she's also likely to be happy to finally meet Emma, who may want to come prepared. "Peach has been great at quickly opening up to new people — especially if they bring her a treat," says Chris.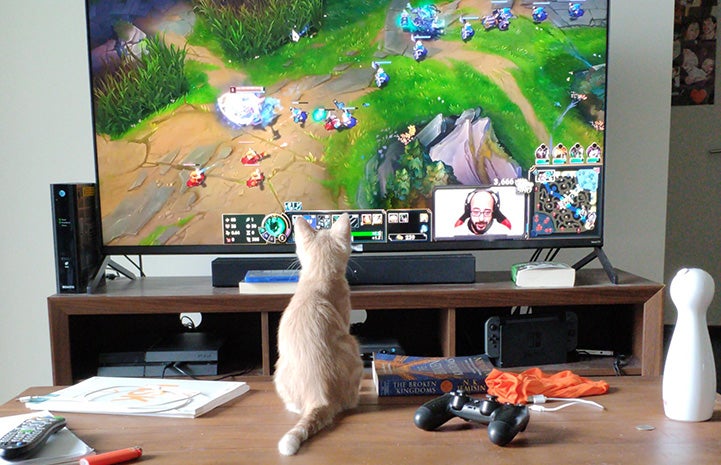 The power of kittens
Peach may be a little kitten, but she's managed to do something pretty remarkable — help Chris acclimate to a new country at a time when the world's been turned upside down. "Peach has been an amazing help," says Chris. "COVID has been pretty awful. It's meant that since moving, I haven't been able to meet many people outside my core group of friends."
Having Peach around helped Chris stay in a routine while in quarantine mode. He says she's even been a pretty good personal trainer: "You don't get a long lie if Peach is needing to be fed."
Now, whenever he's feeling a bit worn out with the world, Chris says it's great having her there to play or to just to settle down and watch some TV. "She's very affectionate and always wants a cuddle," he says. "Peach has been the best wee kitten ever and I couldn't be happier with her."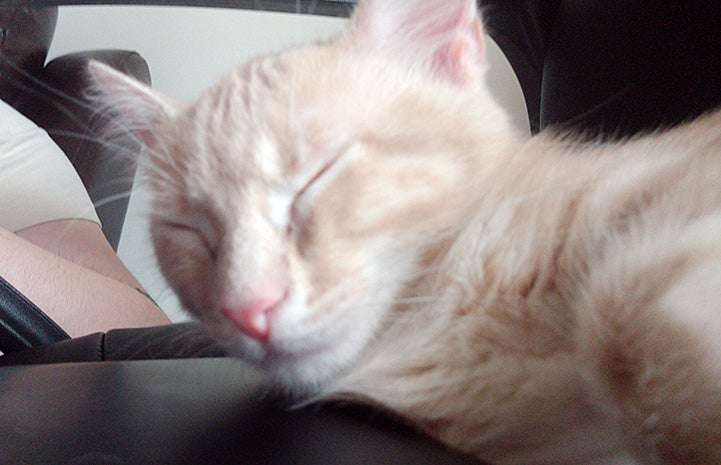 Adopt a kitten, save a life
It's kitten season, which means it's a great time to foster or adopt a little one from your local shelter.
Read more
Three tough tabbies survive a wildfire.
Puppy beats distemper with the help of two determined foster moms.
Cushy retirement for a working cat
Photos by Chris Henderson