A whole new life
Image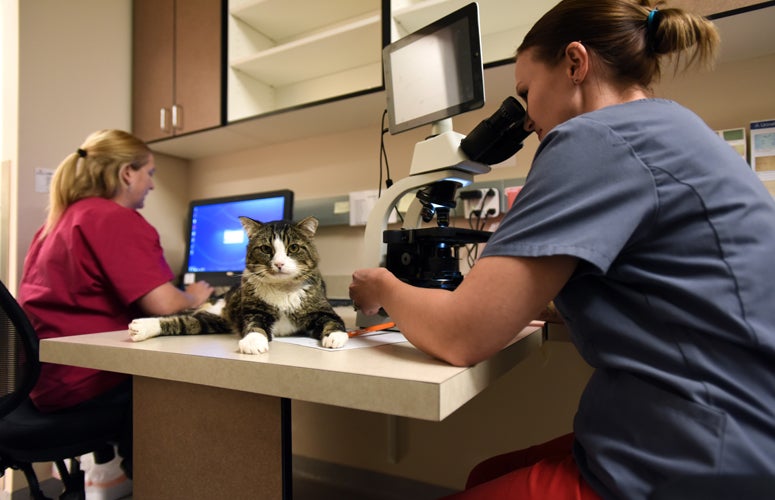 The Sanctuary saves a severely injured cat and helps him make a full recovery.
By Christelle L. Del Prete
"There's just something about Tommy," says Best Friends vet tech Melanie Young, holding the purring bundle of brown and white fur in her lap. After surviving the unimaginable, the former outdoor cat has scars and a missing leg. But, in spite of all he's been through, Tommy's not only one tough tabby cat. He's also a delightful character.
Though Tommy lived as an outdoor cat, he wasn't well suited for that kind of life. At eight years old, he's heading into his senior years. He also has feline immunodeficiency virus (FIV), which weakens his immune system. When poor Tommy was attacked and injured by another animal, his injuries didn't heal. Instead, they quickly became life threatening.
Clinging to life
Tommy was rescued in the nick of time and rushed to the Best Friends Animal Clinic. He was in the right place to get the critical medical care he needed, but, with an extremely aggressive and fast-moving infection, he was far from out of the woods. Tommy was very sick and in shock. His body temperature was far below normal, he couldn't move, and he was gasping for air.
The Best Friends veterinary team immediately cleaned his wounds, administered fluids and medications to fight off the infection and to ease his pain, and placed him in an oxygen tank. But Tommy was still getting weaker by the minute and was barely clinging to life. Emergency surgery to remove his damaged, infected leg was the only way to save him.
"A whole new cat"
"We put him in the oxygen tank overnight (after the surgery), and by the next morning he was a whole new cat," Melanie says, adding that Tommy's injury was one of the worst she's seen. "Most cats wouldn't have survived that, but Tommy is strong."
Melanie's admiration for the resilient cat grew as she nursed Tommy back to health, and their budding relationship gave him an additional reason to keep fighting for a full recovery. Tommy began to look forward to his time with Melanie, especially since the better he felt, the more they could do together.
Mascot
Soon, Tommy learned how to walk on a harness and leash and to ride in a stroller. Once he got used to the stroller, doors quite literally began to open for him. He began going on morning rounds with Melanie and to clinic staff meetings. He even got a tour of the lab where, perched on Melanie's arm, he helped her examine things under the microscope. He made a few furry friends, too, including a Chihuahua with whom he had a picnic on a blanket under the sunny desert sky while they both took a break from their treatments.
Now, while Tommy is waiting for a space to open up for him in Cat World, and eventually, in a loving home of his own, he's enjoying his role as the Best Friends Animal Clinic's new mascot. And, although his life as an outdoor cat may have ended, the medical care he received at the Sanctuary has made it possible for him to have a whole new life.
Update: Tommy has since moved into Cat World, where his new name is Yeager (there was already a cat named Tommy there). He loves his new digs, and is busy making new friends every day.
To bring hope and healing to more animals like Tommy, support our work.
Learn more about the cats at Best Friends.
Photos by Molly Wald