Woman follows her heart (and a rescued dog) to her dream job.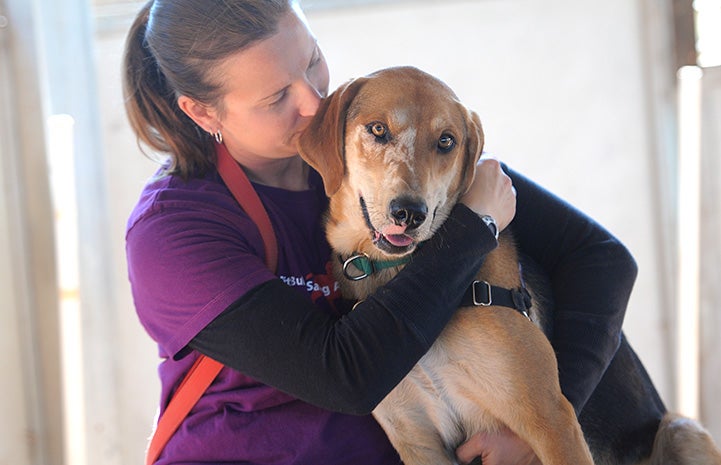 After completing an internship at Best Friends Animal Sanctuary, woman follows her heart to her dream job working with rescue dogs.
By Jess Cieplinski
Nestled in the sprawling red rocks of southern Utah, Best Friends Animal Sanctuary is more than a refuge for homeless pets. It's a place where transformations happen every day.
No matter where animals came from, what happened in their pasts or what challenges they face, from the moment they arrive at the Sanctuary they receive all the medical care, TLC and training they need to help them feel comfortable and happy in their home between homes.
Jess Cieplinski, a Dogtown caregiver, shares what it's like to help dogs live their best possible lives.
More about Dogtown at Best Friends
My journey to Dogtown started with a dog named Vera. In 2011, I took a break from teaching summer school (I was a teacher for 12 1/2 years) and headed west from Pennsylvania to immerse myself in a five-week animal care internship at Best Friends. There, I met some of the dogs from a hoarding case who we called "The Lucky Seven." One of them — a dog named Vera — had such an amazing impact on me that she changed the course of my life. She was a shy, yet sassy girl, who was just learning what life was like outside of a hoarding situation when I met her.
Working with Vera made me realize that I was supposed to be part of Dogtown, and not just for the five-week internship. Some things take time, and while Vera's life and my life became intertwined, I was able to help her find her adoptive home only 10 minutes away from where I was living at the time. I had the unique opportunity to see her adjust to life in a home during the first year, and then I moved to Kanab, Utah to help other dogs in need.
Helping a puppy with special needs
Since I started working in Dogtown in 2013, I've worked with a wide variety of dogs. While all dogs are special in their own ways, the most memorable dog I worked with was a puppy named Klaus. Klaus' back legs didn't work very well, so we modified his environment to help him have a happy and fulfilling life. Klaus had a wagon he could use to take strolls around Dogtown, and he loved curling up in my lap and taking golf cart rides while feeling the breeze on his face. He also had a device that helped him remain upright on all four paws during physical therapy and mealtimes.
Sometimes we carried Klaus (even when he grew from 30 to 54 pounds), but most of the time his spirit and tenacity helped him move around in his own way while he spent time with his dog friends in a room with an oversized dog door and padded floor. What I love most about Dogtown is that we treat each dog as an individual. Each dog gets exactly what he or she needs, just like Klaus did. I thoroughly enjoy getting to know the dogs, assessing their needs and giving them everything they need in terms of medical care, emotional well-being, enrichment and training.
A day in the life of a Dogtown caregiver
Each morning I greet all the dogs in my building and make sure they are acting like themselves. When you spend eight or more hours each day with dogs, it's easy to learn their personalities, tendencies and quirks. I make sure they're feeling good and assess their overall health and happiness. Then it's time to pass out medications and complete any medical treatments, such as eye drops or ear-cleanings. By then the dogs are getting a bit impatient as I prepare their breakfasts. Oftentimes, I select slow feeders or food puzzles to enrich their minds while they eat.
While the dogs are eating, I usually spend time hand-feeding a shy dog. Hand-feeding helps to build trust with shy dogs and can be an important step in their socialization with people. This morning routine is one of my favorite parts of being a caregiver. I love checking on the dogs, greeting them and seeing their excitement for the day to begin. I also relish the quiet of early mornings at the Sanctuary.
Helping shy dogs
Gaining the trust of a shy dog and seeing small steps of progress is another part of my job that I cherish. I'm drawn to shy dogs, which stems from the work I did with puppy mill survivors in Pennsylvania before moving to Utah. The first shy dog I fell for here was Moccasin, a boxer mix who, before she came to the Sanctuary, had lived most of her life confined to a crate.
I saw something special in Moccasin's brown eyes — uncertainty, but also courage. I began by hand-feeding her and taking her for walks. I slowly introduced her to the golf cart (something she initially thought was scary) and eventually she enjoyed riding around Dogtown, taking in all the sights and smells. Moccasin loved the snow, which brought out her silly side especially in the dog park. She learned about new things every day while her confidence grew. One day, she started running and playing with a toy, and it made me realize that she had really grown and changed. She had learned how to let her guard down and play, something that had been foreign to her when we first met.
Sixteen-year-old dog living his best life
Another part of my job that I love is helping dogs with medical challenges heal and recover, or if they are dealing with a degenerative or permanent condition to simply improve their quality of life. Dante, a senior husky mix, arrived at the Sanctuary three years ago with his ears a painful mess. He also struggled with pain due to old age and joint problems. With the help of our first-rate medical team, we were able to get Dante feeling better and enjoying life again.
We began by cleaning his ears very gently three times a day and applying ear medication. X-rays helped us learn more about his spinal and joint problems, and we started him on anti-inflammatory and pain medications. In time, Dante started to heal and feel much better. Nowadays, his ear infections are well-managed. Despite being 16 years old, he gets around well trotting on the Dogtown trails. He loves car rides and golf cart rides, and has some favorite stuffed toys.
Introducing dogs to each other
Since we look at all dogs as individuals, we are thoughtful and careful when we match up dogs to live in pairs or groups. One of my favorite things to do is to help dogs maintain or improve their dog skills through play dates, parallel walks or buddy walks. Parallel walks are when one dog walks parallel to another dog, but at a comfortable enough distance so that the dogs can't interact.
My co-worker coined the term buddy walk, which is when the dogs walk together and can sniff each other and interact. Sometimes, play dates become introductions where the dogs move in and live together. If dogs can live successfully with other dogs, it improves their chances for adoption, since many adopters already have at least one dog.
It's really rewarding to watch dogs meet each other and figure out each other's personalities and play styles. Watching them learn to communicate can be educational for the humans, too. Currently, I do parallel walks regularly with Alice. She lives with another dog, but she can be nervous and defensive when seeing or meeting new dogs. My goal is to help her realize that seeing and meeting dogs doesn't have to cause fear, so I use training to create a positive connection for Alice.
Training for rescued dogs
Looking at dogs as individuals helps us identify what brings them joy and what they need while at Dogtown. Right now, I'm helping a dog who is afraid of cars overcome her fear so she can someday comfortably ride to her adoptive home. Skelly is still working on her confidence, but now she walks up a ramp to eat yummy treats in the car. She doesn't stay long, but she is building up the time she spends in the car each week. This is major progress for a dog who once had to avoid cars to survive.
I'm also working on muzzle training with Guy, a sweet, sensitive boy who is extremely nervous about medical handling. Guy is making progress with the muzzle, and my hope is that one day he will realize that wearing the muzzle brings good things (like Kong filler, peanut butter and walks on the trails). This will lessen his fear of medical handling and make it safer and easier to complete his routine medical care. It will also improve the chance that someone will adopt Guy, because if he's more confident with medical handling, then visits to the vet won't be so challenging.
Every day I learn so much from dogs as they defy stereotypes and overcome their pasts. Harvey, for example, arrived at the Sanctuary after being mistreated. He was afraid at first. It's been wonderful to watch him blossom into a fun-loving, curious, affectionate dog. He shows off during agility training, and it's fun to watch as he splashes around in the dog park pool. Harvey's not hung up on his past, and he doesn't let it define his future — a future that we know includes a forever home.
Julius gets adopted
I consider myself lucky to spend my days with amazing dogs who I consider my friends. I've learned their personalities, their likes and dislikes, their favorite things, their fears and insecurities and their potential. It's a privilege to be part of their lives while they are here at the Sanctuary. Even though saying goodbye is hard, it's a treasured moment when a dog leaves for an adoptive home to start the next phase of life.
While I have many amazing adoption stories, one of my favorites is Julius. Like Klaus, Julius moves around differently and has some special challenges due to neurological problems and epilepsy. This little guy had everything stacked against him — except that he lived in Dogtown and had so many people who loved him, cared about him and worked extremely hard to give him the best life possible. Despite his medical challenges, Julius was adopted in 2017 into a loving home in Colorado where he lives with his mom and three canine siblings. When we look at dogs as individuals, anything is possible, including Julius' inspiring adoption. The reason I work so passionately every day is so that dogs like Julius can have a second chance, regain trust in humans and live the happy lives they were always meant to have.
Join Best Friends and help save dogs
Photos by Molly Wald, Kurt Budde and Best Friends staff