Word of mouth helps a special dog get adopted
Image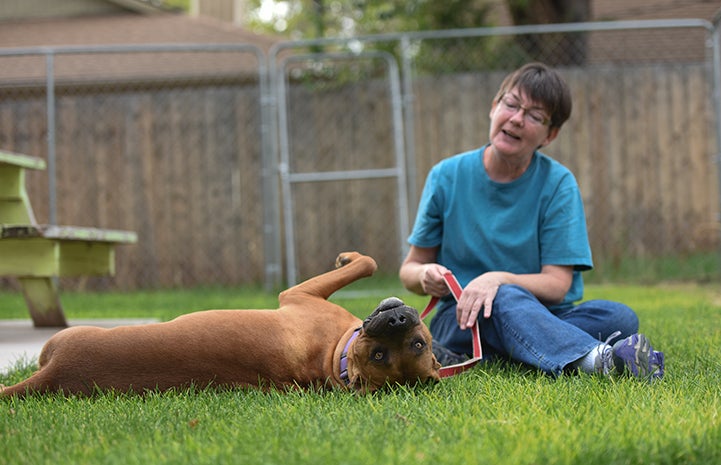 Special boxer mix dog who has lupus, an autoimmune disease, is adopted into a loving home and is thriving.
By Christelle L. Del Prete
Friends often give the best advice. So when a friend suggested to Ann Janssen that she take a dog named Hoagie on a sleepover during a visit to visit Best Friends, she did.
Before meeting Ann, eight-year-old Hoagie had called the Sanctuary home for half of his life. But things were about to change.
An easygoing boxer mix
The dog had come to Best Friends from a humane society in Colorado. Though Hoagie had to work through some behavior issues in his early days at Dogtown, he's overcome them and mellowed into a sweet older guy with a great personality.
Hoagie's a seasoned couch potato and a very polite houseguest. He doesn't find much to get worked up about, and he enjoys leisurely strolls and outings. He's the perfect dog for a calm person with a laid-back lifestyle.
A single dog with an autoimmune condition
Hoagie was having a hard time finding a home of his own because he needed one without any other pets. He had to be someone's one and only. Since most pet lovers already have other pets, "single" pets often wait longer before they are adopted.
Hoagie also has lupus, a condition that requires treatment with special medication that can be expensive. While lupus isn't contagious, it's an autoimmune disease that causes the immune system to attack not only harmful viruses and bacteria but also healthy cells. Symptoms, which can be mild to severe, can include fatigue, joint pain or swelling and skin problems. Luckily, Hoagie's case is pretty minor, and most of the time his medication helps him to feel A-OK.
Becoming a sleepover favorite
Dogtown caregivers always knew that Hoagie would eventually find the right home. They had already helped him work through his dog food guarding issues. Once Hoagie learned more polite behavior, he quickly became a sleepover favorite with volunteers, who would take him overnight during Sanctuary visits. Though many people would have loved to adopt him, it was never the right fit.
Learn more about Sanctuary pet sleepovers
So it was that Charla Stromkins took Hoagie on a sleepover when she visited the Sanctuary. She liked him so much that she suggested to her friend, Ann, who was planning her sixth trip to Best Friends, that she also host Hoagie as an overnight guest.
Charla must have felt that her friend and the big handsome dog needed to meet. And she was right.
Falling in love with dog who has lupus
Ann quickly fell in love with Hoagie. Though many people had done that before, this time was different. Ann had recently lost her two elderly dogs. Although she wasn't planning to adopt another pet during her visit, Hoagie got her thinking that it might be the right time to bring a dog into her life again. After all, she had an empty house and lots of room in her heart.
During her two-week vacation, Ann took Hoagie on a sleepover almost every night. And every night, he was perfectly content to just lay his head on her lap and relax. "His personality is outstanding," Ann said. "He got a great big smile on his face when I went to pick him up. I couldn't imagine not having him when I got back home."
It was settled. Hoagie was soon on his way to Wisconsin. He arrived at the beginning of November, and since then he's had time to explore lakes, dog parks and hiking trails. He's made friends with nearly every person he's met on his daily walks, and he's discovered how delightful it is to romp in the snow.
Thankful for good advice
True to his nature, Hoagie has made an art form out of napping through the cold Wisconsin winter. He can often be found lying upside down on beds and couches, or sprawled out in front of the pellet stove.
"Hoagie has taken over my life — in such a good way," Ann says. "He's the best boy. I never ask who's a good boy. I just know it's Hoagie! I think Hoagie has figured out that he is home forever. I cannot thank the caregivers, volunteers and Best Friends enough for this great gift in my life."
Of course, Ann also thanks her friend Charla for suggesting that first sleepover. As for Hoagie, he's really thankful that Ann took her good advice.
Photos by Molly Wald and courtesy of Ann Janssen