A young boy connects with cats
Image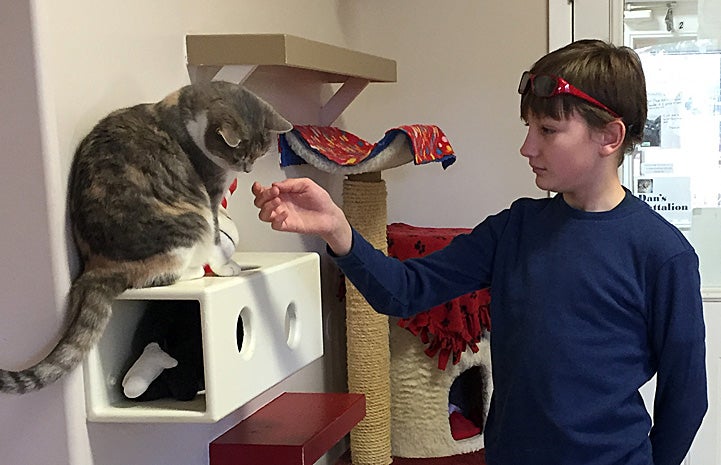 Thirteen-year-old volunteer with autism connects with cats at Best Friends Animal Sanctuary. He enjoys volunteering with animals.
By Christelle L. Del Prete
"You gotta love those cats," says 13-year-old Hunter after spending his Thanksgiving morning volunteering in Cat World. Though Hunter says it casually, it's easy to see the connections he's made with the cats in such a short time. What makes this so remarkable is that Hunter has autism, so he sometimes struggles when interacting with people. But he understands animals in a meaningful way.
You can see it in the way that he reassuringly pets Miranda, a beautiful, young Siamese cat. It's also there when he gently nuzzles noses with MacStar, a senior Maine coon mix cat with special medical needs. Hunter has a gentle calmness and quietness about him that seems to make cats feel comfortable and trust him.
Ability to connect with cats
Though he may sometimes struggle in relating to people, when it comes to animals Hunter has what he calls "the gift." His mother, Valery Behr, explains that it became clear from a very early age, that he was naturally drawn to them. "Whenever we're out walking, every time Hunter sees a dog, he'll strike up a conversation with the owner and ask if he can pet the dog. He's always been like that."
Communicating with animals is second nature to him. He seems to have a knack for approaching them in just the right way. Hunter explains it like this: He'll see a cat who seems to want attention and petting, but who might also be a bit hesitant with people. Some people may not have a good sense of, or control over their own body language when approaching that cat. But, almost without thinking about it, Hunter is able to put the cat at ease.
Giving back through volunteering
And, even at his young age, Hunter can see right through stereotypes. "Some people think Siamese cats are mean. But you've just got to get to know them. Take Miranda here," he says as he strokes her grey-and-cream-colored fur, and she returns the affection with soft little licks on his hand. "Isn't she sweet?"
Hunter also knows that it takes practice to really understand animals at a deeper level. He spends lots of time around animals watching them, interacting with them and learning whatever he can. Back at home in northern Utah, Hunter volunteers at a no-kill shelter and runs a pet sitting business with his mom. Spending his holiday with the cats at the Sanctuary is yet another way of showing his dedication to his furry friends. It's also a way for Hunter to give back to animals, since they've given him lots to be thankful for as well.
Find out about volunteering with animals
Emotional support for autism and anxiety
Hunter has three cats at home: Simber, who's one year old and adopted from a local shelter; Wiley, who's 20 years old; and Pumpkin. Pumpkin, a tortoiseshell cat who was rescued from the Las Vegas strip when she was only a kitten, is more than Hunter's best friend. She's also a constant source of emotional support. Anytime the young boy is struggling — either because autism can sometimes make life difficult or simply because he's feeling sad or anxious — Pumpkin is there to nuzzle up against him, purring, and soothing him.
But since Hunter has the unique ability to make genuine connections with cats in a very short time, the friendships he made on Thanksgiving morning in Cat World were deep and meaningful as well. Before his shift ended, he spent extra time with Chet, a former street cat. Because Chet is chatty — calling to people with squeaky little meows — he and Hunter had what sounded like a real conversation.
When Hunter's volunteer shift was over in that area, he knew something special had happened. He was beaming as he stepped out of the building and walked across Cat World for his next adventure. He was going to learn all about clicker training cats from Dr. Frank McMillan, director of well-being studies at Best Friends.
Now, Hunter can share the skills he learned in Cat World with the cats he cares for at home. He's made his gift stronger, so he can keep on giving. And that made his Thanksgiving vacation, he says, "Better than Disneyland."
If you'd like to give a gift to the animals, here's how:
Photos courtesy of Valery Behr